The need to respect our planet has become more and more crucial in recent years. It's our responsibility to do what we can and to have an open dialogue about environmentalism. That doesn't necessarily mean entirely changing our way of life, though you can totally go the zero waste route if you have it in you! Just making a few simple changes though can have a big impact.
When we implement eco-friendly practices into our home life, we can then start to take those habits outside the home and inspire our friends, family, and coworkers to make similar positive changes.
It shouldn't be a burden. Think of it as an adventure and an educational experience.
These changes won't just benefit the planet, but they'll benefit you as well.
Here are 20 ways you can make a difference and have a healthy home.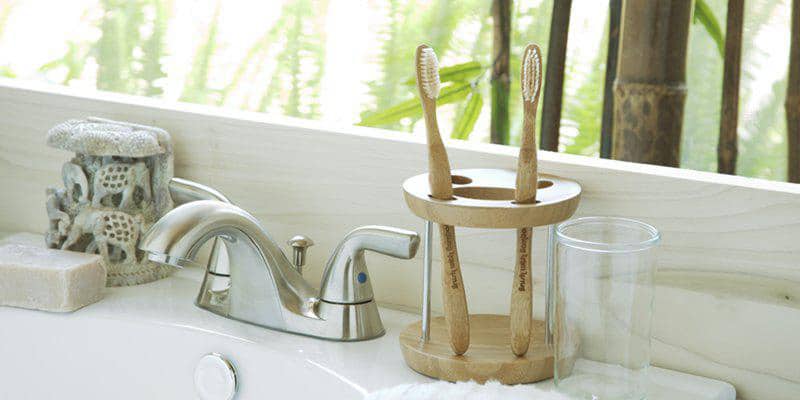 1. Use a Bamboo Toothbrush
One of the first things we do in the morning is brush our teeth, but have you thought about what your toothbrush is made of, and where it ends up after you dispose of it?
Billions of plastic toothbrushes are produced every year worldwide, and these toothbrushes end up in landfills and oceans. They don't break down easily either, so that Mickey Mouse toothbrush you used when you were five is still out there somewhere causing trouble.
Replace plastic with bamboo. Bamboo is a sustainable resource that grows incredibly fast and can be used in many ways, from furniture to flooring.
When you use a bamboo toothbrush, the handle can be composted. Make sure to opt for a bamboo toothbrush that has plant-based bristles instead of nylon.
Brush with Bamboo is a great option.
2. Carry Reusable Bags
Making sure you have reusable bags in your car when you go shopping is another easy way to make a difference because you won't need to use those harmful plastic bags at most stores. You also won't be bringing a bunch of bags into your home that just lead to unnecessary clutter. Stop hoarding plastic bags, people.
There are so many cute reusable bag options, and you can even find bags made from recycled cotton or organic cotton. It's always a bonus when you know the bag was made responsibly.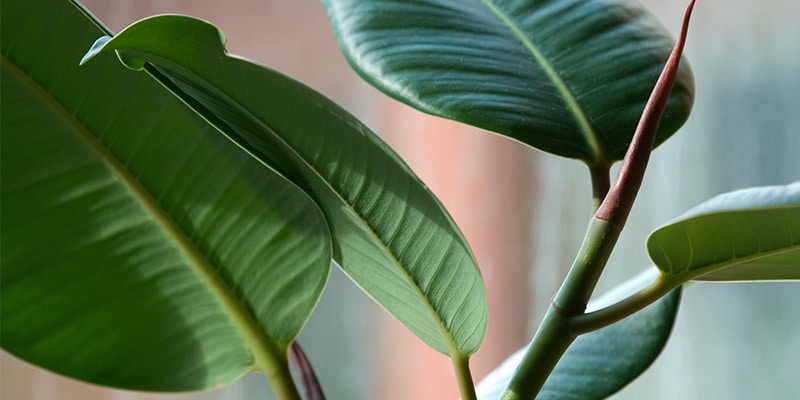 3. Decorate with Plants
An eco-friendly home isn't complete without some greenery. They're beautiful to look at, add character to any space, and offer an array of health benefits.
Besides the obvious fact that plants take in carbon dioxide and give us oxygen in return, they also add moisture and help clean the air from inevitable chemicals that lurk in our homes.
Spider plants are known for improving indoor air quality and help fight against formaldehyde, benzene, and carbon monoxide.
Don't have a green thumb? That's okay—spider plants are incredibly easy to take care of.
Plants also have medicinal purposes. Having an aloe vera plant around can be quite useful. You can use the plant's gel to soothe burns and rashes, or even add the gel to your morning smoothie to help boost your immune system.
And let's not forget about the most talked about plant right now—succulents! I can't get enough of seeing these cuties on my Instagram feed.
Besides the fun of choosing a miniature ceramic bowl to go with your new green friend, they're also healthy for your home environment just like any other plant, and can bring an overall zen feel to the space. Yes, plants can boost your mood and help alleviate stress!
4. Compost
Composting is another great way to go green. Your food scraps don't have to end up in a landfill. Instead, they can nourish your garden, or you can utilize a composting service that will take your food scraps away!
If you're worried about the smell, get a big bowl and stick it in the freezer. Then add your food scraps into the bowl throughout the week. Keeping the fruits and veggies frozen will help eliminate any unwanted smells.
Here's a list of items you can compost.
5. Sleep Organic
Switching to an organic mattress is truly crucial since we spend about a third of our lives sleeping. So many conventional mattresses are made with polyurethane foam, memory foam, or encased in cotton treated with pesticides. And don't get me started on chemical flame retardants.
At Savvy Rest, we offer GOTS-certified organic mattresses made with natural latex covered in certified organic cotton and certified organic wool batting. And we have the certifications to back up the safety of our products.
Most mattresses are not as customizable as ours, so not only will you be introducing a mattress into your home that is eco-friendly, but it will actually be super comfortable and designed with your specific needs in mind.
I know I said having plants around will help uplift your spirit (which is true), but nothing makes you feel better than a good night's sleep. Good health is happiness.
Explore our best-selling layered mattress options
6. Add Some Organic Pillows
When you're buying a mattress, you might as well throw in some organic pillows as well (live a little).
Your face is coming into contact with your pillow every night, and you're breathing in whatever is surrounding you. Wouldn't you rather rest on kapok or wool instead of polyester or memory foam?
And don't be fooled by bamboo pillows. As I noted before, bamboo is absolutely a sustainable resource, but only if it's handled responsibly. Read why we don't offer bamboo pillows.
We carry several customizable pillows, which means you can unzip the inner casing and take out as much of the fluffy fill as you want. This allows you to adjust the height and overall feel of your pillow.
Find the perfect organic pillow for you
7. Stay Hydrated
Plastic water bottles are just a big no-no. One of the easiest changes you can make is to use a reusable water bottle instead.
There are so many companies that offer cute and functional reusable water bottles. I personally bring a glass water bottle to work that I purchased from a local natural foods store, and I love that thing. I don't think I've gone a day without it in over a year!
Mason jars are also super popular to use at work or around the house for both water or food. You can also bring mason jars with you to a restaurant and put your leftovers in there instead of using the plastic or styrofoam containers most restaurants use.
8. Embrace the Vintage Side
There's something magical about shopping for vintage items. I own all sorts of vintage goodies: a white blouse from the 60's, a still life painting from the 50's, a delicate nightgown from the 40's, and the list goes on.
Vintage items tell a story about their time period. They're a physical representation of what life was like thirty, forty, fifty years. These items were someone's possession. They were used and loved for years, but now are looking for a new home so their story can continue.
Looking at it from a green perspective, purchasing secondhand is a great way to avoid fast fashion. These items already exist, so why shouldn't we continue to enjoy them if they're in good condition? The alternative is having these items end up in a landfill and purchasing from a fast fashion brand that wastes water and materials, not to mention has questionable ethical practices.
If you're going to buy new clothes, try to buy clothing made with organic cotton, or at least research the brand and see what their manufacturing process is like.
Want to see what's out there? Here are some shops I recommend…
For the vintage vixen: 1919vintage
For the green gal: Reformation
For the cozy chick: Solosix
9. Lounge on Eco-Friendly Furniture
Yes, organic furniture exists, and it can be really comfy too! We offer organic sofas, loveseats, and armchairs made with certified organic fabrics, natural Talalay latex, and beautiful hardwood.
We also make natural platform beds with maple and poplar wood. We offer several zero-VOC stain options, and no tools are required for assembly.
But why should you make a point to opt for healthy home furniture? When you purchase synthetic furniture that off-gasses chemicals, these toxins latch onto dust in your home. Breathing in these harmful chemicals is dangerous, and children ingest even more dust than adults.
Learn more about our organic furniture
[REPLACE]
10. Minimalism Matters
This is more of a concept than an actual item, but it's absolutely one of the most important things on this list.
We live in a society that is all about excess, and I think most of the time we don't even realize it. We're used to this type of lifestyle, of buying without always thinking, adding items to our home that aren't necessary and only bring us temporary joy.
I now try to be more mindful of what I'm bringing into my home. I definitely haven't conquered the concept of minimalism yet, but I hope to one day!
Minimalism doesn't mean not shopping. Instead, it means bringing in only what you need and making sure you're investing in quality products instead of buying cheap items that you'll end up throwing away and having to replace.
When you're more conscious about shopping, you begin to feel better about your home because it's filled with things that serve a purpose.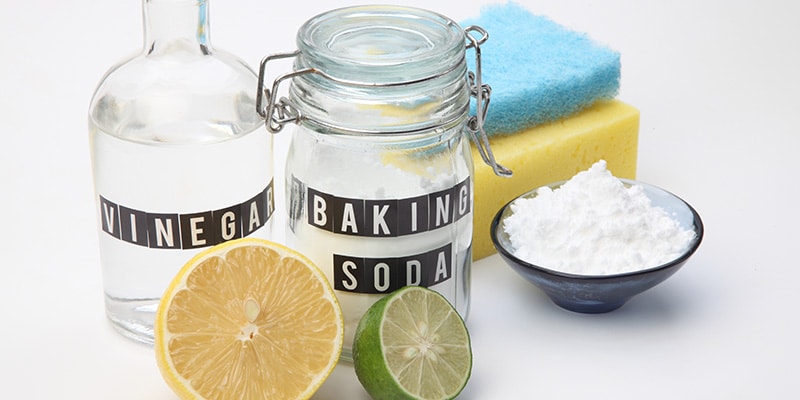 11. Clean with Vinegar
Conventional cleaning products are filled with harmful chemicals that you shouldn't be breathing in. The solution? Vinegar!
You can simply mix white distilled vinegar with warm water as your DIY cleaner, or you can get even more fancy.
Those kitchen counters don't stand a chance.
12. Turn Off the Lights
This should go without saying, but if you're not in a room, the light shouldn't be on. It's just a waste of energy, and a waste of your money too! Same goes for televisions!
If you're feeling like ditching the 21st century for an evening, use candles. Have a romantic dinner with your significant other surrounded by stunning candlelight and a bottle of organic wine.
13. Turn Down the Thermostat
This is not only good for your wallet, but good for the environment as well. Don't use energy unnecessarily. No reason to turn up the heat in the winter when you can cozy up under blankets with your favorite wool sweater on.
I'm not saying you have to freeze (or sweat profusely in the summer—this isn't hot yoga), but you should keep the thermostat at a reasonable temperature. It's just about being mindful!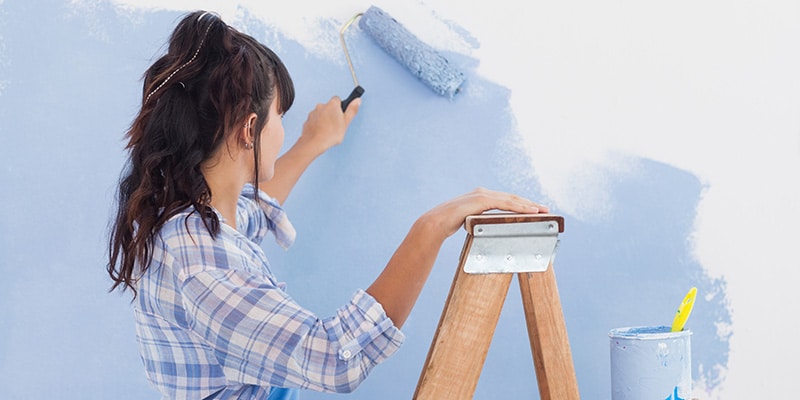 14. Choose Zero-VOC Paints
When looking for that perfect shade of blue, make sure that it's also zero-VOC. There are way too many crazy chemicals in paint, such as formaldehyde and ethyl acetate. Those chemicals are harmful for both you and the planet. Break up with them—you won't regret it!
15. Opt for Organic Cotton
The vast majority of cotton is treated with pesticides. So the cotton in your towels, your bedding, and even your wardrobe could very well be treated with pesticides. It's pretty terrifying when you think about it.
We try to do our part by offering our customers certified organic cotton instead, so we've got you covered with bedding.
You come into contact with your towels and clothing everyday, so try to ditch your old towels for GOTS-certified organic ones. And I know it's nearly impossible to have an entire organic wardrobe, so I'm not even going to suggest that. But it is possible to add some organic cotton t-shirts and sweaters to your wardrobe, along with organic cotton underwear and organic cotton socks. Your skin (and the planet) will thank you!
16. Purchase Package-Free Soaps and Shampoos
Instead of purchasing soaps and shampoos packaged in plastic, opt for package-free options, or soap wrapped in paper/compostable materials.
Shampoo bars are not only eco-friendly, but they're way easier to travel with. Store one in a tin and you're ready for your European getaway!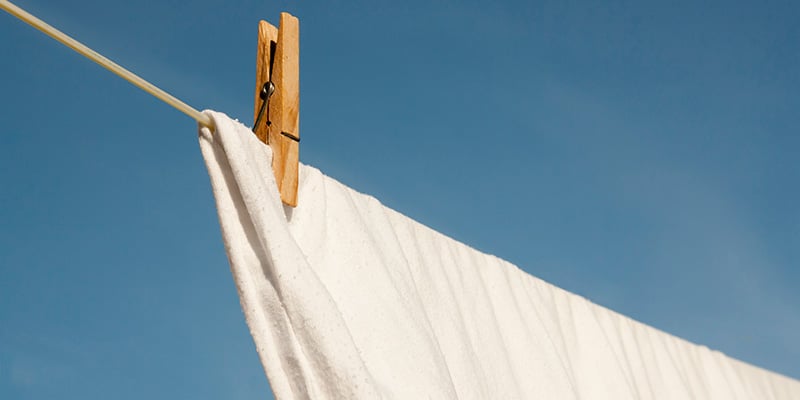 17. Love Your Laundry
Okay, I'm not saying laundry time is the best time ever because for most of us, it's a bit of a pain. It's one of those things where you get to the end of the week and you realize, "ah yes, the mountain of dirty clothes is waiting for me and isn't going anywhere despite my desperate pleas."
When you finally get around to it and pour that liquid detergent into the machine, do you ever think about what's in it other than your tears and sorrows? It's probably not great.
I recommend staying away from synthetic fragrances, especially if you have sensitive skin. There are plenty of companies that have introduced more natural options that still get the job done and leave your clothes soft and fresh without bringing nasty chemicals into your home.
18. Conserve Water
When doing laundry, try not to run a whole load with only a few items. Instead, let the pile grow a bit more (which if you have a family, isn't hard to do).
If you're able to hand-wash some items in the sink, or hang them up to dry, that's another great way to save water AND conserve energy.
The biggest one is noticing how long you're in the shower. This is something I'm definitely still working on because I seriously value my morning shower time. Even cutting your shower down by two minutes is better than nothing though! Challenge yourself and see what you can do.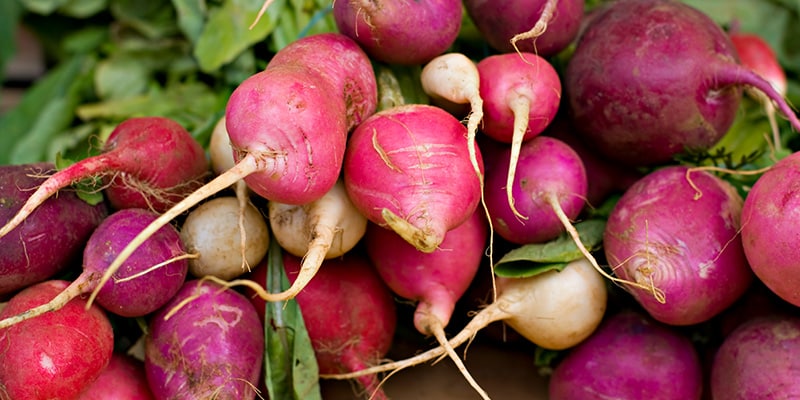 19. Garden
Why buy produce wrapped in plastic and treated with pesticides when you can grow your own organic veggies in your backyard?
Responsible gardening is not only better for the environment, but it's also beneficial to your body and mind. You're getting the nutrients you need, and also enjoying the therapeutic activity of gardening. There's also something very rewarding about growing your own produce.
Not for you? There's always the farmers market! Just make sure to bring your reusable bags when you go!
20. No Outdoor Chemicals
Last but not least, it's important that you're not treating your lawn with any toxic weed killers. If you're growing organic produce, then you'll obviously want to avoid this anyway! But it's not safe for you, the animals that graze your land (such as deer), or the soil beneath our feet.
Our goal should always be to nourish our land, not poison it. If you're having issues with weeds, you can always use your good friend, vinegar!
Keep Learning
Perfection is unattainable, so don't feel like you need to cover every item on this list and then some. See this as a push in the right direction, a bit of inspiration that will help you have the healthy home you've always dreamed of, or perhaps didn't even realize you hadn't achieved yet.
Remember that it's all about learning and that education never stops. Life is about making mistakes and trying new things. Our education doesn't stop in the classroom, but continues on throughout our lives. A great example of that is figuring out ways to be more eco-friendly at home.
The planet is our teacher now. Listen and figure out what it needs from us. Good luck!