High-end cars, designer handbags, vacation homes—these are the types of things that come to mind when we think "luxury." They're items that are gorgeously crafted and beautifully built. They're desirable and of course, expensive. It's safe to say that most people don't view a mattress as a luxury item, but as a necessity that's simply there. But there's more to this item than meets the eye.
You're right—a mattress isn't a luxury item in the sense that it's not an extra expense we simply want but don't need. We don't need a Mercedes, a Chanel bag, or a beach house. However, everyone needs a mattress. Everyone needs rest and good health.
With so many mattresses on the market, it's easy just to choose a cheap mattress-in-a-box and think, this will do. But do you really want the item that you'll be spending a third of your life on to be just fine?
A mattress should be an investment with long-term value. It should be comfortable, durable, safe and yes, even luxurious. Quality sleep is crucial to your health and overall happiness. It keeps you motivated, energized, and ready for the day's challenges. A synthetic, saggy, chemical-filled mattress isn't luxurious. It's just wrong.
So, what should you keep an eye out for when shopping for luxurious sleep? Keep reading.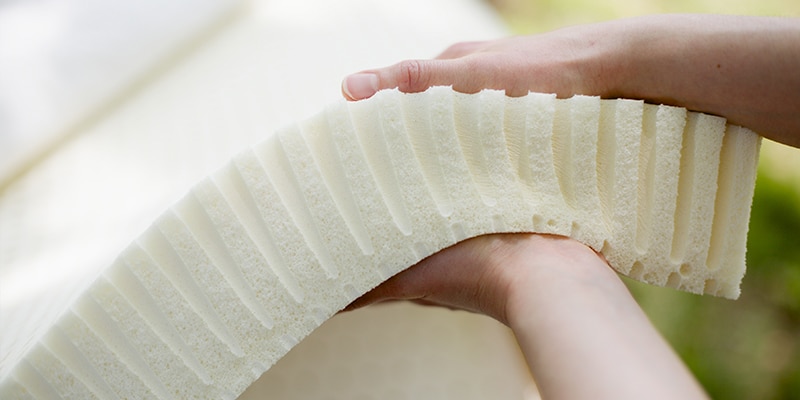 1. Luxurious Latex
The core of your mattress is of utmost importance since it will determine how comfortable the mattress will be, and how long the mattress will last. There's nothing luxurious about a lumpy mattress that calls it quits after only a year. One must invest in something exceptional in order to get the best results.
Natural latex is safe, supportive, and incredibly comfortable. We offer two types of latex: Talalay and Dunlop.
Our Talalay latex is from Vita Talalay in the Netherlands. Vita Talalay is known for its plush, luxurious latex rubber that is Forest Stewardship Council and Cradle to Cradle Gold certified. Vita Talalay does not combine its latex with any synthetic rubbers, but instead offers a decadent, natural product that will cradle your pressure points as you doze off.
Talalay is a favorite, particularly for side sleepers, because of its responsive feel. It's gentle on your hips and shoulders as you lay on your side, but still offers necessary support.
It's open cell structure also makes it breathable, unlike memory foam which traps body heat, causing you to sleep hot. Talalay is far more pleasant and kind.
//player.vimeo.com/video/134322396?color=
The second latex is Dunlop, which is the denser of the two. The Dunlop latex in our organic mattresses is sourced from Cocolatex in India. It's GreenGuard GOLD certified and meets the the Global Organic Latex Standard (GOLS).
Dunlop is cushioning but not bouncy. We typically recommend Dunlop latex to those looking for an overall firmer feel. It's incredibly versatile and can be suited for just about any kind of sleeper.
Don't feel that you have to choose a mattress with only Talalay or only Dunlop though—you can mix the two together, creating your perfect mattress, which brings us to customization.
2. Customize for Supreme Comfort
There's nothing luxurious about a one-size-fits-all mattress. It's not designed with your needs in mind, but simply stocked up and ready to ship to a million households. These mattress companies never ask for an individual's specific pain issues or concerns when mattress shopping. There's little or no flexibility.
Savvy Rest organic mattresses are customizable, which means that you choose the exact type of latex layers and densities that you want in your mattress, so that it's truly made just for you. As mentioned before, we offer two different types of latex. Choose between Soft, Medium, and Firm layers of Dunlop and Talalay latex to create your perfect sleep oasis.
You can even have a split configuration so that your partner gets what he/she wants, and you get what you want. Compromise, while a beautiful thing, isn't necessary here. 
Explore our best-selling layered mattress options
3. Pure, Organic Materials
It's important to research both what's in your mattress as well as what encases it.
While natural latex is the main star of our organic mattresses, our casings are also worth noting. Our organic casings are made with certified organic cotton and certified organic wool batting.
We're not a fan of pesticides, which is why we opt for soft and cozy organic cotton. The reason why we use organic wool is because it acts as a natural flame barrier, so there's no need for us to use toxic chemical flame retardants.
Learn more about the materials we use.
4. Plush Pillowtops
If you want to really treat yourself, add a topper to your Savvy Rest mattress. A topper adds an extra hint of softness to your current mattress, gently cradling your pressure points as you doze off.
We carry three toppers: The Harmony, The Vitality, and the Savvy Woolsy.
Learn more about our organic mattress toppers
The Harmony topper is considered our most luxurious topper since it comes with the same organic casing as our mattresses. It contains a 3" layer of latex. This topper is customizable, so you can choose between Dunlop and Talalay, but most opt for the luxurious plushness of Soft Talalay latex.
Purchasing both a Serenity mattress and a Harmony topper is known as the Unity Pillowtop, the ultimate organic experience.
Our second latex topper is The Vitality, which is Soft Talalay latex encased in an organic cotton jersey knit fabric. The stretchy fabric allows for close contact with the latex, giving the topper a plush and cloud-like feel.
If you'd prefer a topper without latex, the Savvy Woolsy may be the perfect fit. As you've probably guessed from the name, the Savvy Woolsy is filled with wool and covered in a certified organic cotton sateen fabric.
Wool is one of our favorite materials to use because of its natural ability to regulate temperature by promoting air flow. It also has the perfect amount of softness. It adds that extra hint of cushioning while still offering support. It's a great choice for someone who doesn't want to sink too much into their mattress.
Your Oasis Awaits
It's time for you to indulge in the ultimate sleep experience with our organic products. Sleep comfortably and relax in luxury with Savvy Rest. Enjoy.