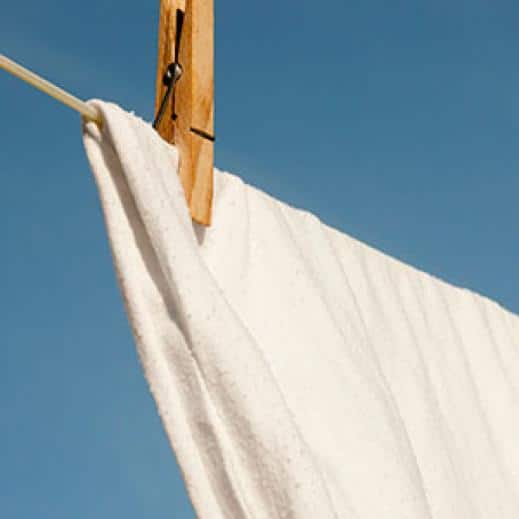 Once you've chosen organic cotton sheets or other organic bedding, it's still got to be washed. And if you're unwary, you might find yourself again dealing with unnecessary chemicals. It's an easy thing to overlook.
Not only the usual brands but even many "natural" or "eco-friendly" laundry detergents contain chemicals you might prefer to avoid. Even borax—a mineral often promoted as a safe, green cleaner—has come under scrutiny as a respiratory irritant that is also endocrine-disrupting (hormone-altering).
For once, there's an easy answer—you can make your own. Really! And for four very good reasons.
Health
Detergent ads are everywhere, and it can take a while to wake up from the "commercial coma." One approach is to read every product label and undertake some research on toxic chemicals. Or, if you've already decided to guard your health by simply avoiding unnecessary chemicals when you can, this DIY choice is an easy one.
Simplicity
Laundry detergent recipes are plentiful on the internet. Most use very few ingredients (such as castile soap, salt, baking soda and/or washing soda), take 10 to 15 minutes to make, and produce enough detergent to last for months. Think you'll really miss lugging those heavy boxes and jugs home from the store?
Sustainability
Like most mass-produced goods, detergents, including liquids or gels that are mostly water, are trucked across the country. And then there are the containers—it's hard not to be aware of what plastic does to the environment. When you make your own, however, you'll re-use one container over and over. Bravo!
Frugality
Most commercial laundry detergents cost users between 30 to 50 cents a load. Homemade versions cut that figure down to the low teens or even lower. Small savings do add up!
Try a few DIY recipes to find one that works for you. Some include essential oils if you must have scent (clean actually smells like nothing, not perfumes), some work well in hard water, and there are both powdered and liquid formulas. Nearly all are low-suds and work perfectly well in both high-efficiency and standard washing machines.
Fresh, simple and clean—for your organic bedding, what could make more sense?