Sustainability has become a hot topic in society, as it should be. It's our responsibility to show respect for both our planet and ourselves, and that respect stems from an understanding of what we're introducing into our homes, our bodies and our lives. It can be difficult to resist products that are considered a bargain or have a "cute factor." Product after product is purchased and added to every room of our home, but how often do we stop and think about what's in these products or how they were manufactured in the first place? Most people don't take a moment to think about what their clothes are made of or who made them and under what conditions. What about how much water and energy is wasted when products aren't manufactured responsibly? There are so many other questions related to sustainability that still need to be addressed. It can get overwhelming quickly but here's a list of how you can start making small but powerful changes in your life. Individual actions can lead to collective progress.
Buy Organic And Natural Products
Savvy Rest is all about organic and natural materials because we want our customers to only introduce the very best into their homes without having to worry about what they're breathing in or coming into contact with every day. From our pristine and beautifully crafted organic sofas to our comfy and cozy organic mattresses, we always have day and night time needs in mind. Chemical flame retardants are nasty and are not conducive to a healthy lifestyle. Research has found that these toxins can lead to obesity, ADHD and even cancer. We don't know about you but we're not okay with that which is why we've created an alternative to the standard products on the market.
You can't just stop there though. Consider purchasing organic and natural foods, beauty products and cleaning products, just to name a few! Think about where these products are coming from, whether from a local farm or a reputable company that cares about both people and the planet. You can even make some products at home, such as body lotion and, wait for it, toothpaste! Check out our blogs on organic living. There's a Part 1 and Part 2!
Learn more about our natural and organic products
Compost
Composting is a fantastic way to take those food scraps from last night's cooking extravaganza and introduce them back into the Earth. Composting leads to nutrient-rich soil that you can either use yourself or give to a composting company. Why send more waste to a landfill? You can compost fruits, veggies, egg shells, grains, nuts…the list goes on! It's an interesting way to learn about our natural world and could even be a fun thing to do with your kids when teaching them about green living and sustainability.
Recycle
This may seem like an obvious point but it's important to mention nonetheless. Recycling is always a better option than simply sending items to a landfill. Recycling conserves materials and energy. When we deliver a Savvy Rest organic mattress to any of our local customers (those who live near our Savvy Rest Natural Bedroom stores), we offer to take their old mattress off their hands so it can be recycled responsibly instead of simply being discarded and left in a landfill for years and years. Mattresses that go through the recycling process are taken apart so that the appropriate materials are grouped together and recycled.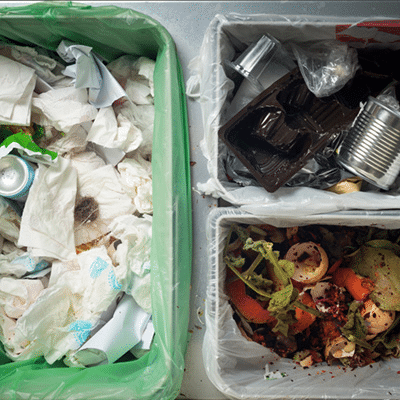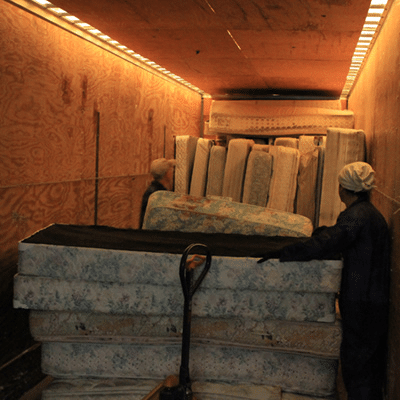 Reuse
I love finding ways I can reuse certain items instead of simply throwing them away. You never know what can be of value. For example, I believe you can never have enough glass mason jars. I use them to drink out of or for storing all sorts of goodies, such as change, makeup brushes and even my toothbrush! Speaking of my bamboo toothbrush, when I'm done using it, I upcycle it as a cleaning tool so I can get all the nooks and crannies of my shower and sink that my large scrubbing brush can't reach. Smart, huh?
Also, have you discovered the beauty of thrift shopping? It's so much more fun than going to mainstream stores because you find unique, vintage pieces that have a story behind them. Why throw away a perfectly good pair of shoes when they can be reused by your glamorous self? Whether you opt for 80's handbags or prefer modern used clothes at your local consignment store, you're making an eco-friendly and sustainable purchase. These clothes already exist so they should be used for as long as possible. A tremendous amount of water and energy is wasted in irresponsible clothing manufacturing practices so doing something as simple as buying clothes here and there from thrift and consignment stores is a way to make a difference.
Still love brand new items though? Try buying from local vendors, artisans or companies that have ethical and environmentally friendly manufacturing processes. We love that our products are American-made. Our current obsession is our platform beds that are hand-built in Central Virginia.
Spread The Word
Don't underestimate the power of a few simple words. I've brought up eco-friendly changes I've made in my life when chatting with friends and family members and was shocked to see how much of an impact my words made. They saw my passion and interest in doing my part and then wanted to do their part. You don't have to change everything about your life to make a difference. You can simply bring a reusable bag when you go shopping or buy more produce from local, organic farmers. These little things add up. So, what changes are you going to make?