I found new inspiration about the potential for sustainability during a recent trip to the Interzum conference in Cologne, Germany. I spent a few days in Freiburg before the conference. Freiburg is a very beautiful city on the edge of the Black Forest. The old town with cobblestone streets is incredibly charming and even more incredibly accessible.
I began by taking the ICE (Inter-City Express) train from Frankfurt to Freiburg. Small wind farms were dotted through the pastoral views. Although speed isn't the main issue in the world's transportation woes, this reliable, high-speed train that runs over 150 miles per hour certainly reduces traffic on the famous Autobahn.
I rode a modern, beautifully-designed tram from the main train station to the edge of town. This was no rickety old electric car. When stopped, it could lower to the ground so older folks using walkers could easily get on. Students, seniors, working people–everyone rode the trams, and they were used a LOT. I never saw an empty tram.
The bus from the last tram stop to my B&B was not much different from U.S. buses, but there was a clear schedule of times posted for each stop, and the driver used a monitor to view how the system was operating. The bus system was also well used. The buses are free, although tram passes cost $3 or so.
As you might expect in Germany, the trams all ran on time, and the buses to outlying suburbs also ran on time, with coordinated schedules. Now that's a reliable public transportation system!
Germany on Two Wheels
People ride their bikes everywhere. There are large, dedicated bike paths ranging up to three miles outside of Freiburg and perhaps farther. You can park your bike in hundreds of racks all around the city. Seniors are on bikes. Women on bikes. Little kids on bikes. Men on bikes. That's zero footprint, well — close!
Riding the ICE train to Cologne, I read in Deutsche Bahn (a train magazine) an interview with the German secretary of transportation, Peter Ramsauer. He sees bicycles as integral to future transportation in Germany. Berlin and Freiburg were two pilot cities for biking, and he plans more bike paths in cities throughout the country.
Sustainability is partly a new movement, but it's also an ongoing way of living. People bike to cities to shop or to reach entertainment. They bike to the train station and move on from there. They bike from the train station to work. We saw hundreds of parked bikes at the train station in Maastricht, and that's a common sight in many German cities.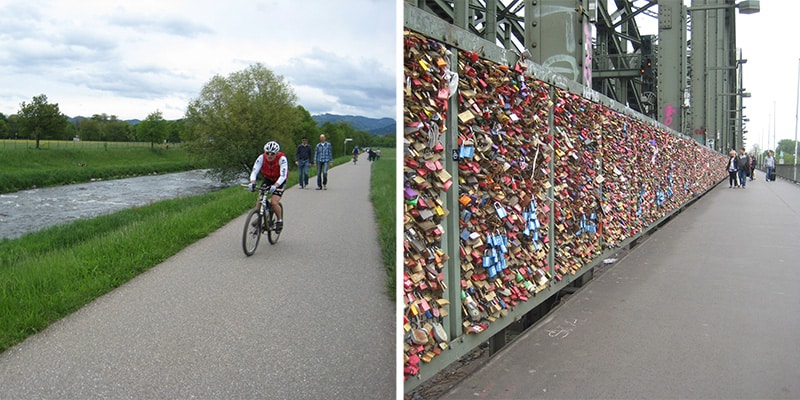 Responsible Living
Equally important is their emphasis on building reasonably-sized homes and condominiums. People who own free-standing homes do not choose 3000-square-foot houses, let alone McMansions. I didn't see a single McMansion, but instead a variety of interesting homes in the 1500-to-2000-square-foot range.
From square footage to footpaths to thousands of feet climbing onto trams or pedaling bikes, it was powerful to see how possible a "smaller footprint" really is. Although we may not be able to reduce our energy use to levels like Europe's, there are encouraging initiatives in the U.S., too. We see it in numbered bicycle routes, energy-efficient architecture, and in the explosion in the number of environment-related degrees universities are offering. Behind all of these are many individuals who are determined to make a difference.