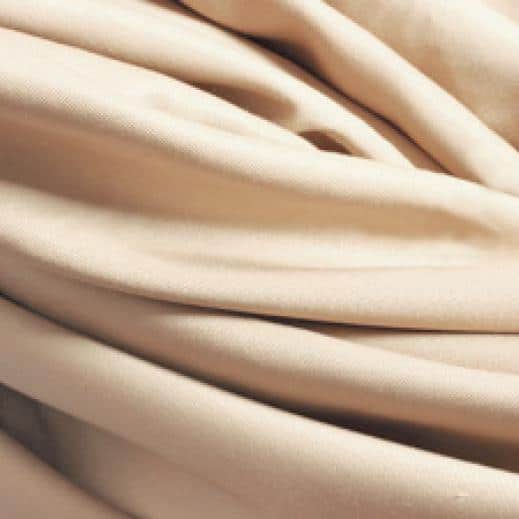 To convey the benefits of some eco-friendly solutions can require bales of education. Most people care about the planet and their own health. But not everyone has the time to learn all there is to know about industrial processes. For every organic spinach patch, there's a counter-argument about distribution, convenience, or cost.
Organic cotton, fortunately, is easier to explain. There are two primary reasons to choose organically-grown cotton whenever you can. The first is your own health; the other is the health of the earth. And they're inseparable.
Hidden Dangers
Those silky sheets or satiny mattress cover? The number of chemicals that can be used to produce a conventional textile's luxurious look or feel is staggering. Many are known skin irritants; some are carcinogenic. Pesticides are also endocrine disruptors, which subtly alter the body's hormone balance. There is new debate about the consequences of chronic exposure to low levels of these compounds. Among concerns scientists have identified are increased risks for obesity, infertility, developmental brain disorders, and cancer.
When you choose bedding and a natural mattress made with organic cotton, you eliminate an important source of chemical exposure in your home. Because you sleep in close contact with your bedding materials — and for years — organic cotton may be among the most health-protective choices you make. Some experts believe that organic cotton is as significant for health as organic food. Organically grown and processed cotton will not expose you to herbicides, fungicides, or other chemical residues. For the highest quality, also look for the GOTS seal. Global Organic Textile Standard (GOTS) certification represents the most rigorous organic standards worldwide.
Then there's the health of the planet. The environmental consequences of conventional cotton production are horrendous. Conventional cotton uses more pesticides than any crop on earth — and more of the most toxic kinds. These chemicals poison the soil and wildlife, drift into waterways, contaminate livestock even when applied to fields miles away, and wind up in human tissue. They also destroy entire ecosystems. For example, the fourth-largest body of water on earth, the Aral Sea — once a thriving food resource, is now too polluted from cotton agriculture to support fish.
Turning the Corner
Like our environment, human beings suffer from conventional cotton production at every step of the cycle. Agricultural laborers' children sprayed while playing near cotton fields, factory workers exposed to a slew of toxins, and consumers who wear or sleep on fabrics that carry chemical residues — all could testify that non-organic cotton is NOT "the fabric of our lives." Ready for a hopeful note? More people are turning toward organic cotton. Global output has exploded, increasing over 500% in a recent four-year period.
So when you choose your natural mattress, make it an organic one. A mattress casing of pure organic cotton not only is better for your health, but the unbleached color is beautiful. It's a natural reminder that simpler materials are safer ones for you, for those you love, and for the earth we live on together.