Pain while sleeping can seriously impact overall quality of life. We need sleep to maintain a healthy immune system, general brain function, and emotional well-being. Without proper sleep, the body and mind suffers.
If you're unable to find a comfortable sleeping position due to back or hip pain, you may need to replace your mattress.
How does this pain affect me & my sleep?
Untreated hip and back pain can lead to further complications down the road, including issues with sleep. These could manifest as…
Having trouble falling asleep
Waking up during the night
Tossing and turning
Affecting circadian rhythm
Waking up sore
How can I alleviate the pain?
Answering this question depends on where the pain is located, among other factors.
Hip Pain
First, we recommend getting it checked out by a medical professional, especially if the pain has persisted for an extended period of time.
Second, we recommend either updating your mattress or, if it's simply a little extra cushioning you need, adding a mattress topper.
If your hip feels relatively normal when you go to bed but every morning you are waking up sore, then your mattress may be too firm.
If you want to avoid getting an all new mattress, try a soft mattress topper first. A mattress topper is designed to give you an extra comfort layer.
Choose either a soft natural latex topper such as The Vitality, which includes Talalay latex. Talalay is known for its incredible pressure point relief and responsiveness while still offering plenty of support.
If you prefer a non-latex option, we recommend The Natural Woolsy topper, which is filled with plush wool that will give you that extra bit of comfort without too much of a sinking feel.
If you are a side sleeper, we also recommend adding an organic body pillow to your sleep routine for extra pressure point relief and support.
Best Mattress for Hip Pain
If your mattress is so firm that a topper won't do the trick, then we recommend getting a brand new mattress with a density that will offer enough pressure point relief.
Hip pain that is correlated to the mattress you sleep on is usually due to side sleeping on too firm of a surface.
We recommend the top layer of your mattress have either Soft or Medium Talalay latex. Talalay latex is very beneficial for side sleepers since it cradles the hips and shoulders as you sleep.
Our most popular mattress is The Serenity, which is totally customizable. For even more plush comfort, we recommend a pillowtop mattress.
Back Pain
Back pain can be a little more tricky. Nerve-related back pain for example is different from arthritis. And then of course, back pain from a mattress that is no longer supporting you is a whole other topic.
As always, we first recommend speaking to a medical professional about your back pain. They should be able to tell you the cause of the pain and how best to treat it.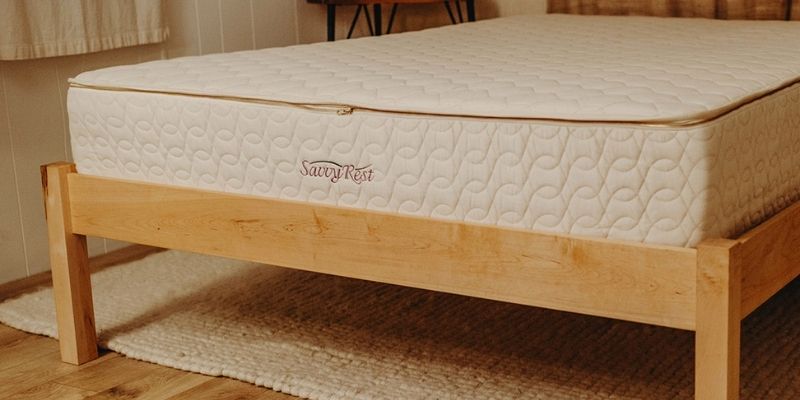 Best Mattress for Back Pain
If you wish to replace your mattress, then that's where we come in!
If your back pain is nerve-related, we recommend a firmer mattress with a denser latex like Dunlop. We recommend The Serenity mattress with Medium Dunlop as the top layer, either Medium or Firm Dunlop as the middle layer, and Firm Dunlop as the bottom layer. We do not recommend a mattress topper.
If your back pain is due to arthritis or other types of inflammatory issues, we recommend a medium firmness overall that still has a touch of cradling softness. For example, you can have a medium/firm mattress but add a wool topper for that extra relief.
If your back pain is due to a mattress that is sagging or too soft, we recommend replacing it with a firmer mattress overall.
Sleep Comfortably
We hope this blog post has helped you find the best type of mattress for back and hip pain.
For more information on creating a mattress made just for you, check out our interactive mattress tool.
Need more help? Reach out to our customer service team.
Explore our best-selling layered mattress options