There are several things to consider when shopping for a sofa: size, style, fabric, color, and comfort are just a few. But above all, having a non-toxic sofa is absolutely key.
We lounge on our sofas every day so it's imperative to think about the materials used in furniture and whether or not they're natural and safe.
If you're looking for the best non-toxic sofa for your living room, we can help.
Savvy Rest organic sofas, loveseats, and armchairs have a modern silhouette, exceptional comfort, and are crafted with healthy materials. Keep reading to learn more.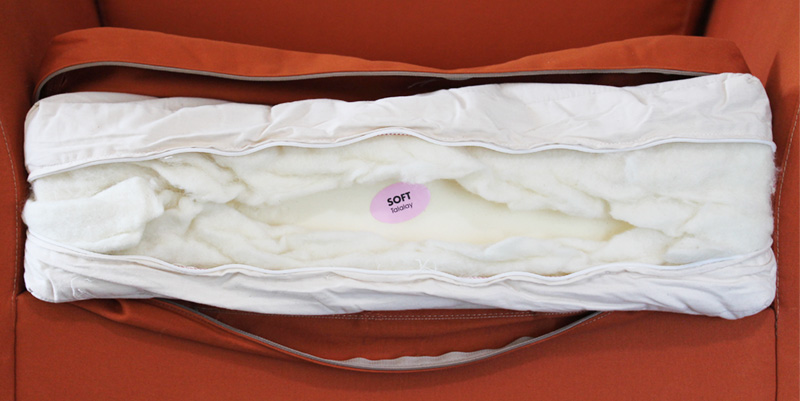 Natural Materials
Savvy Rest non-toxic furniture includes the following natural materials:
Certified sustainable maple hardwood
GOTS-certified organic upholstery (hemp, cotton duck, hemp-cotton blend)
Cradle-to-Cradle GOLD natural Talalay latex
Certified organic wool batting
Natural jute webbing
Natural coir (coconut fiber with natural latex)
Zero-VOC linseed oil
Our Verona furniture line is free of chemical flame retardants, formaldehyde glue, cardboard, metal coils, particle board, plywood, and veneer.
Why do materials matter?
When you're lounging on your sofa, you're not only coming into direct contact with the materials used, but you're also breathing in anything that piece of furniture is off-gassing.
Even the cleanest of homes have tiny dust particles floating around in the air. These dust particles act as sponges that absorb harmful chemicals that may be off-gassing from your mattress, sofa, chairs, etc.
That's why it's so important that your furniture does not include chemical flame retardants or is treated with harsh finishes that may contain volatile organic compounds (VOCs). Exposure to these chemicals can have adverse health effects.
Watch our video to learn more about toxic dust.
//player.vimeo.com/video/143907612?color=
Harmful chemicals from your mattress(es) and furniture may be floating all around you. Here's what you can do to avoid them.
Customize Your Sofa
Savvy Rest sofas, loveseats, and armchairs are customizable in several ways.
Choose your…
Organic fabric (hemp, cotton duck, hemp-cotton blend)
Fabric color (all available colors listed on the product page)
Seat cushion firmness (Firm Solid Talalay, Soft Solid Talalay, Soft Shredded Latex (mix of Dunlop & Talalay latex)
Arm height (30.5" vs 23.5")
Feet stain (several zero-VOC options listed on the product page)
Start Shopping
Go organic for your health and the health of our planet. Lounge in luxury without harmful chemicals. Start shopping!
Learn more about our organic furniture