Chris Manley is the owner of Resthouse Sleep Solutions in Duncan, British Columbia, Canada. He is passionate about organic and natural alternatives to a healthy sleep.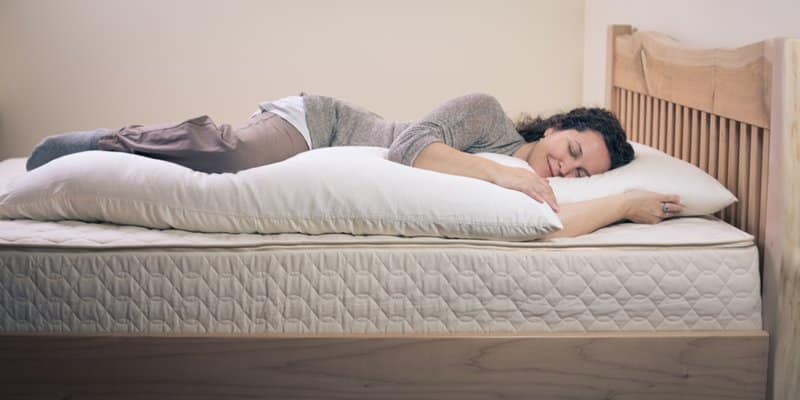 For years we have been relying on the mattress to solve many of our sleep problems and to alleviate all the pain and discomfort from a poor night's sleep.
Memory foam, coil mattresses, air beds, and other new mattress options are touted as solutions that are going to help us with all our sleep needs, yet many mattresses end up with dips or indentations within the first five years (some dips can be as deep as two inches). These sags and variations in firmness can lead to sore muscles and neck pain and can become the actual source of our sleep troubles.
I make a living working with organic mattresses and believe that when it comes time to replace a mattress, one should look at natural options. However, it's important to ask this question: What if there could be a sleep solution that didn't involve the mattress?
I discovered the body pillow ten years ago and it completely changed the way I slept. I was suffering from lower back pain due to a car accident. Arthritis had also set in, and I tossed and turned a lot at night trying to find a comfortable sleep position.
My problem as a side sleeper was that my top leg would drop down onto the bed while I slept. My upper shoulder would also collapse and cause an uncomfortable tilt in my neck. In order to relieve the pressure, I ended up sleeping on my stomach or falling onto my back. All that tossing and turning kept me from getting a deep and rested sleep. 
Choose an Organic Body Pillow That Suits Your Body
I immediately felt an improvement in my body's alignment when I started using a body pillow, and in turn, slept more comfortably. The body pillow worked by keeping my upper arm and leg supported, and as a result allowed my back and spine to relax while I slept.
My new passion became sharing my success and findings with others. The body pillow became my most trusted and relied upon sleep solution.
What exactly are organic body pillows?
Organic body pillows are long and narrow pillows that run the length of your body, supporting your top leg, torso and upper arm throughout the night.
The benefits of a Savvy Rest organic body pillow
Depending on how you sleep, Savvy Rest body pillows can provide a variety of benefits, including:
Proper body support for side sleepers
Pressure relief on the lower back, spine and hips
Improved shoulder, hip and spinal alignment
Relaxation of the muscles along the spine
Improved weight distribution and blood circulation
Diminished snoring by helping you sleep comfortably on your side
Potential pain relief from headaches
Versatile sleep aid for injury recovery
Additional support during pregnancy
What fills are available?
Each of the following fills offers a different comfort and firmness which allows each sleeper's personal preference and individual support needs to be fulfilled.
Organic kapok
Organic and natural shredded latex
Organic wool
Organic wool and latex blend
With each organic body pillow being customizable, one has the ability to remove the chosen pillow fill and enter it back in as needed over time, allowing for a perfect "pillow partner" for years to come.
Organic body pillows are an affordable and easy way to improve the quality of anyone's sleep. Make sure to check one out soon!