A home should be a place of comfort, functionality, and creativity.
Singer and photographer Noelle Johnson loves warm earth tones, boho decor, and natural furniture. Her home is both eco-conscious and incredibly comfortable, because you shouldn't have to sacrifice one for the other.
Follow along as we explore Noelle's cozy bohemian home. She offers some advice for anyone looking to update their own living space.
Boho Living Room
The living room is one of the most well-loved spaces in any home. It's a place where you relax with a book, spend time with family, watch your favorite movies–the list goes on.
Regardless of how you choose to spend your time, there should be comfortable living room furniture (especially a comfy couch) and decor pieces that bring you joy.
Noelle's living room is filled with neutral, warm tones: "I would describe my home decor style as eco-friendly/earthy/boho. Earth tones and cream/white is my favorite color palette. I love things to feel super comfy and cozy while also still feeling fresh."
She also uses different textures, such as the rattan ottoman and chairs, along with patterned throw pillows.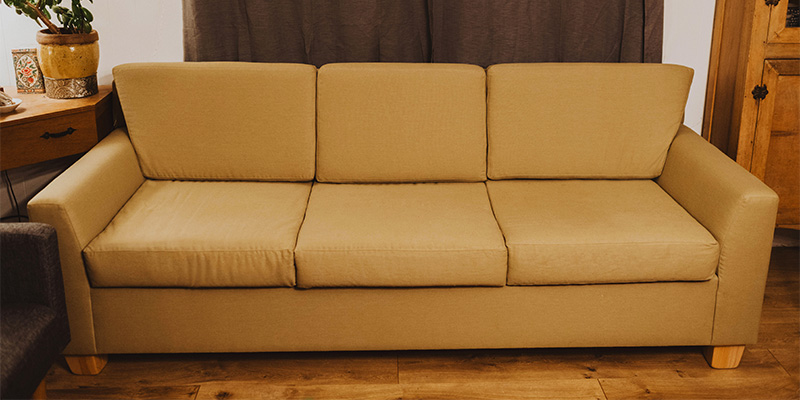 One of the pieces that Noelle enjoys the most is her Verona organic sofa.
"The Verona sofa is so dang comfortable…like comfortable enough that I have chosen to sleep on it all night! The cushions have just the right amount of both softness and support."
Noelle opted for organic cotton/hemp blend fabric in the color khaki. The feet of the sofa are made of sustainably sourced wood and include a zero-VOC linseed oil finish for a truly natural and bright look.
The comfy element of the sofa is from the Talalay latex cushions. Talalay latex is breathable, supportive, and a natural alternative to memory foam.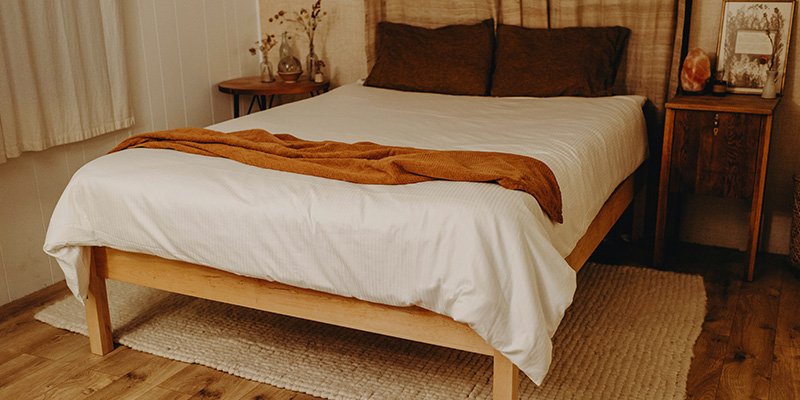 Cozy Bedroom
Like her living room, Noelle's bedroom also includes warm tones that really add to the relaxing feel of the space.
Her end tables act as a beautiful contrast alongside the lighter platform bed and rustic hardwood flooring.
Noelle's natural platform bed is made using sustainably-sourced maple and poplar wood with a zero-VOC linseed oil finish.
We love the little details in the room, from the salt lamp to the small glass bottles that double as vases.
But perhaps the bedding is the real showstopper.
"I'm a huge fan of all Savvy Rest bedding but I'd have to say my favorite thing is probably the natural Savvy Woolsy mattress topper. I also love the weight and softness of the natural duvet insert!"
Both of these cozy bedding items include domestically-sourced wool covered in organic cotton. Wool acts as a natural temperature regulator so it's warm in the winter but cool in the summer.
Update Your Space
Ready to update your home but don't know where to start? Noelle has some advice.
"My advice would be to invest in pieces that you feel genuinely good about purchasing. Quality pieces that will last for years and years. I love Savvy Rest products because they're beautiful, comfortable and non-toxic. Triple threat if you ask me."
Learn more about Noelle
Noelle has an eye for interior design but her true passions are music and photography. Make sure to follow her on Instagram!