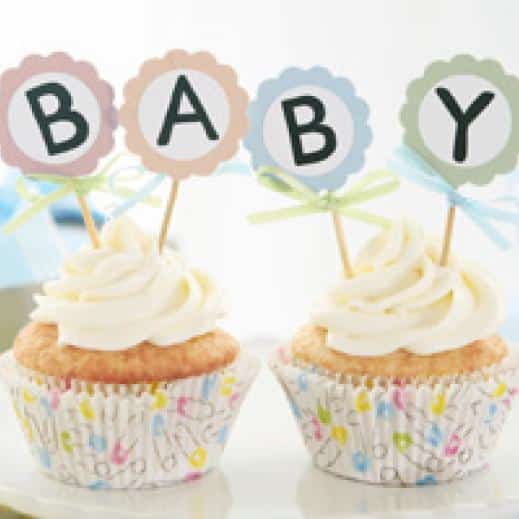 Planning a baby shower for a relative or friend?
The traditional shower of gifts is a special way to show love and support for a parent-to-be who might be just a little overwhelmed. But consider: while a glowing expectant mom sits amid a pile of presents, will most of the gifts she's about to unwrap be made of plastic or other synthetics? What if among her happy thoughts are also: "What kind of world will s/he face?" "How can I keep my baby safe and healthy?"
Here's a creative baby shower idea to start parents and babies on a positive, green path. Set an empowering tone with a Natural Nursery shower theme. "Nursery" is sometimes viewed as an antiquated term for a new baby's room. But some old-fashioned ideas (and gifts made from old-fashioned materials) could help a lot of new parents these days.
Many parents have quiet worries about how they can give their child safe, healthful surroundings, as so much new information is surfacing about chemicals. Many industrial chemicals that were unheard of generations ago are now polluting our homes. And some are believed to contribute to developmental disorders such as ADHD and autism. A Natural Nursery shower is one way to encourage a positive start.
Invitations
Use recycled or repurposed paper, unbleached twine, and potato stamps with non-toxic inks to create natural, appealing invitations to the shower. No waste, and a nice opportunity for that hand-touched feel. Alternatively, you can forgo paper entirely for Evites, if you like.
Decorations and Treats
Nature's your inspiration, not plastic "stuff." Look to the natural world for plant-based themes, healthful party food and engaging shower games. The sky's the limit on the fun your guests can have, and the uplifting Natural Nursery theme will carry all the way through.
Gifts
Ask guests to choose items that are made from organic, natural, low-impact, and/or recycled materials. A huge variety of eco-friendly baby toys, clothes, and accessories–even diapers–are available both on the internet and in progressive local stores.
Your group gift? What else but the place where the baby sleeps? The crib mattress, where a newborn naps and sleeps for up to 18 hours a day, is the most important part of a nursery for pure, natural materials. A Savvy Baby organic crib mattress and natural wool mattress pad will not expose a vulnerable infant to chemical fumes or residues. Add organic crib bedding for tender skin. Making sure the sleep environment will be pure, safe, and natural is the perfect "big gift."
This creative shower will help ensure a new baby's chance to sleep, grow and play in a room that's clean, safe, and as free as possible from synthetic products and off-gassing fumes. Your Natural Nursery shower will nurture the little one and parents, too.