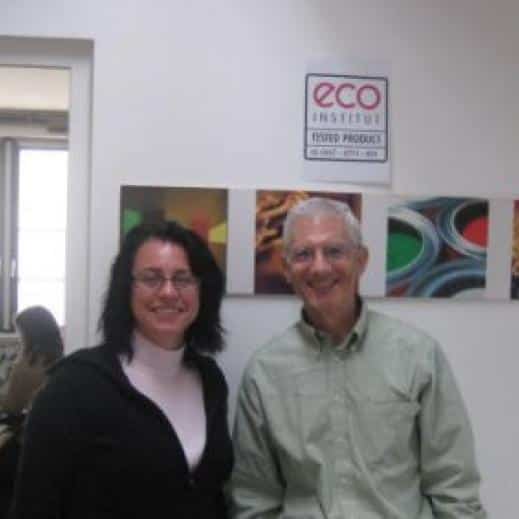 The Eco Institute in Cologne, Germany is a very well-respected organization that tests a variety of products for pollutants and emissions.
Their areas of testing include building materials, flooring, mattresses and bedding, furniture, automotive interior equipment, automotive interior air, as well as everyday items like toys, cell phones, and other electronics. The reason independent companies use the Eco Institute is because they want to be able to display the coveted Eco-Institut certificate of approval. In Germany, the certificate allows producers to command a higher price for their products.
It wasn't enough for Savvy Rest to read about the Eco-Institut. I wanted to visit them myself and meet with the main person involved with mattress testing, Aleksandra Vujovic. We spoke mostly in English, and it gave me a clear understanding of the integrity and thoroughness of their testing.
The Eco Institut does not label anything as organic, such as an organic mattress. They merely test to be sure that materials meet certain thresholds for emissions requirements. The main material in our Dunlop mattresses is natural latex made by Cocolatex in Kerala, India, and this latex has earned the Eco Insitut label.
Simplified Version of the Approval Process
The Eco Institut sends documentation regarding the approval label.
The company requesting the test sends a small sample along with the list of ingredients used in the sample (in order to see if it will qualify for approval).
The initial test is performed by an independent third party.
If the material passes, the Eco Insitut will test the material in their own laboratories.
If it passes the test, the Eco Institut will issue their label. If not, then they will send the results back to the producer for revisions and advice prior to re-testing.
When testing materials used in mattresses, the Eco Institut tests for a very extensive list of chemicals, including:
Many VOCs—volatile organic compounds
Many POPs—persistent organic pollutants
Heavy metals, such as lead, antimony, cobalt, copper, mercury, etc.
Many pesticides, such as Captafal, Perthan, Permethrin, Telodrin, Toxaphen, etc.
Formaldehyde
Phthalates
The list appears exhaustive to a non-chemist such as myself.
The Eco Institut works in coordination with many other organizations throughout Europe to ongoingly provide more pure and more sustainable standards in manufacturing.
Most importantly, the tests go "far beyond meeting existing legal obligations" in Germany and the European Union; and as we all know, the existing legal standards for chemical exposure in the European Union are stronger than what are set by the EPA or other consumer groups in the United States.
If you know German or have a German friend, you can check out the Eco Institut's website.