If you're a side sleeper and experience shoulder pain when you wake up in the morning, it could be your mattress.
It's important that your mattress supports your body but it's equally important that it also offers pressure point relief, especially for side sleepers. A mattress that is too firm can lead to shoulder and hip pain.
Keep reading to learn what type of mattress is best for those struggling with shoulder pain.
What Causes Shoulder Pain?
Shoulder pain can be caused by a whole host of issues, such as a muscle tear or pinched nerve, swelling, arthritis, stress, sleep position, or the density of your mattress—just to name a few.
Neck pain and shoulder pain can go hand-in-hand as well. Sometimes pain in one area can signal a problem in the other.
Materials that Relieve Shoulder Pain
If you think your memory foam mattress is causing your shoulder pain, then you'll need to replace it with one better suited for your body's needs.
Memory foam mattresses can have issues with dips and sags. This is because memory foam traps your body heat and it is the chemical reaction between the foam and your heat that allows it to gently conform to the body.
This is comfortable for a period of time. However, eventually, the memory foam has a difficult time bouncing back, leading to uncomfortable dips which can cause back, hip, and shoulder pain.
Opt for natural latex instead. Not only is it a natural material created from the planet's resources instead of being chemically-derived, but it's also considered more durable than polyurethane foams, meaning it's less likely to sag and cause discomfort. The material, in general, also allows for a longer mattress life.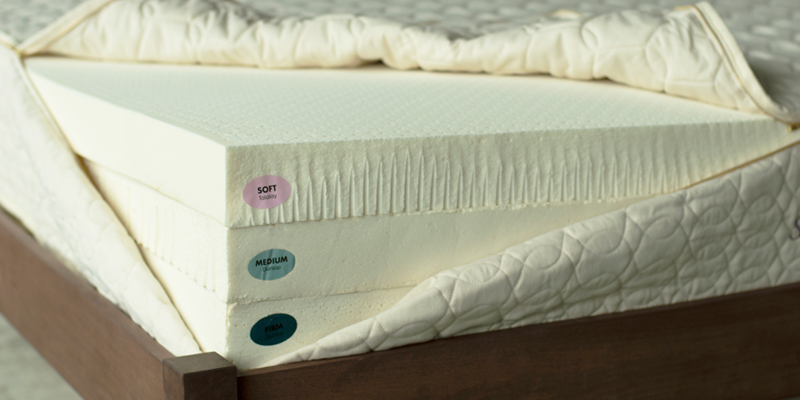 Customizing Your Latex Mattress
If you're experiencing shoulder pain (or really, any pain), a customizable mattress is the best option.
Some mattresses out there are simply "one size fits all" or if you're offered a choice, it's simply "soft" or "firm." With a customizable mattress, you don't have to compromise and settle on a mattress that is "sort of" comfortable. Instead, you get to sleep on a mattress with the exact feel you need.
Savvy Rest organic mattresses are made with layers of natural latex and are completely customizable.
We believe a mattress should reflect our diverse body types, sleeping positions, and definitions of what is and is not comfortable.
By having total control over how your mattress feels, you can sleep on something that will help rather than hinder your sleep experience.
If you're a side sleeper experiencing shoulder pain, you want to make sure that your mattress is not too firm and not too soft. Your height and weight, along with your typical sleep position, will help determine which density will be most comfortable.
We typically recommend the top layer of your latex mattress be either Soft or Medium Talalay if you're a side sleeper since Talalay is known for its pressure-relieving qualities. It will gently cradle your side but still offer support.
Here are some possible Serenity mattress configurations: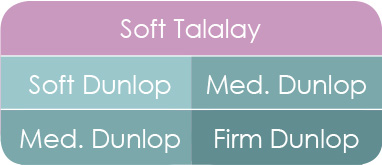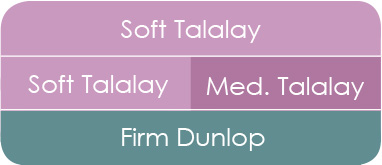 Mattress Toppers
Not ready to part with your current mattress?
You can always add a touch of softness to your mattress with a mattress topper.
Savvy Rest offers three:
The Harmony is our must luxurious topper. It comes with the same organic casing as our latex mattresses and is completely customizable. You can choose any layer of latex you'd like, though our bestseller is Soft Talalay.
The Vitality is our softest topper since it is covered in a stretchy, organic cotton knit fabric that allows for close contact with the latex. The Vitality includes a layer of Soft Talalay.
The Savvy Woolsy topper is filled with your choice of either natural/domestically-sourced wool or certified organic wool. It's covered in a plush organic cotton sateen fabric. This is the perfect topper for someone who wants a hint of softness without feeling like they're sinking into their mattress. It's subtle but incredibly cozy—you'll never want to get out of bed!
Something worth noting: If your mattress has a dip, your topper will only begin to dip with it. Only add a topper to a mattress that is simply too firm, not a mattress that needs to be replaced due to support issues.
Organic Body Pillows
Organic body pillows are also beneficial for side sleepers. They help keep your spine, shoulder, and hip aligned and promote proper body support.
Start Shopping
It's time to get the sleep you deserve without the shoulder pain. Start shopping!
Explore our best-selling layered mattress options