With Alba Ramos of SunKissAlba, a natural beauty and lifestyle blog.
Savvy Rest is very curious about sleep—and about people, too. From time to time, we ask interesting folks these questions to give you a peek at how others sleep…
What is the first thing you do when you wake up in the morning?
A normal thing for me is to drink water. I've gotten into the habit of forcing myself to drink water as the first thing that goes into my body.
Would you consider yourself a morning person, or are you more of a night owl?
I used to consider myself a night owl, and I do feel like I'm more awake at night naturally, but because I'm a mom, I don't have that option. I have to get up when my kid is up, but I wish I could sleep in. I like the feeling though of being up early and getting things done and not having that laziness holding you back. I feel like I'm more myself and energized at night, but I force myself to be a morning person as well.
Do you have a favorite food you like to eat for breakfast?
Right now I'm a smoothie person. It's super quick and simple. I just add either coconut milk or almond milk and add some fruit in there. I'm trying to workout more often and I don't like to workout on a full stomach, so that's my go-to right now. Also, smoothie bowls—those are really cool because I can add chia seeds and fruit on top.
I see beautiful photos of smoothie bowls on my Instagram feed—they look so good!
Sometimes I make the ugly looking ones, but sometimes they taste better than the ones that look really appealing!
If you could change one thing about your bedroom, what would it be?
I would say more windows because I love a lot of light. And not that we don't have good light, but I just think you don't need a lot of decor [with light]. It's part of being minimalist and having just an airy, bright-looking room. It just makes everything look better when you have this really nice sunshine coming in. I could also add more plants if I had more light.
Do you remember the best sleep you've ever had?
It's usually when I'm sick because I feel so tired that I need the sleep. They say your body recovers and heals as you sleep. It's bittersweet because I don't want to be sick.
The worst?
On an airplane—I'm one of those people who can't sleep on an airplane. I try to avoid the red eye flights, but sometimes I have to take them. It's the worst when you have a middle seat.
Do you remember a recent dream?
I don't always remember my dreams, but I did have a really weird dream last week. It was just me and my son walking, and there was as baby laying in the street. I had the baby in my hands, and I didn't recognize the baby. It wasn't a newborn—the baby was probably almost a year old. I picked up the baby and my son wasn't there anymore. I started freaking out in the dream, and I was calling his name—he had run away or something. I guess it's a mom fear.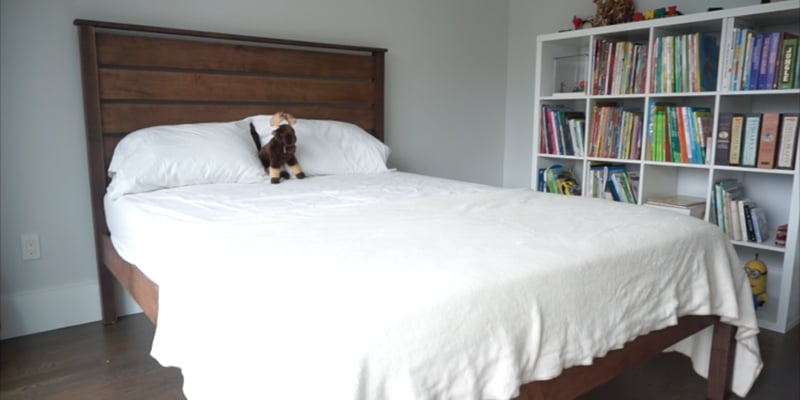 Your son, Manny, sleeps on one of our organic mattresses (a Serenity). How does he like his new mattress?
He absolutely loves it and we honestly feel like his bed is more comfortable than ours. We lay on his bed as well at nighttime when we're reading books and just hanging out with him, and it is more comfortable than ours. We have an organic mattress that isn't from Savvy Rest, and it has a different feel to it. What I like about the Savvy Rest mattress is that you don't feel the split in the middle. The layers combine with each other so nicely. It's so durable, and we're grateful to have it.
Manny has our Esmont natural platform bed as well.
Yes, and it goes with everything! It can go in any room with any style. That bed will last forever. I also like how you can move the panels in the headboard—you can have them separated or you can keep them together.
Your blog focuses on natural beauty and healthy living. Can you tell me how it all started and what inspired you?
At first, it didn't start off with the mindset of natural beauty. It started off with me just wanting to connect with women who were like-minded, and I had no idea what "healthy" and "natural living" meant until my son was three years old. He was diagnosed with autism, and afterward we researched, just like most parents of autistic children, and looked at the route we wanted to take and the route we didn't want to take. We learned so much through that, and we're still learning today, so we were exposed to learning what "organic" means and looking at ingredients in all of our products, specifically food at first. We transitioned into a more natural lifestyle in every way. As we transitioned, I was already promoting makeup and how I do my makeup in a simple way, and how I transitioned my hair from being heat damaged to all-natural. As I was doing that, and at the same time learning about this natural lifestyle from within, it just made so much sense to switch over my makeup and the products that I'm using. As I did that, I just started to put more information out there.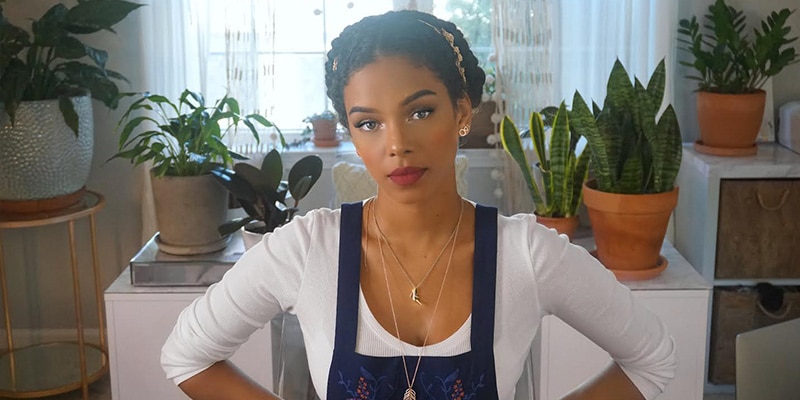 Let's talk about Instagram, which is such an amazing platform to really get to know people and start a dialogue about natural living. You have 363K followers—that's incredible!
I can't even believe it. I didn't make my Instagram right when everyone else did. I remember when it first started, and I felt like I didn't really need it. I've always had Facebook and Twitter, but I didn't really use them. Instagram picked up faster than anything I've ever had, than any other social media. It's really inspiring to see Instagram because I feel like Instagram is a combination of every other social media all in one.
How has it been having conversations on Instagram and connecting with people? And I assume you have relationships with other bloggers who blog about similar topics?
One thing that is great about the natural community is that everyone is so supportive of each other. Prior to being in this community, I didn't really experience that with just makeup or just beauty on its own. Everyone is so supportive of each other in the green and natural community, and we want to genuinely see more of us promoting the same idea. We want everyone to live well and just improve their life. We truly believe this helps everyone, not just a particular person who is sick or is dealing with something at the moment. It's more of a preventative thing for us. I think the conversation will always be there. I receive tons of messages every day with people saying thank you, and "I didn't know this, and now I'm sharing this with my family, friends, and followers," and the inspiration continues like a domino effect.
It's all about education. I think a lot of people don't know about chemicals in mattresses or in their makeup. They think a product like that can't be harmful.
Yes! Honestly, I just found out about furniture, paint, the way your house is made. We started with purchasing organic cotton towels and sheets, and then we slowly started to transition into the mattress and the bed. There's not a lot of companies out there that [offer organic options]. I actually found Savvy Rest on Instagram.
Learn more about our natural and organic products
How do you approach shopping for new products—do you have a mental list in your head about which ingredients or materials that you're trying to avoid?
It depends on what I'm shopping for. When it comes to food and makeup, it's not so much about the brand for me—it's more about what the product contains and if I can read the ingredients. I need to understand the list of ingredients and what [the ingredients are] for. I also have an app called Think Dirty. I've had it for about two years now, and it really helps when I'm not sure about something.
When it comes to furniture, like I said, there isn't a lot out there. When I'm shopping in a store, I don't expect to find health-conscious furniture. There are companies that don't use chemical flame retardants though. If I can smell plastic or paint, that's something I look for, but it also doesn't mean that there isn't any chemicals in there.
What are some tips you have for someone who is just starting to transition into a more organic and natural lifestyle?
If you're just starting out, it can be very overwhelming. It shouldn't be stressful; it should be a progressive change. With us it started with getting a water filter, then a shower filter, and then we started making better choices when we went shopping. Let experience be your best coach.