We had the opportunity to sit down with Becca Tetzlaff, the Wisconsin-based blogger behind Organically Becca. Her blog and Instagram are packed with useful information about natural and organic products, and how swapping one thing for another can greatly improve your personal health and environmental impact.
We talked about Becca's morning routine, why she started her blog, and which Savvy Rest product is her favorite.
What does your morning routine look like?
I'd like to say I have some Instagram-worthy peaceful morning routine, but I really don't.
I try to wake up earlier, especially now that it's summer, and go to a Barre workout class in the morning. It's a good way to start your day.
Most days, if I don't do that, I usually start with oil pulling. That's my must. It's kind of weird at first and it might make you gag, but you get used to it and it makes your mouth feel so good and clean. In addition to that, I use a tongue scraper. I have to do those every morning or else I'll feel gross.
I try to drink a ton of water in the morning so I start off really nice and hydrated. I'll do my skincare routine and put on makeup if I need to for the day. I just jump right into my to-do list for the day because it's in the morning when I'm most awake and motivated.
Would you consider yourself a morning person or a night owl?
Definitely a morning person. I've noticed as I get older, I wake up and go to bed earlier. It's hard for me to stay up past 10 pm anymore!
What's your favorite thing to eat for breakfast?
During the week, I'm not a huge breakfast person. I always have my coffee though. My coffee is kind of my breakfast. In the summer, it's cold brew, of course. Sometimes, I'll make a smoothie if I'm feeling it.
On the weekends, I always have a nice big breakfast: eggs scrambled, veggies, bacon. My husband and I both really like plantain pancakes. It's a flourless recipe so the plantains hold the pancakes together.
If you could change one thing about your bedroom, what would it be?
We have a very archaic mattress right now. We've got all our nice pillows and bedsheets but our mattress is really old. It's definitely our next big ticket item. Want to feel like an adult and have a real, legit mattress!
Do you remember the best night's sleep you ever had?
Thankfully, for the most part, I don't have much trouble sleeping! But what's coming to mind is about a year ago, my husband and I moved into our first house. It was our first official night in the new house, we didn't even have all our furniture put away yet. We even slept on an air mattress because our regular mattress wasn't set up yet! But just the relief of being moved in and knowing we were in a new home, I slept so well!
The worst?
On the other hand, I am really sensitive to noises when falling asleep, so I CANNOT deal with snoring! Recently I went to a bachelorette party and roomed with someone else (she shall not be named haha). I don't think I actually fell asleep the entire night because she snored so loud. On top of that, it was in a hotel room so I was out of my element and didn't have all my regular comfy pillows and sheets! Needless to say, I was super tired the next day.
Why did you want to partner with Savvy Rest?
I had heard about Savvy Rest through other people in the natural living space. We bought pillows and absolutely loved them.
The main reason I originally reached out is because of my dog, Dexter. We found some lumps on him. They weren't cancerous but we had to get them removed and then I kind of went into obsessive Dog Mom mode. I saw that you guys had organic pet beds so I reached out!
From the beginning, I liked everything Savvy Rest did—from being a B Corp to all the certifications you have. It was a really natural fit.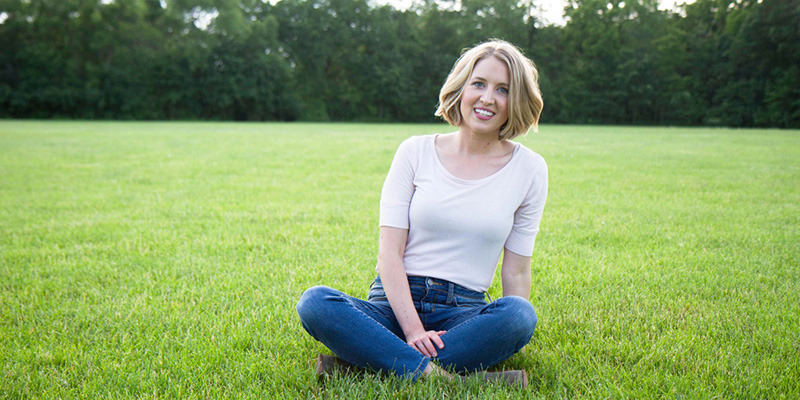 What is your favorite Savvy Rest product?
Definitely the body pillow. I have the organic kapok one and it's life-changing. It's very hard to not have the body pillow when I'm traveling because it makes such a huge difference, especially since I sleep on my side. It's great to have that support and stay aligned. My husband always tries to steal it!
How long have you been blogging? Tell me about how Organically Becca began and how it has grown over time.
It will be three years in August. It's really crazy! It feels that long but at the same time, it doesn't.
I was still at a corporate job and I had just started blogging on the side as a hobby. The main reason I actually started the blog was because a few years ago, I had really bad skin issues and acne. Like most people, you try everything under the sun to fix it and get your skin nice and clear.
Ultimately, what helped me was doing a bunch of research and learning about all the natural remedies out there. It trickled into overall more holistic health and healing—learning about what ingredients are in my makeup and the products that I'm using. It spiraled into all these areas in my life. There were all these things I learned and I wanted to share.
It's really cool to look back and see how much I've grown. Some days it might not feel like you're growing, but you are.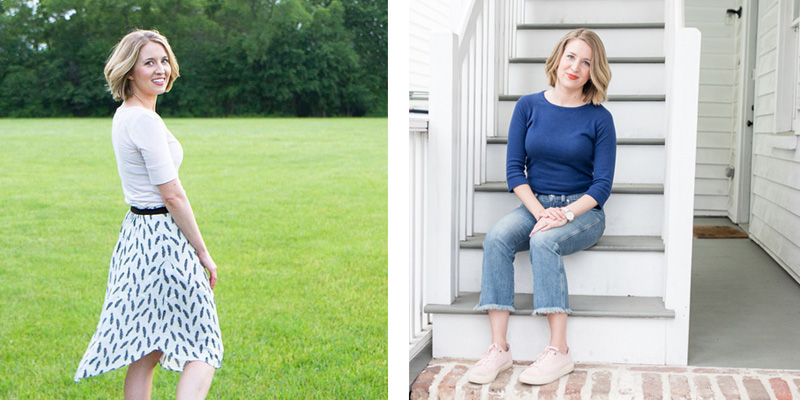 What is the most challenging aspect of running a blog?
For the most part, it's really awesome. But I think a lot of people have a misconception about it and think I just sit around and play with makeup all day. Well, there's a lot more that goes into it, especially if you actually want to make money and grow.
Being your own boss, in general, is not easy. There's a lot of self-doubt. It's really easy to get stuck in a trap of comparing yourself to people all the time, especially with social media.
Just like in any creative profession, you can get into ruts and not be inspired all the time. It's just always a learning journey.
I think people don't see a lot of behind-the-scenes stuff: managing your finances, taking photos, answering a bunch of emails. There's a lot of hats you have to wear but it's all worth it.
You also host a podcast called Positively Green with Kelsey Jorissen. What is the vision behind this podcast and what are some of your favorite topics to discuss?
We started that last fall and it's been a really good outlet for both of us. Kelsey and I both bring different expertise to the table. We cover everything under the umbrella of sustainability. I bring my expertise of clean beauty and skincare, and then Kelsey is more into gardening and farming. She raises her own chickens and sells eggs and veggies. We both get to bring our own strengths to the table.
We cover so much: gardening, herbalism, fluoride, ways you can use less plastic, sustainable fashion.
Our main goal is to empower people and to get people excited [about sustainability]. We want [sustainable living] to be seen as attainable and fun.
What are some goals you have for the future, either personal or career-wise?
Just continuing to grow this blog is my main thing. I know it's helped so many people but I know there's so much more potential to help even more people.
For the past couple of months, I've toyed with this idea of starting a brick and mortar store near me. I'm not necessarily interested in making my own line but it would be a market that carries a bunch of brands I like—makeup and skincare. Maybe in a couple of years! Who knows!
If you could offer a piece of advice for someone who is trying to live a more natural & healthy lifestyle, what would it be?
I feel like a lot of people say this but it's very true: go at your own pace and do the best for you. People usually feel like they need to ditch everything and be perfect tomorrow and it's like, you're just going to drive yourself crazy doing that! Baby steps are still steps in the right direction.
It took me years to get to a place where I feel comfortable and there are still so many ways I could improve. You're never going to check all the boxes and be perfectly zero waste, totally non-toxic, all organic. Just focus on the area you want and it will work its way into the rest of your life. Just try to have fun with it!