With Jason Cameron of DIY Network, host of Man Caves and Desperate Landscapes.
Savvy Rest is very curious about sleep—and about people, too. From time to time, we ask interesting folks these questions to give you a peek at how others sleep…
What is the first thing you do when you wake up in the morning?
Usually check on the dog because he's sleeping right next to us on his Savvy mattress, actually. I get up, hop in the shower and then get ready for work. Normally I'm up at 7 and on my way, but it depends on the day.
Would you say you're a morning person?
I'm generally in a good mood in the morning. If I get a good night's sleep I'm in a much better mood. I've been using my Savvy Rest mattress lately and I've been waking up a lot happier.
Do you have a favorite food that you like to eat in the morning for breakfast?
People tease me since I have my routine, which is my protein shake. It's my go-to. Sometimes I'll have scrambled eggs or toast—I eat healthy.
If you could change one thing about your bedroom, what would it be?
We have a pretty new house so we were able to design it the way we wanted it. I would add a nice big chair into the bedroom. Otherwise, I really wouldn't change much, because we were finally able to build our own house.
Listen to the Complete Interview!
https://w.soundcloud.com/player/?url=https%3A//api.soundcloud.com/tracks/295368749&auto_play=false&hide_related=false&show_comments=true&show_user=true&show_reposts=false&visual=false
Do you remember the best sleep you've ever had?
Other then just recently, in the past, the best sleep I've ever had was at The Sofitel Hotel in LA. I just remember getting up and feeling like that was a really good night's sleep. I remember they had a really nice mattress, and that's unusual. As someone who sleeps in many, many hotels, usually you get the worst sleep. Usually 9 times out of 10, the mattress is terrible. This always amuses me because you'd think that if you're running a hotel you would spend a little more money on the mattresses since that's where everyone ends up. This particular hotel had a great mattress. It's nice when people spend the time and the money to make you more comfortable.
My wife and I have had several mattresses over the years. We're like everyone else—we try this and that, and you always settle. But when I came across Savvy Rest, I loved how you all were organic, which is hard to find. My wife is very sensitive to chemicals, especially off-gassing, so this was a dream come true.
The worst?
The worst sleep was at a deer hunting camp—it was like sleeping on corn husks, but we made do. We were a bunch of guys and just didn't care. It's one thing when you're really young. When you're in your 20's, you could sleep anywhere. You could sleep on a mountainside or on a rock. But when you're in your late 30's and 40's, you want to sleep on something comfortable.
You have one of our organic mattresses (the Serenity) as well as the Harmony topper. Together we call that the Unity. How do you like the mattress and topper combination? Have you noticed an improvement in the overall quality of your sleep?
I love the mattress. My wife and I put it together and it was actually really easy and straightforward. We ended up getting the same configuration on both sides (Medium Dunlop, Medium Dunlop, Firm Dunlop). It's perfect for both of us. And then we got the topper as well, which I'm glad we did because it's really comfortable. The first night we slept on it, I was like "this is perfect." The sleep was amazing. I'm a side sleeper and my wife is more on her stomach. With other mattresses from the past, I couldn't quite get comfortable.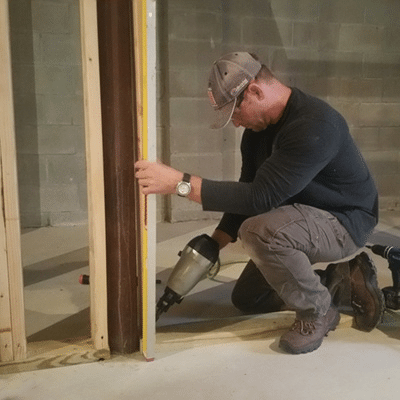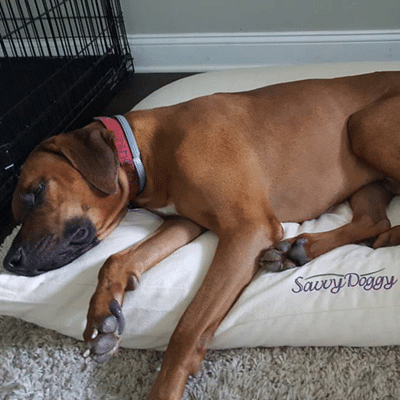 Since your wife is a stomach sleeper, it's good that you have one of the firmest combinations. Stomach sleepers really need something that's on the firmer side because if they don't have that then they can sink into the mattress, which wouldn't be good for her back.
I do like soft to some extent but when we were messing around with the combinations, we both realized that we wanted some firmness. It's great that you have that option where you can fine-tune it. We have the same combination but there are probably a lot of couples where one person wants soft and the other person wants something firmer, so the fact that you can stack the various layers side by side and get exactly what you want on each side is great.
And the fact that there is no [toxic] off-gassing is huge. There are a lot of people I know that are sensitive to that type of thing and me being in the construction business, I know all about off-gassing. I really appreciate the fact that you all avoid that in your products. It makes a huge difference to those who are sensitive to it.
Health is definitely a number one priority of ours, and that's why we use organic and natural materials that are actually durable.
Very durable! I've spent a lot of money in the past on mattresses and maybe got six months out of them before they were giving up or before you notice the indentations in the mattress. I can really tell with your mattress that the material is superior.
You also use our organic kapok pillows. Are they comfy?
They are comfy! You have to spend a little time taking out some of the fill, but I like the fact that you can make them firmer or softer. My wife and I were able to make four pillows from two pillows, because when you get them they're pretty stuffed. It was actually pretty cool that we got more pillows from it. They're great and big, which I like. When you have a King size bed, you don't want small pillows.
And your dog, Jazz, sleeps on the Savvy Doggy.
You guys surprised me! I was really excited. I got home and saw the box and saw it was from Savvy Rest and opened it up. He jumped right on it—he loves it. He's got beds all over the house, but his favorite one is the Savvy Rest now. He gets it exactly the way he wants it. He lays down and is in heaven.
Want to sleep like Jason (or Jazz)? Check out these products!
And I think it's so important for people to love their homes, because if you have a space where you don't feel comfortable, that can affect your health and happiness.
I've noticed that. The more thought and love you put into your home, the more comfortable you are. That's why DIY Network is so popular because people love the idea of doing it themselves, whether they renovate their whole home or redo a room, they put their own love and enthusiasm into it, and it makes a big difference.
I was about to ask what you like the most about the DIY Network. I guess it's their hands-on approach.
Yes, it's that hands-on approach because that's how I was raised. I'm a Midwestern boy. We were raised with those values. You want something, you work hard for it. Treat people with respect. Love what you do. And those are the values that I bring to whatever I do. I want people to walk away with that sense that we accomplished something really cool, and that they learned something. That's the thing about DIY—we want you to be entertained, but we want you to learn something too.