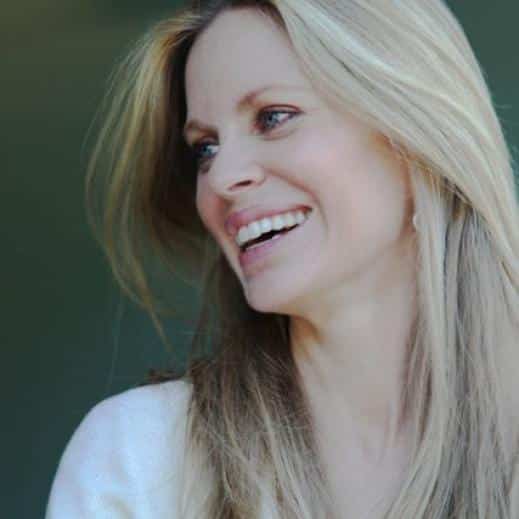 With True Blood and Once Upon A Time actor Kristin Bauer.
Savvy Rest is very curious about sleep—and about people, too. From time to time, we ask interesting folks these nine questions to give you a peek at how others sleep…even what they're dreaming about.
How did you feel when you woke up this morning?
I felt like I had gone to some other land, very far away. And reentry has been a little difficult. The trip "home" was long so I'm having an extra cup of green tea. I didn't sleep enough this week so last night was catching up—­­even though we all know you can't really do that. I was sleeping really deeply…my Savvy Rest is way too comfortable.
Can you remember a recent dream fragment?
Yes! It's weird how they go away, even the ones that I really want to remember. I dreamed I was part of a people who lived in the trees, and if your feet touched the ground, something horrible happened, almost as if we'd die. But I fell and as I was falling towards the ground I realized I could hover, and I did. Then I realized I could fly if I just thought it, and rose up way above the trees. I love the flying ones. Usually I'm in deep peril and then I recall I can fly to save myself. It's so frustrating that as you're waking up, your dreams escape!
What's the first thing you do when you get up in the morning (after the bathroom)?
First I let the dogs out, then I make my green tea. I've got two rescue mutts­­: one's a Rottie mix and the other's a Lab mix. I'm a dog and cat freak, and my dogs are my children.
What do you like most about mornings?
I like the light outside. I love to sit in my garden, especially now that there's winter light. It's turning. The butterflies and hummingbirds usually visit…it's just beautiful. Soooo nice. I don't want to get moving or leave! My motivation is really low in the morning.
What do you like least?
I really hate the alarm clock. I really hate it! I hit "snooze" for up to an hour. Especially for work, it will often go off at 3:30 or 4:00am and I REALLY hate getting up before the sun. It's common for me. My second-­least-­favorite thing is driving home from work watching the sun come up. I truly feel like a vampire. I just feel sick when I see the sun, but it's just an actor's life. They have to maximize the day and it's the worst part of acting.
If you could change one thing about your bedroom, what would it be?
I would like to have a vaulted ceiling. I like the height and the space of it. One of my friends from Once Upon a Time, Lana Parrilla, has a vaulted ceiling in her bedroom and when I saw it I thought it was so beautiful. Very antique, old-­time and royal feeling. I stayed in a tiny house once that had the peaked ceiling and it had just the same feeling.
When was the best sleep you've ever had?
In recent memory it was after flying to Africa. I was so jet­lagged it was painful, and I allowed myself to lie down in the afternoon. I fell for two or three hours into the deepest, most incredible nirvana. It's impossible to come back from. My husband had to physically stand me up because the sleep was just a drug at that point, it was so deep. It was really syrupy and fabulous.
The worst?
That was on a coach flight to Australia. I was sitting up for 17 hours in a seat as hard as wood all night. My neck hurts thinking about it. Technically, I survived. But I'm still a little scarred.
What would you like to hear to tuck you in, other than "Night-­night"?
I love what my husband says every night, ­­"Lekker slaap." It's Afrikaans for "Good sleep." I've only learned a few phrases in Afrikaans, but it's just the sound of it and my romantic ideas about foreign language. I learned a little Swedish working with Alexander Skarsgård using Rosetta Stone, but they don't have it for Afrikaans. So I'm learning it from old books. Language is just so cool. And my husband's okay too!
About Kristin Bauer​
Kristin has appeared in films and over 60 TV shows, including True Blood (as Pam), Once Upon a Time (as Maleficent), Seinfeld (as "Man Hands" Gillian), Everybody Loves Raymond, Justified, Total Security, Hidden Hills and many more. Beyond her work, what drives her is a deep concern for animals. She and her South African musician husband, Abri van Straten, share their L.A. home with rescued pets. Currently she is also working with wildlife charities and editing her documentary, Out for Africa, about the plight of the African rhino and elephan