With Natalie Kay Smith, a sustainable fashion blogger and founder of Sustainably Chic. She lives in Jacksonville, FL.
Savvy Rest is very curious about sleep—and about people, too. From time to time, we ask interesting folks these questions to give you a peek at how others sleep…
What is the first thing you do in the morning?
I make coffee. I have a French press so it's super strong, but that's what I do right when I wake up…and feed my cat. She's always right at my bed meowing.
Since you have coffee first thing in the morning, would you say it's hard for you to get up or are you still a morning person?
I've always been a morning person. It depends how late I work online. Sometimes I don't want to get up in the morning, but usually I'm up around sunrise. I get up pretty early, just because I feel like I get most of my work done in the early hours. I feel like that's when my mind is more focused, and then it slowly goes out the rest of the day!
Do you start with checking your email and Instagram?
Yes, emails and then usually I start writing a blog post–the first 200 words because I feel like that's when I can get it all out in 15 minutes. Then I just add onto it throughout the day.
Do you have a favorite food you like to eat in the morning?
No, I don't eat in the morning. Everyone always says breakfast is the best meal of the day. It makes me feel lousy! Not a breakfast person. I just want coffee. I only eat two meals a day and usually they start at 2pm.
What's your go-to lunch food then?
I love pasta. Or I'll make a wrap. I do love fruits and vegetables, but I need pasta or grilled cheese too.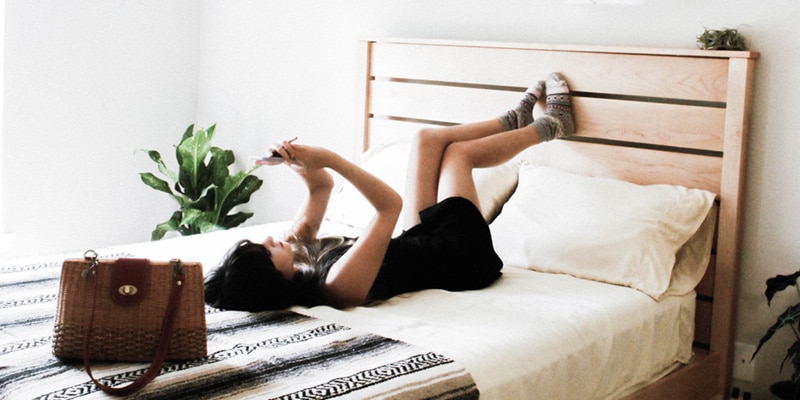 If you could change one thing about your bedroom, what would it be?
I want hardwood floors. I want them so bad! I think it would look so nice with the Esmont platform bed too. The carpet just ruins the look of what I want. We're moving and that's what we're looking for. I said "next place we get, it will have hardwood floors." Because I want a cute rug, a small one. I just love that look.
Do you remember the best sleep that you've ever had?
I'm a sleeper so I can sleep anywhere. I'll have good sleep on an airplane. It's hard to say, but I think I get the best sleep when I'm overseas—I don't know why. I think it's a combination of the water and the food, and my body just sleeps better at night. When I'm visiting my parents or any of my family in Switzerland, I sleep so well. I close my eyes and then the next thing it's morning. It's really interesting. Even my boyfriend slept better when we were over there.
The worst?
Sometimes I'll have crazy dreams and wake up a lot.
Do you remember a recent dream?
Last night I had a crazy dream. Growing up, I was really into musical theater. I wanted to be a star and that was my big thing when I was little, but then I got really shy after high school. After high school, Glee came out, but I never watched it because I was already studying fashion. I decided yesterday to start Glee because it's on Netflix. I binge-watched the first season. In my dream last night, I saw all the people I used to perform with, and we were trying on all of our old costumes, and then we went out to a bar. We were singing! Watching Glee I was like, "I don't know why I stopped doing all of that," so it was funny to have a dream where I was back into it.
You have our Esmont platform bed in zero-VOC linseed oil. You've taken some gorgeous photos of it on your blog. Can you talk about the platform bed and what you like about it?
I think the most obvious part is that it's a beautiful bed. I hadn't had a bed in so long. We just had a mattress on the floor. I started getting into sustainability about 5 years ago when I didn't have a bed. And I knew it was more than just clothing that I had to start being more conscious about. It was everything—my furniture too. It was kind of hard to find a sustainable bed. There really aren't that many. I couldn't really find what I was looking for. We put another bed on hold, and then you emailed me the next day. And I was like, "this is crazy"—I had never seen this bed and I immediately fell in love with it and I couldn't believe I hadn't found it already. It had everything that I was looking for. From start to finish—the way it was made, the wood, the finishing, the aesthetic. And knowing that it's only coming from a few states away is pretty amazing too. Most of the furniture in the States is not actually coming from here. It was the complete package, and I couldn't be more excited about this bed. And putting it together was so easy!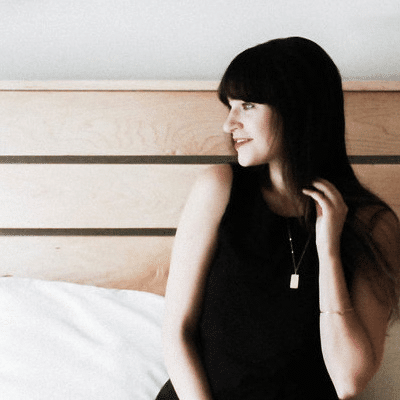 You also got to visit our woodshop and meet the people who made your platform bed when you stopped by our headquarters in Charlottesville, Virginia. How was that for you?
That was so cool. We don't really ever get to see who makes our products. It gives you a better connection to what you're using and makes you appreciate things more too. Just seeing the faces behind all the work—it's a different kind of experience. I really appreciated being able to see everything firsthand.
You also have our organic kapok body pillow. Can you tell me how that pillow has helped with your sleep and overall health?
I love it. I have scoliosis and I had never really thought about using a body pillow. I kind of sleep all different ways and wake up sleeping on my back, and that really hurts. I don't know how I end up there, but I always do. I feel like the pillow helps keep me in one spot now though, so I don't wake up with that sharp pain.
Read Natalie's full review here.
Want to sleep like Natalie? Check out these products!
Your blog, Sustainably Chic, focuses on sustainability and ethical fashion. Can you tell listeners how your journey towards a sustainable lifestyle started?
It all began when I was in college—it was towards the end of my studies, about 5 years ago. Every once in awhile, I was coming across these articles about waste and unethical treatment of workers, and we never really stopped and spoke about it much. I just thought it was so weird that our industry was turning into fast fashion with more retailers putting out a new line every week. There was so much emphasis on trends. I had written so many trend reports and was so over it. We're losing this love for fashion and this appreciation for the art behind it.
I started looking into things myself and stumbled across fair trade—working with artisans and creating better economic opportunities for them. I started centering my projects around that, and then got into upcycling, sustainable fabrics, organic cotton—it kind of just built up every year. And then I took courses on sustainability and that's where I really learned that it's so much more than the materials you use and the impact on the environment.
I kept talking about it for a few years, and then I started a blog to voice my opinion more and spread the word.
How do you define sustainability?
Going back to when I was studying, I realized it was more than the environment. It encompasses so much—the economy, traditions, culture. It's not so much a black and white field. It's super gray and very subjective and it's based on people's values and environment. I think sometimes we get consumed with thinking it's just the environment. People will automatically say "that's not sustainable" and that's not the case. You really have to have an open mind.
I work with so many brands. For one brand, it might be more sustainable to use wool, while for another it's more sustainable to use recycled plastic. It really depends on their own resources.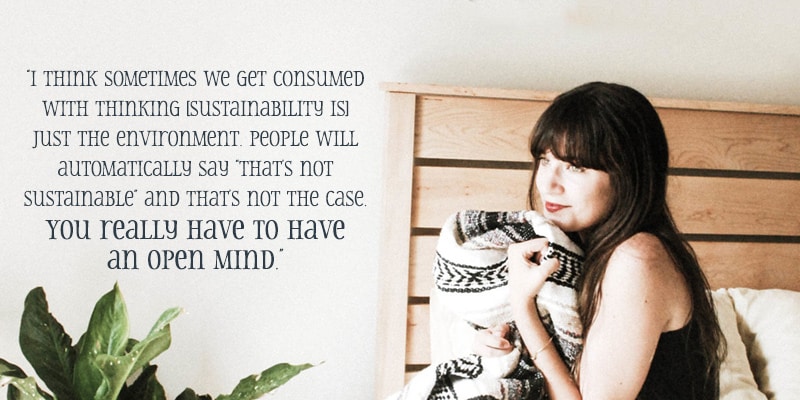 What do you look for when choosing brands to work with?
It's kind of a big picture thing. I realize that they're not going to be perfect. It starts with the materials, the workers, their shipping methods. So many brands I've worked with in the past have said they want to use more organic cotton or have a better way to ship their goods, but they know that in order to have all of these ideas work, they're going to need the support. The slow fashion movement supports makers so they can transition to be the most sustainable they can, because if that's their goal then we need to support that and make it happen.
Some people say it's more sustainable to go thrift shopping or secondhand shopping. I love doing that too, but I know that's not what is going to change the industry.
Your Instagram account has over 67K followers. There is such a strong community of people, particularly women, who have started this important conversation on ethical and eco-friendly products. How has that community changed your life?
Well, it has given me a job! Instagram has opened so many doors for me. I feel with this movement we have so many millennials in it and they all have Instagram—it's such an easy way to connect with people all over the world. The majority of the brands that I work with have found me through Instagram.
I've made so many friends through Instagram. We really care about what we're doing and we know that Instagram is that tool that can really change the industry and keep this movement going.