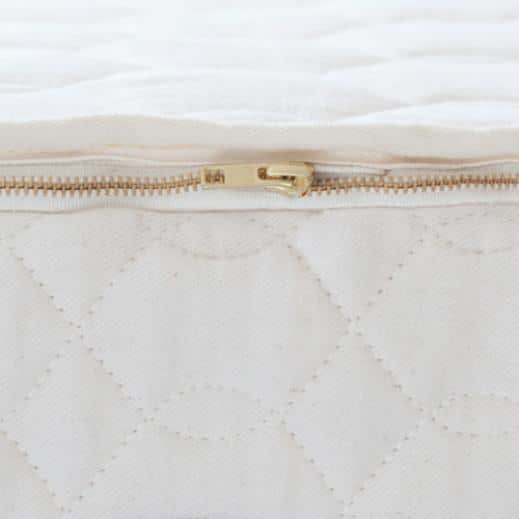 What's in a zipper? Colors, fabrics, materials, and size, for starters. For a manufacturer, a lot goes into deciding which zipper to use and where to put it.
When we began making organic mattresses in 2005, our customizable design required a casing that could be opened easily to rearrange the layers inside. And that required a long four-sided zipper. For a 60″ x 80″ Queen mattress, that's 280 inches.
Our choice to position the casing zipper on the mattress sides was unconventional, for two reasons.
National Fire Test
In 2005 the national open-flame safety test was on the horizon, and the bedding industry was rife with concerns about how it would affect design decisions. The fire test aims burners at the side as well as the top of a mattress, and a zipper can allow an entry point for flame. Most casing manufacturers locate a zipper on the bottom rather than the side so it's easier to pass this test.
The problem with a bottom zipper is that it makes assembling a natural latex mattress very difficult. It's painfully cumbersome. You have to lift up the latex layers while you open or close the zipper, and natural latex is heavy. That means either moving around the bed on your knees and trying to pull the zipper while simultaneously lifting layers, or bending over and walking around the bed while lifting and zipping. Ow. You can hurt your back before you get into bed.
We wanted a side-zipped casing for our customers' comfort, but we care about safety, too. Our solution to this challenge was to use organic wool batting inside the casing as a natural flame retardant. Our products pass the test beautifully.
Appearance
Some manufacturers feared customers might object to seeing a zipper as a prominent feature of a mattress casing, since it wasn't what they were used to. We reasoned that consumers are smart, and can recognize a non-problem (once sheets are on, the casing's closure isn't relevant to the look of a bed).
We decided that people drawn to the adaptable design of a Savvy Rest mattress would not object to an elegant brass zipper. We could have minimized its appearance by using nylon, but we liked the standout strength of brass. Given the strength of our sales, it seems that decision has worked well for our brand.
Savvy Rest's brass zippers are made in the USA by YKK. Curious? Check the zipper pulls of your coats and pants. Chances are, you're wearing a YKK, too.