You can have the most comfortable mattress in the world but if it lacks a proper foundation, you've got problems. A good foundation only intensifies the strength of your mattress, allowing you to have the best sleep possible. However, before diving into various foundations, let's have a little history lesson. We promise it will be interesting.
Middle Ages
In the middle ages, you had to be royal to live large. The poor slept on straw mattresses that were not very comfortable and, as you probably guessed, completely lacked any sort of foundation. The more upscale mattresses were made of horsehair. These mattresses were lifted off the floor by wooden beds. Other high-end mattress materials were wool and feathers, although the feathers were painfully expensive and lacked support and shape.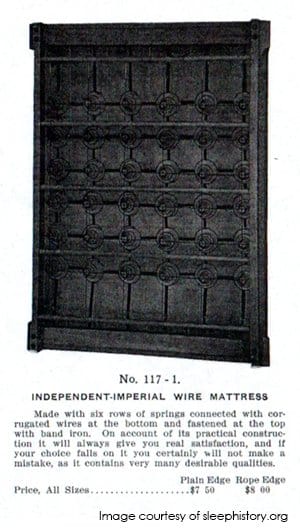 Late 19th/Early 20th Century
Iron and steel were introduced to the foundation-making process through box springs in the late 19th century. This San Francisco Maker advertisement from 1905 shows exactly how this design evolved into the 20th century and how foundations were constructed using corrugated wires and iron. However, simple wooden foundations were still common.
1970s
In the 1970s, waterbeds became popular. These mattresses were soft and pressure-minimizing but not incredibly durable. No one wants to deal with a mattress leaking onto your beautiful wood frame and then proceeding to ruin your floors. We believe that water is meant for drinking, not for sleeping.
1980s and 1990s
By the 80s and 90s, foam mattresses were the next big thing. These types of mattresses, like our own natural latex mattresses of Dunlop and Talalay, perform best on rigid surfaces such as a platform bed since box springs have a tendency to sag.
What type of foundation do I need with a Savvy Rest mattress?
If you have a conventional bedstead or a metal bed frame, you need a foundation which is placed in the bedstead. We recommend three-quarter inch slats that are spaced 2.5″ to 3″ apart. We sell our own mattress foundation that is enclosed in an organic cotton casing. You can choose the standard height of 9" or a low-profile height of 5″.
Platform Bed Inserts
Alternatively, we offer an unupholstered, easy-to-assemble option for supporting your latex mattress. Our platform bed insert is made of solid hardwood and fits easily within any traditional bedstead.
Platform Beds
You can also choose to use a platform bed. We offer our two models.
The Afton
The Afton will not only look beautiful in your bedroom but it will also support you as you sleep soundly. If you are searching for something simple yet elegant then this platform bed is a fantastic option. Our Virginia woodworkers use maple to create the sturdy posts, rails, and legs. The Afton includes closely-spaced poplar slats so that your Savvy Rest mattress will sit on a surface that allows it to breathe—air flow is key! We value the importance of durability and quality so the Afton is made to last for generations. We also encourage creativity and personal style so it is available in different stains. Here's an added bonus: you won't need any tools to assemble it. You're welcome!
The Esmont
The Esmont is our newest addition to the platform bed family. It includes a collapsible and customizable maple headboard. The headboard can be arranged in two ways—ladder-back style or a solid panel. The same stains that are available for the Afton are also available for the Esmont. Tools are not required for assembly so this unique, Virginia-made platform bed is easy to set up! You can ditch the stress and simply enjoy!
Just looking for a headboard?
We sell the Esmont headboard separately for those who want to add the upgrade to their Afton. Visit the Esmont page and select either Headboard Only or Headboard Only (with inserts & hardware).
Want to add a natural bed rug to your foundation?
We can help you with that! Our one-inch natural bed rug is made with coconut fiber (coir) and natural latex. It is placed between your mattress and foundation to promote necessary air circulation.