It's only natural to be a bit nervous before sending your child off to college. They're starting a new journey far (sometimes really far) away from home.
There's so much to do in order to prepare for move-in day, such as buying books, toiletries, and of course, bedding items. This is where we come in.
Common Bedding Mistakes
Your first thought may be to just check out your local department store and buy whatever sheet set feels the softest or is in their favorite color. There's a very high probability though that those sheets are made with cotton treated with pesticides.
And if you're thinking that perhaps bamboo sheets and pillows would be a more eco-friendly choice, think again. Your child is going to be spending a lot of time in their dorm room, so it's important that it's filled with natural and safe products that will make their first year of college as comfortable as possible.
Finding Quality, Natural Bedding
Don't get caught up with synthetic materials or greenwashing. Look for truly natural and organic materials, along with certifications such as GOTS (Global Organic Textile Standard).
We offer a dorm bundle at Savvy Rest that your child will absolutely love, and you'll have the peace of mind that you gave them the very best. Keep reading to learn about these products, as well as some other tips to guarantee your kid has the most eco-friendly dorm room in the hall.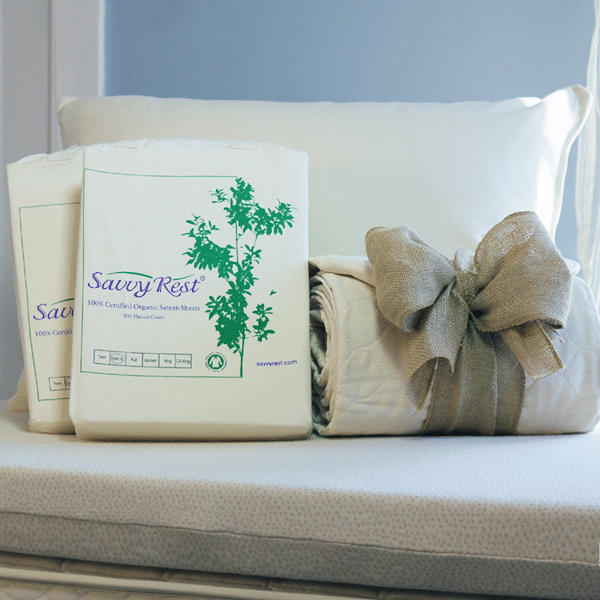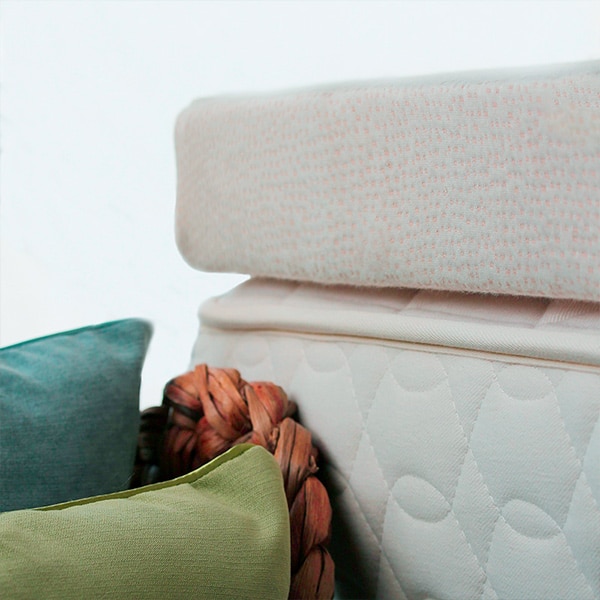 [REPLACE]
Organic Sheets
Our skin comes into contact with our sheets, so it's important that we choose wisely. Your typical set of sheets, even the more "luxurious" ones, are not certified organic cotton. They might not even be made with cotton at all. You shouldn't be covering yourself in synthetic materials every night, nor should your teenager. This is why we offer GOTS-certified organic cotton sateen sheets. They're soft and cozy, but most importantly, made with good health in mind.
These sheets also go with any decor since they're a gorgeous, off-white, creamy color. This is because we never bleach our cotton. We prefer cotton in its natural state and free of harmful chemicals.
Natural Shredded Latex Pillows
Do you know what's in your pillow? Probably nothing good. Pillows that you see in traditional stores are sometimes made with polyester, which is a petroleum-based material. Most of these pillows aren't even customizable, so you can't adjust the height and feel. You just have to accept whatever it is that they toss together for you. We don't think that sounds comfy.
Our natural shredded latex pillow is customizable, so your child can take out as much of the fill as he/she wants in order to create the perfect feel for their needs. The pillow is filled with only the highest quality blend of Dunlop and Talalay latex. We never use latex treated with harsh chemicals. Instead, we opt for materials that are pure and safe. Our pillows also have inner and outer organic cotton casings that are soft and pesticide-free.
Ditch the department store pillows or the old one that has been collecting dust bunnies in the closet. Go organic.
Cotton Mattress Pad
This machine-washable organic cotton mattress pad will add slight cushioning to a mattress. It's incredibly important that we protect our mattress, whether at home or in a dorm room, so bringing a mattress pad to college is definitely a wise choice.
Vitality Topper
If you choose the premium dorm bundle, your college student will also receive a plush Talalay mattress topper. The Vitality is one layer of Soft Talalay latex encased in a cozy knit organic cotton casing. This topper is especially fantastic for side sleepers since it will help with pressure point relief. If a mattress is too firm, you can wake up with aches and pains, even at 18. The Vitality will help your child get some quality zzz's before a morning exam. Treat them to the very best.
Other Non-Savvy Rest Must-Haves
The Simply Co. Laundry Detergent, for when they actually take the pile of clothes off the floor and wash them.
Brush with Bamboo Toothbrush, so their toothbrush doesn't end up in the ocean or in a landfill. This toothbrush is an example of using bamboo in a sustainable and responsible way. Meanwhile, bamboo pillows go through the chemically-filled viscose process.
Reusable bags that they can literally use for anything (and then wash with their Simply Co. detergent).