There are various types of mattresses on the market—memory foam, polyurethane, natural latex, and innerspring mattresses. In this blog post, we'll mostly be focusing on the latter.
Innerspring mattresses have been around long before memory foam. But what exactly qualifies as an innerspring mattress? And how does it compare to other mattresses?
Keep reading to find out.
What is an Innerspring Mattress?
An innerspring mattress is a mattress that contains coils and some sort of comfort layer on top, typically either synthetic or natural foam.
Benefits of Innersprings
Affordable: One of the greatest benefits of an innerspring mattress is that they're typically cost-effective. If you're interested in a natural mattress but cannot afford an all-latex option, a hybrid mattress containing latex and springs is a more affordable option.
Comfortable: Innerspring mattresses have that nostalgia factor since a lot of us grew up on a coil mattress. If you like that slight "bounce" in a mattress, an innerspring is a wonderful choice.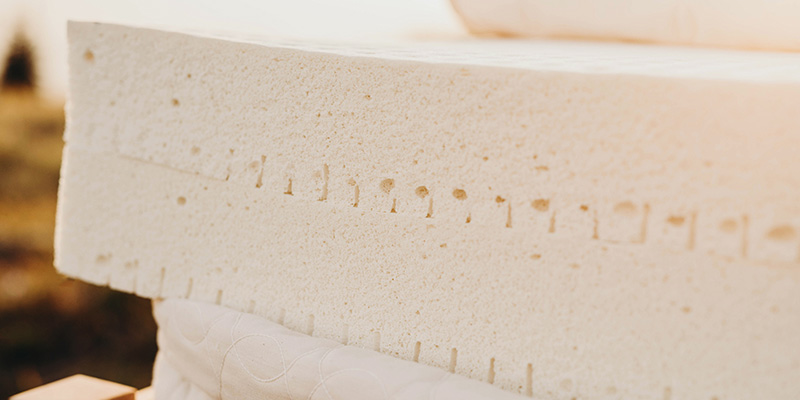 Innerspring vs Latex
An innerspring mattress is typically less expensive than a latex mattress.
Natural latex is more costly because it is sourced from overseas. Meeting the strict criteria of Global Organic Latex Standard or Cradle to Cradle speaks to material purity and overall quality. This, in turn, increases the price of the mattress.
Natural latex mattresses also offer more customization. There are two different types of latex: Dunlop and Talalay. Each latex is available in various densities so you can create the exact mattress your body needs. There is a lot of flexibility with latex mattresses, which is why so many people gravitate towards them.
Innerspring vs Memory Foam
Memory foam is a type of polyurethane foam that is known for its pressure-relieving qualities. However, it is also known for sleeping hot since the synthetic foam traps body heat.
It is the chemical reaction between your body heat and the foam that allows it to mold to your body, creating temporary pressure point relief. However, eventually the foam will (1) make you sleep hot, and (2) have difficulty bouncing back, causing dips in the mattress.
We personally never recommend memory foam mattresses and believe all-natural latex or hybrid mattresses with a combination of latex and springs are a more comfortable (and healthier) choice.
Learn more here.
Are innersprings better than foam mattresses?
No, an innerspring mattress is not necessarily better or worse than a foam mattress since it really depends on what you're looking for. Some people love the feel of springs while others prefer a foam mattress. However, an all-latex mattress that uses organic latex is likely going to be higher quality than a standard innerpsring.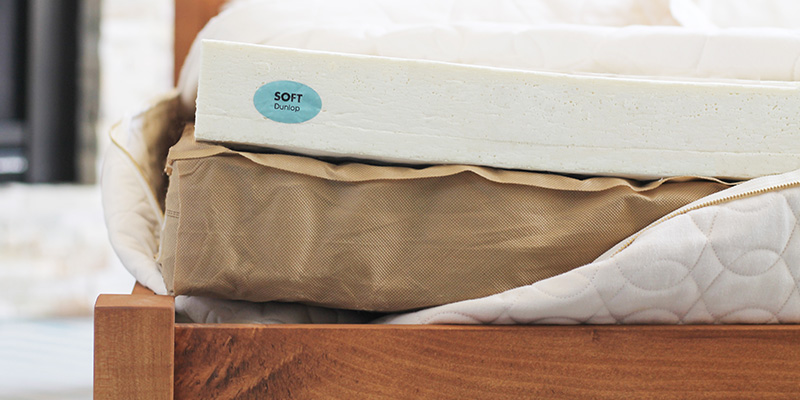 Types of Innersprings
The two most common types of springs are Bonnell and pocketed coils. Bonnell springs are really considered innersprings while pocketed coils are their own category. Here's why…
Bonnell springs: These hourglass-shaped springs are interlocked and incredibly durable. Bonnell spring mattresses tend to be on the firmer side. Keep in mind, the lower the coil gauge, the firmer the springs.
Pocketed coils: Pocketed coils are individually encased and are preferable to Bonnell springs if looking for pressure point relief. They also don't have as much motion transfer as Bonnell springs.
Comfort Layers
When looking at spring mattresses, the comfort layer is a major component. You want a layer that offers both pressure point relief and support. It's important to consider your weight and sleeping position when choosing a comfort layer.
A stomach sleeper, for example, needs firm support in order to avoid sinking into the mattress and arching the back.
Do I need a boxspring with an innerspring mattress?
No, you do not need a boxspring with an innerspring mattress. You can simply use a platform bed.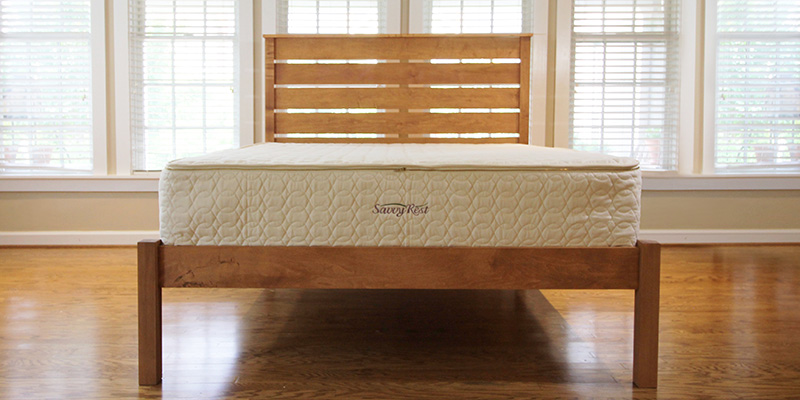 Choosing a Mattress
Savvy Rest carries three mattresses that include coils, two of which are completely customizable.
The SerenitySpring is the most popular and contains one 3" layer of natural latex and 8" pocketed coils.
Customers can choose the type of latex they want (Dunlop or Talalay), the latex density (Soft, Medium, or Firm), as well as the coil density (Plush or Firm).
If purchasing a Queen, King, or CA King mattress, you can opt to have one side differ from the other. This is incredibly convenient for couples who have different preferences.
The TranquilitySpring mattress is a lower-profile mattress. It also includes a 3" layer of natural latex but 4" pocketed coils. This mattress is budget-friendly while still being totally customizable.
The third coil mattress is The Earthspring, which includes Bonnell springs rather than pocketed coils. Dunlop latex and coir (coconut fiber blended with natural latex) are also in this natural mattress.
While the Earthspring isn't customizable, it's a great choice for kids or guest rooms since it has a medium-firm feel with plenty of support.