We spend a third of our lives sleeping, so why is it that there seems to be more of an emphasis on finding an inexpensive mattress instead of one that is actually safe and will last? Trust me, I love finding excellent deals just like everyone else, but what exactly does a "good deal" entail? It doesn't always mean a super low price.
A mattress should be an investment, not something you have to keep repurchasing every few years. Too many mattresses on the market are made with synthetic materials like memory foam. Memory foam will give you initial pressure relief, but it seriously lacks in durability and temperature regulation, not to mention that it is filled with harmful chemicals. Then there are businesses that claim their materials are completely natural, "greenwashing" consumers into thinking that their company is both luxurious and organic at an unbeatable price. If it sounds too good to be true, it probably is.
So, how can consumers purchase a mattress that is certified organic, comfortable, and will last for years to come? Savvy Rest approaches the mattress business in a way that emphasizes health and quality over cutting corners. We want you to feel like you're making an informed decision, which is why our website is filled with useful articles and videos that are meant to help.
We also have dealers across the country (and even in Canada!) so you can actually see and feel the difference of our organic mattresses before purchasing.
Continue reading to find out what's in our mattresses (and what you should avoid in others).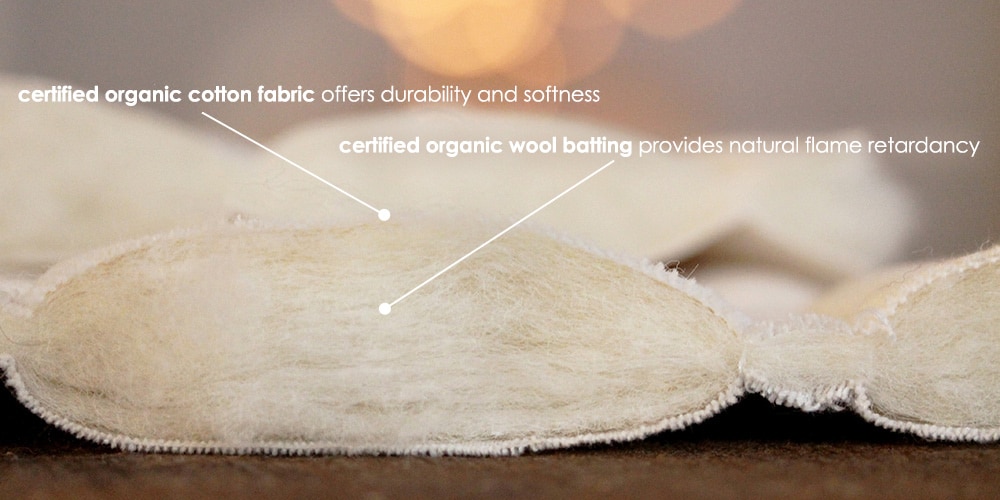 Certified Organic Cotton
Our GOTS-certified organic mattresses include two materials in the casing, the first being certified organic cotton. We never use cotton that has been chemically treated with pesticides. Not only are pesticides harmful to your own personal health, but they are also harmful to our planet. Certified organic cotton is the healthy choice and emphasizes the importance of sustainable farming practices. The cotton is soft yet durable, luxurious yet safe. You shouldn't have to compromise.
Certified Organic Wool
The other material that we include in our Savvy Rest organic mattress casing is certified organic wool batting. Instead of using chemical flame retardants that are toxic to your health, we use wool as a natural flame barrier. The wool also adds a plush, luxurious feel to our casing, and is a material that promotes air circulation. A material like memory foam absorbs all your body heat, causing you to "sleep hot." Wool helps regulate temperature so that you sleep warmer in the winter, but cooler in the summer. While several companies use certified organic cotton, few use certified organic wool batting, opting for a cheaper, non-certified wool instead. The wool batting that we use is free of synthetic chemicals and is never bleached. The sheep used for their wool are given organic feed and graze in organic pastures.
We take pride in utilizing natural resources because they lead to exceptional products.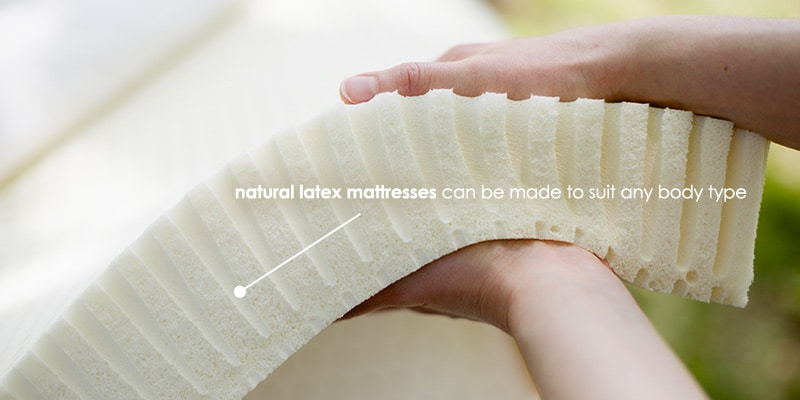 Natural Latex
We use two types of latex in our mattresses: Dunlop and Talalay. Both are incredibly comfortable and safe for your home. When you're dozing off in your Serenity mattress, you have the option of laying on certified organic Dunlop and/or Cradle to Cradle Gold certified Talalay.
Dunlop
The certified organic Dunlop we use is supportive and durable. It's on the denser side, so it has an overall firmer feel than Talalay. We recommend an all-Dunlop mattress for stomach sleepers, in particular, since stomach sleepers need a firm mattress that they won't sink into. If a mattress is too soft while sleeping on your stomach, your back will begin to bend into an uncomfortable position, which will inevitability lead to pain. We don't want that!
Here are some popular all-Dunlop mattress configurations:

Here are a few common configurations of all-Dunlop Serenity mattresses. They range from very soft to quite firm. Interested in seeing more possibilities? Visit our How to Choose page, or visit your nearest Savvy Rest dealer.
Talalay
The second latex found in our mattresses is Talalay. Talalay is light and plush, giving you a luxurious cradling feel. We compare it to angel food cake, while Dunlop is more like pound cake (any excuse to talk about food).
Talalay is great for pressure point relief. In fact, we always recommend that side sleepers have at least one layer of Talalay in their mattress, specifically the top layer. This allows your hip and shoulder to gently sink into your mattress. Talalay will conform to the contours of your body, leading to ultimate comfort and support. If your mattress is too firm as a side sleeper, you will end up tossing and turning as you try to take pressure off of your hip and shoulder. This will lead to disrupted sleep, poor alignment, and overall discomfort. I don't know about you, but I don't have time for that—I need my eight hours to function!
I'm a petite woman and sleep on my side. My Savvy Rest mattress configuration (starting from the top) is Soft Talalay, Soft Dunlop, Firm Dunlop—and I find it incredibly comfortable. The Soft Talalay is not only luxurious, but helps me avoid waking up with achy shoulders or an aggravated hip. I don't have a lot of meat on me so my mattress cannot be too firm. I like how the Soft Talalay transitions into the Soft Dunlop as I gently sink into the mattress. As I've noted before, Dunlop is a bit denser, so I feel like I'm experiencing that softness, but still getting plenty of support. It's really the perfect configuration for my needs.

Our most popular all-Talalay layer configurations, shown here, suit a wide range of weights, sleeping positions and comfort preferences. Need help finding your perfect combo? Give us a call.
So, What About Those Other Mattresses?
The mattress industry is growing and growing. This obviously means that consumers have more choices, but not all of them are necessarily good ones. Here are a few things to look out for:
Synthetic materials, or materials that are only partially organic/natural – It's important to ask yourself a couple of questions. Is this mattress manufactured in a GOTS-certified facility? Is it actually natural, or only "kind of natural?" "Kind of natural" doesn't cut it in our book.
Mattresses that aren't customizable – One of the best aspects of our mattresses is that they are customizable. This means that you can create a mattress that is designed for your specific needs by choosing between Soft, Medium, and Firm layers of Dunlop and Talalay latex. We even offer split configurations, so that your side of the mattress is different than your partner's. Plenty of mattress companies claim that their mattress is supremely comfortable. But comfortable for whom? How can they guarantee it will be comfortable for you when you can't customize it? What is considered comfortable for one person isn't necessarily ideal for another. Comfort is subjective; it depends on so many factors, and Savvy Rest acknowledges this.
Return Policies – Mattress companies that offer trial periods and returns are most likely not offering consumers a product that has high-end, certified organic materials. And we have to wonder where these returned mattresses end up–in a landfill? Our mattresses are made with materials that are expensive to source, manufacture, and properly certify. This means that our prices are higher than mainstream companies, but we believe consumers have an even greater price to pay when they buy into the "easier" route. Either you will return the mattress, frustrated that you'll have to start the mattress search again, or you will keep it and eventually realize it is not as durable or safe as you thought. While you cannot return our mattress for a refund, you can exchange latex layers within 90 days of your purchase. We want you to sleep soundly at night, so if you spend a few weeks on your mattress and realize that you need to switch out a layer (or two, or three!), then we will send you the latex you desire. It's really that simple.
Chemical Flame Retardants – Just don't do it!
Learn more about our natural and organic products
I hope this blog has helped you realize that we truly care about both your health and your comfort. Make sure to visit your nearest dealer to lounge on some seriously cozy organic mattresses. I know you will find the perfect Savvy Rest organic mattress for your needs. Sleep well!