The "one size fits all" concept is popular in the mattress industry, particularly with online-only brands. But what if one size doesn't fit all? What if comfort is a bit more complex than that?
There are several mattress companies that only offer one mattress. Other companies offer more than one mattress, and customers can even choose between a softer and firmer version, but this still doesn't solve the problem. A mattress needs to take into account bodyweight, sleeping positions, and individual pain issues. Unfortunately, a mattress with only one or two options cannot accomplish this. Keep reading to learn more.
Mattresses with Only One Density
These companies claim their mattress is super comfortable and will leave you incredibly well-rested because of its scientific design that is universal for all body types. The truth is though, not everyone will be satisfied.
A petite woman defines soft, medium, and firm much differently than a 200 pound man. The lighter you are, the firmer a mattress is going to feel. So while he might like the mattress-in-a-box, she may lay down and find that it feels like a plank of wood.
Since the mattress only comes in one density, there's no way to fix the problem.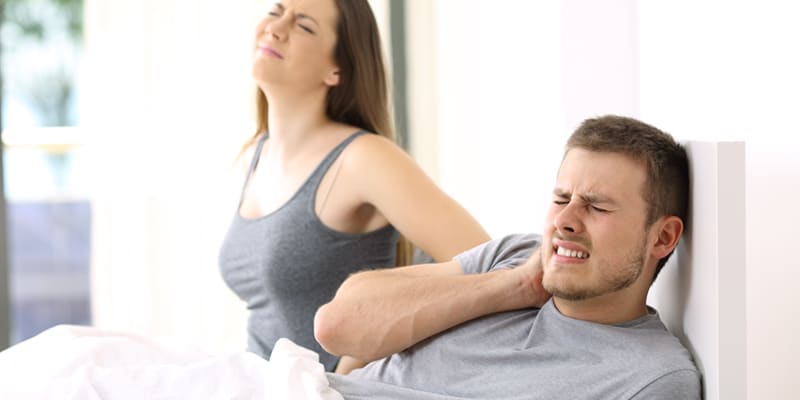 Mattresses with Soft and Firm Options
This is definitely better than only having one mattress option, but it still lacks true customization. The soft may be too soft, the firm may be too firm, or the firm may be too soft. You see the dilemma?
This Leads to…
Returns. And lots of them. While the return may be free for you, it's not free to the planet.
Many of these returned mattresses end up in landfills. Charities have been bombarded by mattress donations because of the rise of online mattress companies and free returns, and not all charities accept used mattresses.
When we deliver a Savvy Rest organic mattress to a local customer, we recycle their old mattress.
Amy Bogan, the CFO of Nine Lives Mattress Recycling, the company we partner with, explains the damage caused by mattresses piling up in landfills: "Mattresses don't compact so when other trash is piled on top, the mattress will just rise back up. This creates problems for the heavy machinery as the springs can get wrapped around the wheels, leading to expensive repairs. Often hotels or colleges will replace their mattresses all at once so hundreds of units go to the landfill. Prolonging the life of a landfill, and in turn, prolonging the jobs landfills create, is key."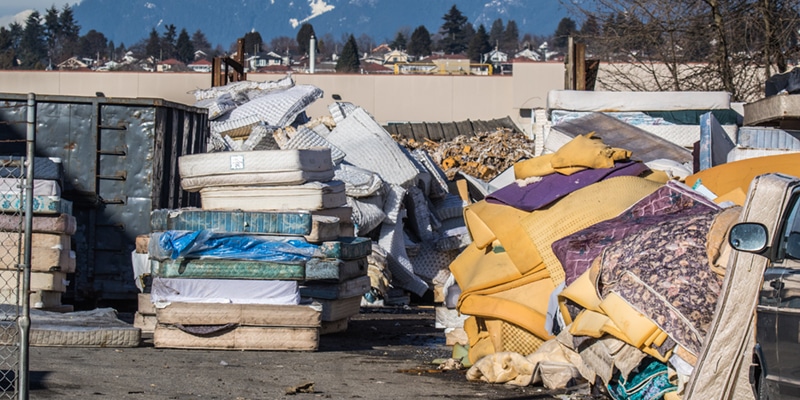 The Solution: Customization
At Savvy Rest, you can build your own mattress by choosing if you want only Dunlop latex, only Talalay latex, or a mix of the two.
Learn more about these two types of natural latex.
You also choose the density of your layers. For example, our most popular mattress, the Serenity, is made with three layers of latex. Each layer can be Dunlop or Talalay, and either Soft, Medium, or Firm. There are so many possibilities, which means you'll sleep on a mattress that is right for you.
Bonus: we offer split configurations, so your side of the mattress can differ from your partner's side. We don't believe in having to compromise for comfort. Everyone should win.
Consider these examples…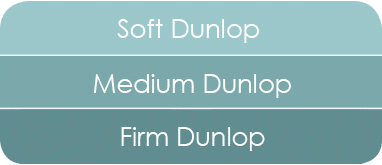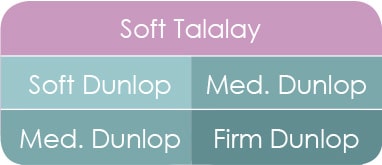 Right: With denser core layers, a larger person or someone with frequent muscle-related backache can benefit from both types.
Try Savvy Rest Mattresses in Person
While we're always ready to help you find the perfect mattress over the phone, there's nothing like seeing and feeling the mattresses in person.
You'll be able to try out different mattress configurations and ultimately get a better sense of what works best for your body.
Explore our best-selling layered mattress options
Not ready for a new mattress?
Shop our customizable organic pillows!
Find the perfect organic pillow for you
Choose from shredded natural latex, organic wool, a wool-latex blend, or organic kapok fiber.