A sofa is the centerpiece of your living space. When choosing one, you think about colors, textures, shapes and styles. Our home is an extension of ourselves, a way in which we express our creative side through different designs and statement pieces.
It's important for a home to be functional and organized, but it's equally important for it to be a happy and beautiful space that can be enjoyed by both homeowners and guests.
Your home is your sanctuary, and a comfortable sofa can create that cozy feel you need at the end of a long day. However, there's something you should ask when shopping for the perfect sofa, a question that perhaps doesn't always immediately come to mind: Is it eco-friendly?
Toxic Chemicals in Sofas? No, Thanks.
Just like our mattresses, our organic sofas are not sprayed with chemical flame retardants because of the health risks associated with breathing in these toxins. Instead, we use organic wool as a flame barrier.
Our products are designed with both immediate and long-term comfort in mind. We avoid synthetic fabrics, toxic glues, particle board and polyester and instead support the natural and organic route. Synthetic materials can be the home of harsh and unsafe chemicals that no one should have in their living space. Some of these pieces of furniture even have lingering chemical smells that are anything but fashionable.
We hate to be the bearer of bad news, but the cute and chic white sofa you saw in that fancy store window most likely contains some not-so-friendly chemicals…sorry.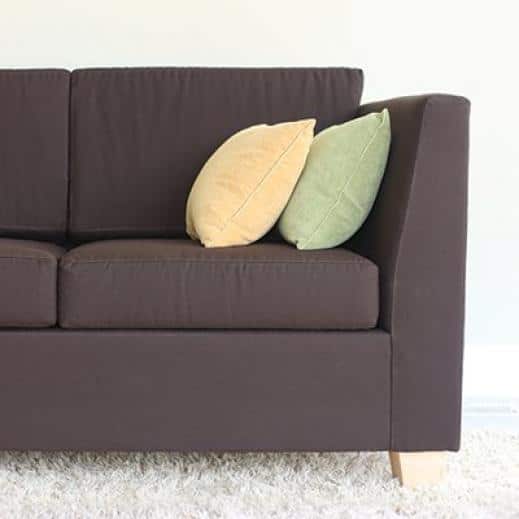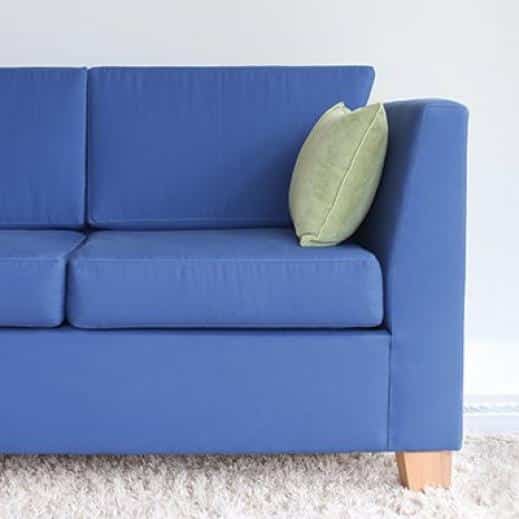 Natural and Organic Sofa Materials
The materials that we use are not only healthy and safe but reliable and durable.
We use certified sustainable maple that can be finished with a zero-VOC stain of your choice. No need to brush on toxic stains when there are natural alternatives!
The natural Talalay latex we use in our sofa cushions is Cradle-to-Cradle Certified. You can customize your sofa so that the seat cushions have a softer or firmer feel depending on your personal preferences.
Our upholstery is quality organic hemp and organic cotton; you can choose all hemp, all cotton or a blend of the two. There is a color option for everyone, whether you're looking for a calming neutral tone or a more vibrant and dramatic shade.
Our organic sofas are designed to be simple and strong but not basic, meaning we believe they add a sophisticated flair to any space.
Small Space? No Problem!
Our Verona sofa is great for larger spaces, but what if you have a smaller room to lounge in? Don't worry—we offer a loveseat!
Our loveseats are comfortable for two (or for one if you'd like it all to yourself!). The loveseat adds a classic and elegant look without taking up an overwhelming amount of space.
Also, make sure to check out the Verona armchair! The sofa, loveseat and armchair perfectly compliment each other with their clean lines, organic fabric and angled maple feet. Organic luxury has never looked so good.
Learn more about our organic furniture