All photos courtesy of Trash is for Tossers.
Listen to the Complete Interview
Listen to the entire conversation with Lauren below, then learn more about Lauren's bedtime and morning routines in our ongoing interview series: The Morning Questionnaire!
https://w.soundcloud.com/player/?url=https%3A//api.soundcloud.com/tracks/248881627&auto_play=false&hide_related=false&show_comments=true&show_user=true&show_reposts=false&visual=false
Lauren Singer lives in New York City and is the creator of the popular blog, Trash is for Tossers. She is also the founder of The Simply Co., a company that offers natural laundry detergent. Lauren lives a Zero Waste lifestyle, meaning she does not produce any garbage. Instead, she is all about making her own toothpaste, buying fresh vegetables from the farmers market, and shopping with reusable bags.
It all started when Lauren was a student at New York University. Lauren noticed that one of her fellow Environmental Studies classmates would carry her lunch in a plastic bag, eat out of a plastic container, use plastic utensils, and drink out of a plastic water bottle. Her classmate would throw away all that plastic and where does it end up? A landfill or the ocean. However, Lauren realized that she herself was guilty of producing garbage; her refrigerator contained all sorts of food items wrapped in plastic.
It was then that Lauren decided to make some changes in her life. She started to show her passion for the environment through her day-to-day actions, from brushing with a biodegradable bamboo toothbrush to buying food items in bulk and storing them in mason jars. She hasn't sent anything to a landfill since 2012. The little trash she has can fit in a 16oz mason jar that she has in her apartment. Yes, everything from the past few years can fit into a small mason jar! Her apartment therefore lacks an actual trashcan because, well, she doesn't need one!
Transitioning to a Zero Waste lifestyle wasn't something that simply happened overnight though. Lauren evaluated her trash and how to replace items she bought on a regular basis with more sustainable and natural options.
I had the pleasure of chatting with Lauren about her Zero Waste lifestyle and all the positive things that have stemmed from it.
The idea of living Zero Waste is intimidating to a lot of people. Did you find that the initial transition was difficult or were you so excited that it just came naturally?
A lot of people think that one day everything changed but it was a really slow, gradual process. I did one thing at a time so it was really simple because I wasn't changing everything about my life all at once.
Do you remember the first change you made?
I think one of the first things that I did was make my own toothpaste. I also stopped using plastic water bottles and started using a reusable water bottle and reusable bags.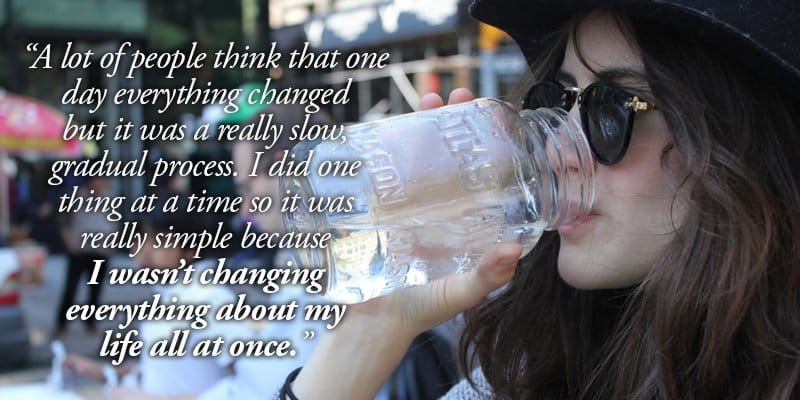 What did your family and friends think when you told them you were going to live a Zero Waste lifestyle? Were they supportive or skeptical?
I didn't tell them at first and then when I did my Mom's side of the family totally mocked me and made fun of me nonstop because they thought it was a phase. But once they saw that it was actually something that I was serious about they got onboard and now actively support it.
That's kind of what happened when I became a vegetarian. My parents just thought it was a phase but I think when you become so enthusiastic about something, it becomes part of your identity and you just keep going.
Totally. And then people just accept it. That's like when I became a vegetarian and I went to my grandma's house and told her "I'm a vegetarian–I don't eat meat" and she made brussel sprouts for dinner and it had bacon in it. I said, "Grandma, this has bacon in it," and she said, "But it's cut really small so it's still vegetarian." That's not how it works!
When did you start your blog, Trash is for Tossers?
I started it between three and four years ago.
How did that all come about?
It was just kind of my way to start talking about the changes that I was making. I got really into it and it was fun even though no one was reading it. It was just a fun way for me to take pictures and be creative. I was in college at the time and I wasn't really doing anything creative so it was just a fun way for me to document and journal what I was doing.
Did you always enjoy writing or was that when you really started to get into it?
I actually initially wanted to major in journalism and then I realized that I hated journalism and I didn't like writing. It's funny because I now write all the time. I realized that the reason why I didn't like writing before was because I wasn't writing about anything that I cared about. When you find that thing, writing is really easy. I can write in my own voice and I don't have to be edited down by people a million times. I don't want to be criticized–I just want to write.
You've done a few tutorial videos on YouTube explaining the products that you make. What's your favorite DIY?
I think one of my favorites is the body butter because it smells so good and works really well. I can't believe that you can mix four ingredients together and whip them up and it feels so amazing. I was spending so much money on lotion when I could make a great one myself. I also think it's pretty crazy that I can make deodorant that works. That's awesome.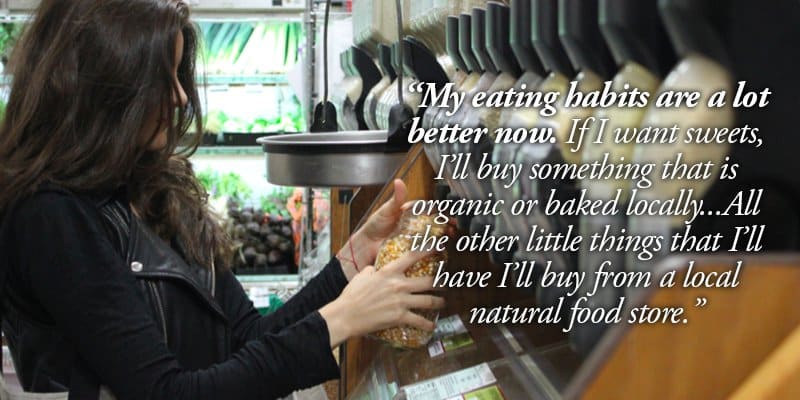 Tell me about your company, The Simply Co.
We are making three-ingredient laundry detergent. We will hopefully expand it into a small line of cleaning products that are all super natural.
Are you making these products at your apartment in New York or did you rent out a space?
Up until recently, I was making everything myself in my kitchen. However, that became unsustainable. I luckily now have help so my apartment no longer looks like a factory and smells like cardboard.
How have your eating habits changed since becoming Zero Waste?
My eating habits are a lot better now. I don't eat junk food anymore and if I do eat things that aren't super healthy, they are things that are freshly made or more natural. If I want sweets, I'll buy something that is organic or baked locally so it won't be a processed food product. I eat fruits and vegetables from the farmers market so I eat seasonally. All the other little things that I'll have I'll buy from a local natural food store; I'll buy them in bulk and package-free.
I bet that really affected your mood and made you happier overall.
Without a doubt.
Outside of your environmental interests, what do you like to do for fun?
Being with my friends and going out to dinner. I like walking around and trying new restaurants and new food–that's my favorite thing to do. As far as the restaurants that I choose to go to, I only really go to places that align with my values. I go to this one place across the street from me everyday. They source all their ingredients locally; they're also organic and they compost. Another thing I like to do for fun is going to shows (concerts, theater) but I only like going to shows when I know people in it. I love seeing my friends perform.