We hope that this overview will help you begin your partnership with us to provide our customers with a healthier and more restful sleep.
This module will explore the following beginning steps in ordering and dealer responsibilities:
• Ordering Procedures – Where to send orders and what's needed?
• Confirmations – A proactive, shared obligation to the customer.
• Shipping / Tracking information – Shipping notifications & expectations
• Invoice / Statements – When, How, and Holds
• Customer Service – 90 Days minimum
Ordering Procedures
Orders are received via email at info@savvyrest.com. It is our goal to enter each order within 24 hours of the order's receipt. For any future warranty requirements, we need at least a last name of the customer on the order. The product can be shipped to your store, warehouse, delivery service or directly to your customer. However, the Free Shipping Over $5,000 program only applies to orders shipping to you (store or warehouse).
The forms below can be completed or used as a guideline.
Add-ons
We will do everything we can to support both you as a dealer and your end-user. However, adding onto orders can create internal confusion and therefore, we ask that this be done sparingly. Changes and additions may also affect the Projected Ship Date.
Confirmations
Our customer service team will forward a copy of the entered Sales Order you submitted for your approval. We view this step as a critical one. Partnering together to ensure the accuracy of the order is a proactive step required to eliminate unnecessary delays. Please respond within 24 hours if you need any changes made to the order.
Shipping / Tracking information
Each order has a PSD (Projected Ship Date) that the warehouse strives to meet or exceed. Normally 5 business days is our standard lead time. Showroom units require 10 business days. During large promotions, add an extra week and hopefully we'll surprise you.
Once the order is completed and ready to ship, an invoice will be sent to you with the tracking information. Each carton will be side marked with the customer's last name and the contents.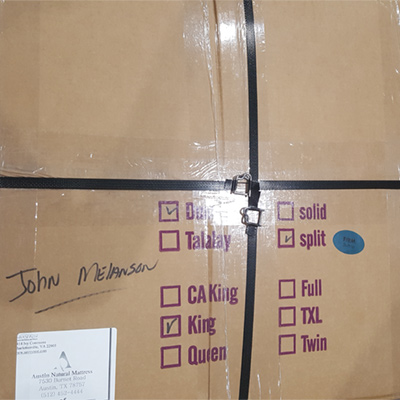 Please note and take photos of any exterior carton damage on the Delivery Receipt. If damage is evident, refuse.
White Glove shipping is available. Call with the address and order to get a quote.
Rush, Signature Required, Guaranteed Delivery Date, and Saturday Delivery are all available for additional fees.
Invoices / Statements
The invoice is created the day of shipping. No further paper copies are mailed. We request that you pay promptly from that invoice to ensure that no finance charge or holds are put on your account.
A payment can be made a variety of ways.
ACH
An ACH payment is the preferred method. ACH payments can be made two ways: Either you set up our banking information in your system and "push" the funds directly into our account, or with your written permission, we can set up your account and "pull" or withdrawal funds. The ACH method allows the transfer of funds to happen quickly which often gives you more flexibility and control. (Since the initial set up requires a week, it is suggested that the form be completed and on file.)
Check
A check can be sent to us at 4414 Ivy Rd, Charlottesville, VA 22903. If a "hold pending payment" is on your account, your order will be released upon receipt of check.
Credit Card
We are happy to accommodate you with processing a debit/credit card payment, however, a 3% processing fee is added.
Statements are sent via email on a monthly basis. If you are not receiving these, please contact our accounting department.
Customer Service
Assisting your customer after the delivery of their initial order and through the first 90 days is required. That time frame allows the customer to make any necessary tweaks to their purchase to ensure years of satisfaction.
The 90-day exchange program begins once the customer receives their order. If you are delivering the mattress initially, providing an additional copy of the exchange handout (found in Dealer Resources) would be suggested.
Video
Resources
Dealer Manual – Dealer Responsibilities
Handouts
Delivery Inspection Instructions