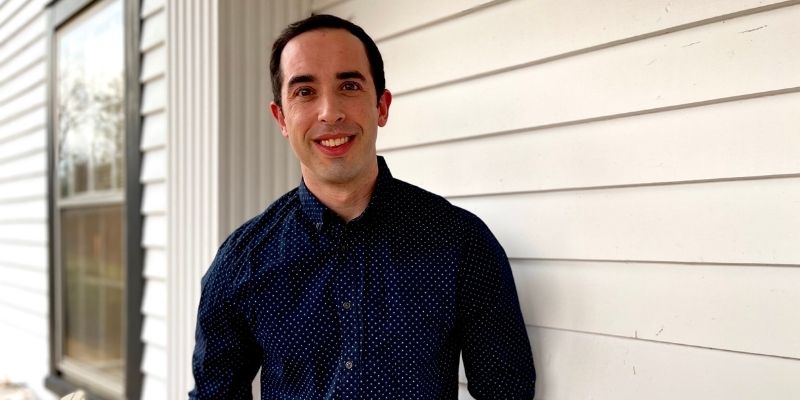 A Letter from our CEO: John Howard-Smith
It's no secret that the mattress shopping experience evolved over the years to be practically indistinguishable from the shopping experience on a car lot. Aside from the product itself, customers have faced pushy sales tactics, badmouthing of competitors, sticker price manipulation, and a general feeling of 'ick'. Neither experience left anyone feeling good after spending several frustrating hours and hundreds or thousands of dollars: Did I just get swindled? Will I regret this? What did I actually just buy?
Although this experience still exists, mattress shopping has increasingly moved online over the last few years. That doesn't mean the feeling isn't less icky. Abundant choice, confusion, misleading labels, and high-pressure sales tactics are still prevalent and leave the customer feeling manipulated and lost.
At Savvy Rest, we aim to offer a different experience. Driven by our shared values of sustainability and community, we offer safe, natural, and comfortable products certified by independent third parties and information delivered with transparency and honesty. It's easy to claim that any product is 'natural', but the savvy consumer should always question that. We don't bury our credentials or certifications. When you purchase a Savvy Rest product, you're getting a product tailored to your needs, free from harmful chemicals, and manufactured by a company that cares about you, our communities, and our planet.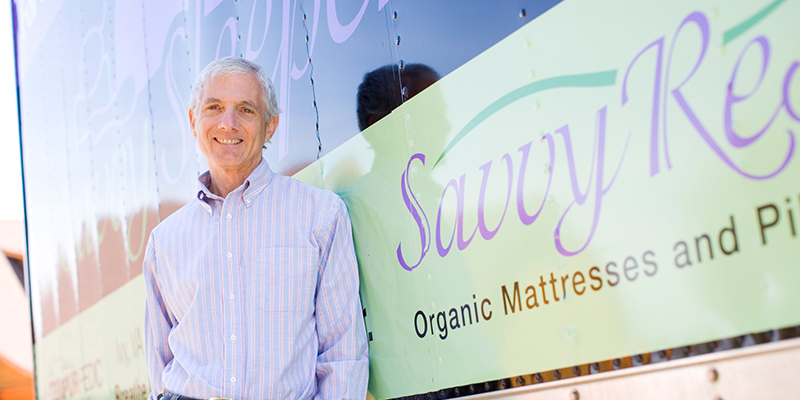 Michael's Story: Savvy Rest Founder
I never thought that I was particularly passionate about natural living: I simply never considered living any other way. Diet, exercise, sleep, meditation, and work-life balance have informed my day-to-day choices, especially in aging. That's just what it takes for me to feel happy and fulfilled.
For over 20 years I lived in a spiritual community and renounced worldly life. Perhaps the strongest impact of that is viewing humanity's similarities more than our differences: Everyone wants to be happy. Everyone needs love. Everyone wants to be part of a dynamic team, develop, and express themselves. Everyone wants to make a positive difference in the world.
After working in a futon store for six years, in 2003 I set out on my own and learned how chemicals from mattresses and sofas wind up in the bloodstream, which ultimately set me on the path to founding Savvy Rest as an organic mattress company. My wife began to wake up with severe headaches from sleeping on a highly touted memory foam mattress (all chemical); within a couple of years of changing to a Savvy Rest mattress, her headaches completely cleared up.
I never cared about building a company or had some dreamy long-term vision. When we needed more help, we hired someone. We learned as we went along, and the universe provided whatever help we needed.
Each new employee who began to work at Savvy Rest was drawn to something. It could have been how we listened genuinely in an interview, or our orientation toward sustainability, or the organic story. I always believed that nothing other than fulfilling one's life purpose was truly satisfying. Fulfilling that purpose while working at Savvy Rest has been astonishingly successful for many people. As time went on, the lived experience came to resemble some aspects of community living.
Around 2012 one of our wonderful employees said to me, "You know, Michael, the way we sell is really different from anyplace else I have ever worked. We treat people with respect, share what we know and what we have, but there is zero pressure, a sort of mindfulness, and authentic caring." In my heart I knew it was different, and I developed what I called Selfless Selling, basically a way of treating a customer like a friend or neighbor.
Now that the operations have passed gracefully to younger leaders, I could not be happier with the organization. There are still normal problems that plague any business, but everyone at Savvy Rest is hardworking and capable of facing these challenges head on through communication, teamwork, and passion for the work they do.
I will add that, although skills are critical, the power of connection and caring are transformative and developmental. On a daily basis, I feel the integrity of our CEO John, the entire Leadership Team, and all our teams. I have faith that the company will continue to thrive and grow in their capable hands.
Shared Values
Sustainability: Sustainable products and a passion for the environment contribute to mindful living, less wastefulness, and a brighter tomorrow for future generations.
Community: We practice kindness and mutual respect, and cultivate connections to create strong, empowered communities.
A company's shared values aren't just ideas held by the founder, or the CEO, or the marketing department. They are a present feeling that permeates throughout the organization, and they are guides for the future.
We have allowed our shared values to adapt, as change is a constant. Our shared values were established through a process that spanned well over a year and involved each voice and team within our company. They began with individual words that conveyed what each employee owner felt embodied Savvy Rest, its mission, products, and stakeholders. The end result of that process (sustainability and community), along with our definitions of both values, encapsulates each of us and drives every decision we make.
Leadership Team
Like most companies, our leadership team has changed through the years as the company has grown and matured. But unlike most companies, our big decisions aren't made in a boardroom by executives in suits seeking only to maximize profitability. Since Savvy Rest has adopted legal status as a Benefit Corporation, we have an obligation to consider other factors besides profitability when making decisions: our local community, the environment, employee owners, and other stakeholders.
Our small leadership team usually meets weekly and consists of three men and two women from each department of the company. Each member brings a unique skill set and perspective and we always rely on our shared values to guide our process through any tough decision.
With our leadership team we strive to show that it's possible to tackle tough business problems and achieve success while staying true to our values and not solely focusing on the bottom line.
Savvy Rest Women's Council
Savvy Rest Women's Council (SRWC) was founded in 2017.
SRWC promotes equality and believes every employee-owner should feel supported, heard, and empowered. Our organization fosters a healthy work environment by updating company policies and implementing projects that reflect Savvy Rest's values.
Since its inception, SRWC has established a comprehensive parental leave policy, collected donations for the local women's shelter and food bank, began overseeing the company newsletters, interviewed female business owners for the Savvy Rest blog, and organized company activities to promote a sense of community and appreciation at work.
SRWC values sincerity, empathy, and transparency. We genuinely care about people, both within Savvy Rest and beyond. We look forward to the future connections we will make as SRWC continues to grow and positively impact others.
ESOP Team
Not long after Savvy Rest adopted an Employee Stock Ownership Plan (ESOP), we were inspired by other employee-owned companies to found an ESOP Team. Since every employee at Savvy Rest owns stock in the company and has a vested interest in its success, it only makes sense that each employee (and not just those on the Leadership Team) has the opportunity to enact change and contribute to the overall vision of the organization.
Our ESOP Team usually consists of four to six individuals from various departments within the company. Each ESOP Team has a two-year term during which team members conduct regular meetings to put forward new ideas, refine policies, and work to promote the ESOP among fellow employee owners. The group also attends local ESOP conferences to network with other employee-owned companies and to gather ideas to bring back to Savvy Rest. At the end of each two-year term, the team membership changes so that everyone has an opportunity at some point to serve on the group.
Consistent with our shared values, the ESOP Team is an important part of the community at Savvy Rest, its future direction, and our commitment to empowering all who work in the company.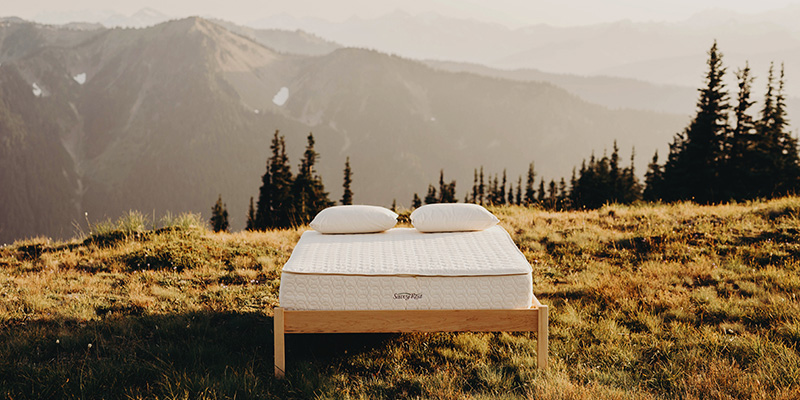 The Value of Community
We value both the sense of community within the organization, as well as the meaningful partnerships we've created outside Savvy Rest.
Savvy Rest works with dedicated suppliers, such as Vita Talalay, Cocolatex, and Blue Ridge Lumber, who share our passion for natural and sustainable materials. The relationships we've built over the years allow us to source the very best for the health of our customers, employees, and the planet.
We are proud to have mattress dealers throughout the US, Canada, and Mexico who carry our products in their stores. Some have been with us for over a decade! We are truly thankful for the support shown over the years and the continued trust in our products.
We also have to mention our incredible affiliates. Savvy Rest works with a variety of social media influencers and bloggers who are enthusiastic about holistic living and supporting small businesses. They educate their followers about natural alternatives to mainstream products that still offer desired quality and comfort. We are inspired by our affiliates and are constantly learning new things from their research and journey towards sustainable living.
In our hometown of Charlottesville, we also have a partnership with The Shelter for Help in Emergency, a local women's shelter. Savvy Rest started the Safe Sleep Pillow Program to make a difference in our local community by offering a small sense of comfort to those facing painful challenges. Savvy Rest donates pillows to the shelter whenever they are in need. You can learn more about this program here.
Employee Owner Statements
"I've never worked for an ESOP company before. Collective efforts lead to success. It's nice that people listen to my ideas and to sometimes see them implemented. People care about each other." Lydia, Inventory Manager
"We have earned our reputation that our word is golden. I'll be proud to say this is the last company I ever work for." Tori, Accounting/Bookkeeping
"We're asked about our well-being first. The company sees people as more than just workers." Weston, Production Support Lead
"It isn't just an employee-owned company, it feels like a family." Mag, Woodworker
"We truly care about people and try to do the right thing. I'm proud of our integrity." Twila, Operations Manager
"Everyone gets along and wants to be happy. Working at Savvy Rest is peaceful." Daryl, Production
"When I first joined Savvy Rest, I was drawn to the goal of sustainability and health. I appreciated that Savvy Rest sourced organic and natural materials, that they went the extra mile to earn some of the most impressive certifications in the industry, and that there was a genuine desire to positively impact people's lives. I've been with the company for several years now and I still feel that same energy and drive. I've learned that little changes can inspire long-term growth, that a small business can make a big impact, and to never underestimate the power of a comfortable space to rest at night." Liz, Marketing & Social Media Manager