Savvy Rest natural, organic mattresses are made with 3-inch layers of natural latex (Dunlop or Talalay) in personalized combinations of Soft, Medium and/or Firm to provide the right cushioning and support for your body (How to Choose).
Our most popular mattress is the Serenity, which is totally customizable and includes three layers of natural latex. Use our new mattress tool to build your Serenity or click any image below to explore all Savvy Rest mattresses.
Savvy Rest Simple Fit™ natural, organic mattresses are made with ease and simplicity in mind. Both are fine choices for people who'd like to change to a nontoxic mattress but do not need customized firmness, and are ideal for growing children.
What's inside a Savvy Rest organic mattress?
Savvy Rest offers GOTS-certified organic mattresses that are safe for your home and our planet. Here's a closer look at the materials inside our layered natural mattresses.
True natural latex, without synthetic latex or fillers blended in, is simply natural foam rubber. We offer two different types of natural latex: Dunlop and Talalay. Dunlop, named after the method in which it's manufactured, is the denser, more supportive of the two. Talalay, also named after its manufacturing process, offers softness and gentle pressure-relief. (Learn more about Dunlop and Talalay here.)
Our natural Dunlop latex is certified organic in two ways. The rubber tree plantations are certified organic according to USDA standards, and its processing is certified organic to the Global Organic Latex Standard (GOLS).
Our natural Talalay has been certified as Cradle to Cradle GOLD, a measure of its health impact, level of material re-use, water stewardship, use of renewable energy, and social fairness. The latex is also sourced from rubber tree plantations that adhere to sustainable forestry practices.
Organic wool batting helps our natural, organic mattresses meet federal fire safety requirements without using chemical flame retardants. A natural insulator, this same batting also provides the plush feel of our mattress casing, allowing your body to regulate heat and stay comfortable, regardless of the season.
We stay away from cotton treated with pesticides since this is harmful to our bodies and the planet. Our mattress casings are made of unbleached, GOTS-certified organic cotton. When you see that GOTS logo, it means that the material or overall product has met the most rigorous organic standard worldwide.
Woven organic cotton fabric is both soft to the touch and remarkably durable—the perfect material for a strong yet comfortable mattress casing. Why organic cotton? Thirty percent of the world's pesticides are used to grow conventional cotton, and enormous quantities of chlorine, toxic dyes, and finishing chemicals are used to process it. Perhaps the better question is: Why conventional cotton?
Dig deeper into our specific material descriptions and certifications, or compare natural latex to other common mattress foams.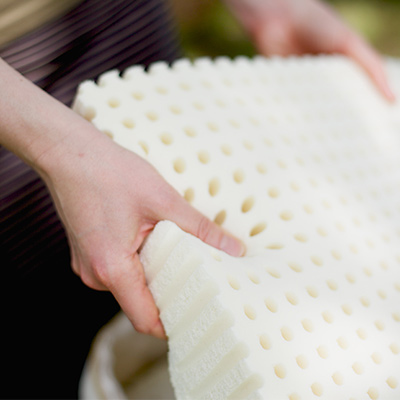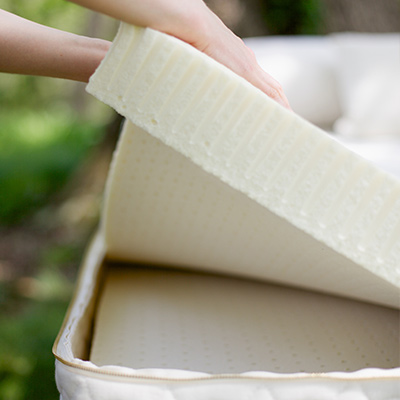 No flame retardants or other toxic chemicals
Our organic mattresses not only contain no chemical flame retardants, but also NO formaldehyde glue, cardboard, metal coils, particle board, plywood, veneer, polyester, polypropylene, polyurethane, toxic stains, dacron batting, feathers or down. Choose from a variety of organic latex densities …for the safe and luxurious organic mattress you've been dreaming of!
Organic, natural and eco-friendly materials
GOLS-certified organic Dunlop latex
Sustainably harvested and Cradle to Cradle Gold-certified natural Talalay latex
GOTS-certified organic wool
GOTS-certified organic cotton
Our layers of natural organic latex come in Soft, Medium and Firm Dunlop and Talalay options—choose what's most comfortable for you.

Natural materials, healthier foam
Most non organic mattresses contain cheap foams that compromise health and quality. Conventional mattress foams and treated fabrics contain flame retardants or other toxic chemicals which offgas into the air, degrade into microscopic dust and can be inhaled. Close, consistent contact with conventional mattresses (6-10 hours nightly) adds up to significant long-term exposure to the chemicals they contain. Research has shown that chronic, low-level exposure can be hazardous to health.
The most common foam, memory foam, is made primarily of polyurethane with various added chemicals. Health and safety concerns about the chemicals found in memory foam mattresses have been widely reported. Some of these include isocyanates, formaldehyde, benzene, and napthalene.
Many of these chemicals are linked to cancer, infertility, developmental brain disorders, obesity, headaches, and respiratory ailments such as asthma.
20-year warranty, excellent customer service
Savvy Rest's latex mattresses have a 20-year warranty. And for good reason—the overall product quality is the reason for our company's outstanding reputation. Another good reason to consider Savvy Rest is our responsive customer service, which is unmatched in this industry. We seldom need to fix problems after purchase, but when we do, our priority is to listen to our customers and treat all with consideration and respect.
We are an employee-owned company, and each of us are invested in your positive experience. We know our customers are the reason we can continue to do what we do.