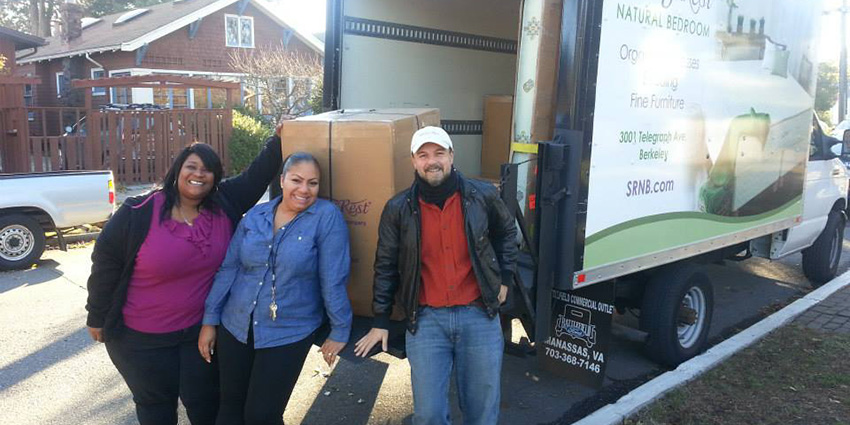 We want to contribute to the well-being of our customers, partners, and communities. That's why we are a B Corporation. It's why we are an employee-owned company. It's why we track our carbon emissions and recycle old mattresses. And it's why we reach out to build positive relationships locally.
Employee Ownership
Savvy Rest became an employee-owned company in 2012. This means that all of our employees, from the skilled workers who sew, custom-cut, package and ship Savvy Rest products to those who work in our offices, will benefit from our growth and success.
Mattress Recycling
It's one more thing we can keep out of a landfill. Ninety-five percent of the materials in used mattresses and boxsprings can be reclaimed. Foam, fabric, and wood are separated and sold to manufacturers. Steel is recycled and used to fabricate new products. When we deliver mattresses to customers of our Savvy Rest Natural Bedroom stores, we remove and recycle old mattresses and boxsprings.
B Corporation
B Corporations aim to be better companies—better for workers, better for communities and better for the environment. As a certified B Corp, we're helping to shift the business landscape from solely-profit-driven methods to methods that also support communities and are protective of the environment.
Cradle-to-Cradle
Our Talalay latex is Cradle-to-Cradle Gold certified. The cradle-to-cradle concept is part of a movement launched by sustainable design leader William McDonough. Manufacturers are urged to rethink how we produce materials, and to design our systems in ways that can help protect the environment for future generations. Cradle-to-Cradle products are certified for material health and reutilization, renewable energy and carbon management, water stewardship, and social fairness.
Safe Sleep Pillows
Each of our Savvy Rest Natural Bedroom retail stores runs an ongoing donation program with a local domestic violence shelter. All arriving women and children are given new organic pillows, with notes explaining that the Safe Sleep Pillows are theirs to keep. We also share our heartfelt hope that they'll find peaceful, healing sleep.