In my mind, there are two major ways we're able to show off and embrace our style: fashion and interior design. Just like our bodies, the rooms in our home act as a canvas that welcomes color and life. Our inspirations and creativity can be shown through which fabrics we choose, what shapes we gravitate towards, and which era we secretly wish we had lived in.
A house is more than walls and a roof—it holds our heart and with that, our thoughts and passions.
When we leave the office or return from a long trip, we end up back in our home, the place we can always depend on. That constant in our life should make us feel safe and happy. It should be a comfort, not a chaotic mess or a black hole.
If you haven't yet decorated your home, don't worry—it's never too late to add some personality to a space.
Here are five interior design ideas to help you get started.
1. Wall of Framed Art
A perfect way to liven up a space and to make quite a statement is by having an entire wall dedicated to framed art. If you want to keep things traditional and just have one or two large paintings, that's fine, but filling the entire wall with small and medium-sized framed works acts like a mini museum.
Art is a perfect way to embrace self-expression, and it acts as an excellent conversation starter when guests visit.
You can use the exact same frame for each art piece, or play around with different ones. Perhaps you'll choose all different sizes and styles of gold frames, for example.
If you want to get even more creative, you don't even need to put anything in the frames. Yes, you can just hang empty frames, and perhaps paint the wall a different color than the rest of the room so the wall pops even more.
Not a fan of either of those ideas? Here are a few unexpected items to hang that you probably already have around the house.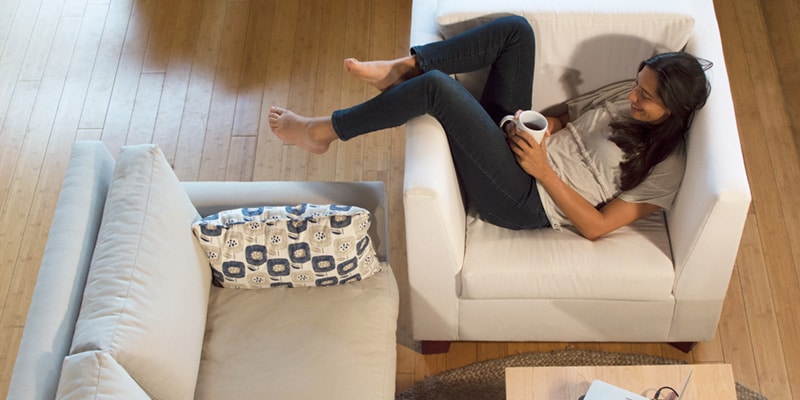 2. Sleek Modern Furniture
Your sofa should definitely be comfortable, but it should also be sleek and sophisticated. It's the centerpiece of your living space, and it's where you'll spend a lot of time lounging while watching The Crown, so choosing the right one is crucial.
If you're looking for a modern sofa with straight lines that is simple yet striking, I highly recommend you check out our organic sofa line.
The Verona line of organic sofas, loveseats, and armchairs is made with natural Talalay latex, certified organic fabrics, sustainable maple, and zero-VOC finishes. It's the perfect line for those with a green heart.
Our furniture is also customizable. You can choose between two arm heights (30" or 23"), and you can also customize the seat cushions, selecting either Soft or Firm.
Interior design isn't stationary, it's endless and filled with possibilities, which is why our furniture reflects that ideal. 
Learn more about our organic furniture
3. Vintage Rugs
I've seen a ton of different vintage rug accounts on Instagram, and I'm pretty obsessed. There are so many different patterns and colors, but I've especially noticed red rugs are in.
I love vintage pieces in general, whether rugs, tables, paintings, etc. There's something special about these pieces because they tell a story, and you're also repurposing an item that needs a home.
When looking at rugs, in particular, it all depends on what type of statement you want to make. If you have neutral furniture, you may want to get a bolder rug so that the room pops. Or, perhaps you are going for a completely neutral color scheme with smaller instances of pops of color (we'll get to that soon).
4. Add Some Greenery
Plants have this magical power of making a boring room transform into something fabulous. The vibrant shades of green (and the increase in oxygen) add life to any room that was feeling a bit drab and dull before.
Introducing plants into your home is not only aesthetically pleasing, but it also has major health benefits. Plants add moisture to the air and are even considered a natural air purifier.
Certain plants also help relieve stress, such as lavender and chrysanthemum.
Succulents are perhaps the most Instagram-famous plant at the moment. They're small enough to place on a side table, or as decoration atop your mantle or built-in bookshelf. Their thick and contoured shape add intrigue.
Taking care of succulents indoors isn't difficult. Learn more here.
5. Pop of Color
While the greenery can certainly act as a pop of color, there are various ways you can accomplish this stylistic goal.
Throw pillows are a popular and easy way to add some vibrancy. If you have a white or beige sofa for example, a tranquil blue will give that piece of furniture an extra dimension. You can even play around with different shades of blue, along with some neutral but patterned throw pillows. The sky's the limit.
Adding a colorful lamp or textured throw are other simple ways to take a neutral room to the next level.
Be creative. The only rule is that you stay true to your unique style.