Mattress shopping can be a stressful ordeal when you don't ask the right questions (okay, it can be a stressful ordeal even when you do). With so many different types of mattresses on the market, it's difficult to know which mattresses are safe, comfortable, and durable.
There's a temptation to simply buy what seems the most reasonably priced. But what does that price tag really mean? What type of mattresses are worth your time and which ones should you avoid at all costs?
Keep reading to learn the five major questions you should keep in mind when shopping for a new mattress.
1. What is the mattress made of?
This is one of the most important questions to ask since you're spending hours every night sleeping on your mattress. You should think about what types of materials are best for your health and the health of our planet.
A lot of mattress-in-a-box brands use polyurethane foam. Don't be fooled by the Certi-Pur certification. This is still a synthetic product that is not eco-friendly or natural in any way.
Opt for natural latex instead of polyurethane, memory, or bio-hybrid foams. Natural latex takes away the fear of harmful off-gassing and health consequences brought on by chemical flame retardants and volatile organic compounds (VOCs).
It's also best to avoid synthetic mattress casings made of polyester or rayon. Even a cotton casing may seem harmless but without an organic certification, it's likely the cotton was treated with pesticides.
2. Is it customizable?
Customization is key when searching for a mattress. If a mattress isn't designed specifically for your body's needs, it's not going to feel right.
Savvy Rest is one of the few mattress companies in the industry that offers extensive customization options.
We offer Soft, Medium, and Firm densities of Dunlop and Talalay latex. We also offer split configurations so your side of the mattress can differ from your partner's.
Here are some popular configurations: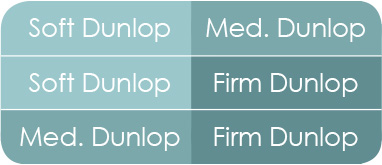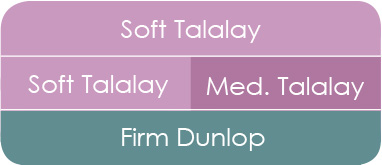 3. What is the return policy?
So what happens if you want to return your mattress? Have you thought about where returned mattresses go? While plenty of companies boast that they donate them to charities, it's actually a little more complicated than that.
With the rise of online-only mattress companies, shelters that accept mattresses have become overwhelmed. Some have had to say no to further donations and other shelters simply do not accept used mattresses.
The mattress company doesn't want your mattress back so where does it go? A landfill where it takes up space, off-gasses toxic chemicals into the air and soil, destroys landfill machinery, and harms our planet.
Savvy Rest has a 90-day latex exchange policy. This allows customers the opportunity to adjust the feel of their mattress as many times as they need. While most customers feel they have the right mattress configuration from the beginning, you can have peace of mind knowing that if need be, you can switch up those layers for a softer or firmer feel.
And customers local to our Savvy Rest Natural Bedroom stores have the option of giving us their old mattress to recycle for free when we deliver their Savvy Rest organic mattress. Learn more about our mattress recycling program.
4. Is this an investment?
Despite popular belief, buying an inexpensive mattress won't have you sleeping better at night. Yes, your bank account will be a little greater…for now. A cheap mattress lacks in durability which means you'll have to replace it sooner than you'd like, sometimes within just a year or two.
At Savvy Rest, we believe a mattress should be an investment that lasts for years. We spend about a third of our lives sleeping so our mattress should be organic and well-made.
Investing in a mattress, while initially daunting, means you're sleeping on a safe mattress that is also comfortable and will actually last. This is what the mattress industry should be about.
5. Are you taking your time?
You should take your time when mattress shopping since as noted above, this is an investment, not a race (unless you're sleeping on the floor and in desperate need of a mattress, stat).
If you live near a Savvy Rest dealer, we encourage you to try out our mattresses in person. Bring a magazine with you and actually lie down for an hour. Get a sense of what feels good to your body.
If you're not near a dealer, do your research! Our website is packed with useful information. Feel free to call us with questions or if you need help choosing a configuration.
Good luck shopping! We wish you healthy, organic sleep.