Do you know what's in your furniture? Not everything is visible on the surface. Flame retardants, synthetic foams, and harmful VOCs may be lingering in your living room. So, while you're lounging on your sofa reading a book, you're also breathing in whatever is hiding from the naked eye.
Learn about the dangers of flame retardants and which furniture materials are healthier for your home.
What are flame retardants?
Flame retardants are chemicals that are used in furniture pieces and mattresses to slow down the spread of flames in the event of a fire.
Sofas, for example, must pass the smolder test for home use, and both the open flame test and smolder test for commercial use. One quick and cheap way for manufacturing companies to pass these burn tests is by using chemical flame retardants.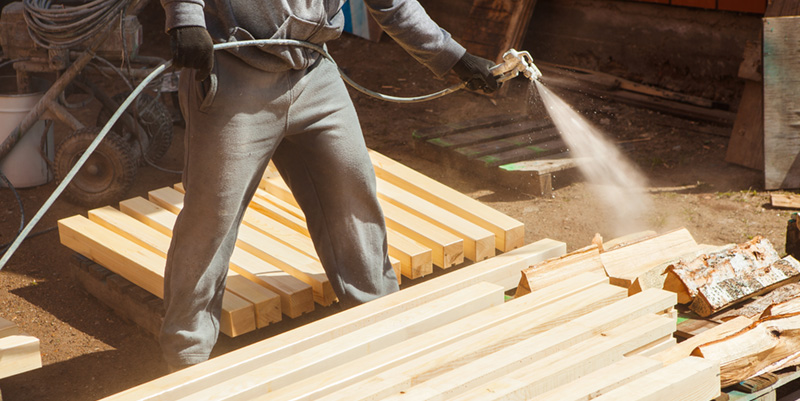 Are flame retardants dangerous?
It is reported that there has been a rapid increase in PBDEs found in both humans and wildlife, particularly in North America.
Dr. Healther Stapleton is an Associate Professor of Environmental Ethics and Sustainable Environmental Management at Duke University's Nicholas School of the Environment. Dr. Stapleton's research focuses on chemical flame retardants, specifically polybrominated diphenyl ethers (PBDEs) and their health and environmental impacts.
"Exposure to PBDEs can potentially affect thyroid hormone regulation, and they are considered neurodevelopmental toxicants," Stapleton explains. "The concern is that if you have higher exposure during pregnancy or in early life, children will be statistically more likely to score lower on measures of neurodevelopmental endpoints and cognitive function. There are concerns about exposure to PBDEs and associations with the incidence of ADHD, for example. Unfortunately, children have much higher exposure to flame retardants than adults do, typically through inadvertent ingestion of dust particles in the home."
Watch our "Toxic Dust" video to learn more about invisible chemicals lingering in homes.
Harmful chemicals from your mattress(es) and furniture may be floating all around you. Here's what you can do to avoid them.
What is a natural alternative to flame retardants?
Organic wool batting is a natural flame barrier, eliminating the need for chemical flame retardants. However, because organic wool is expensive, it's not a commonly used flame barrier in the mattress and furniture industry.
Natural and organic mattresses will use wool as a natural flame barrier but keep in mind, not all companies source wool that is certified organic.
Savvy Rest organic mattresses and sofas use organic wool batting instead of chemical flame retardants for the health of our employees, customers, and the planet.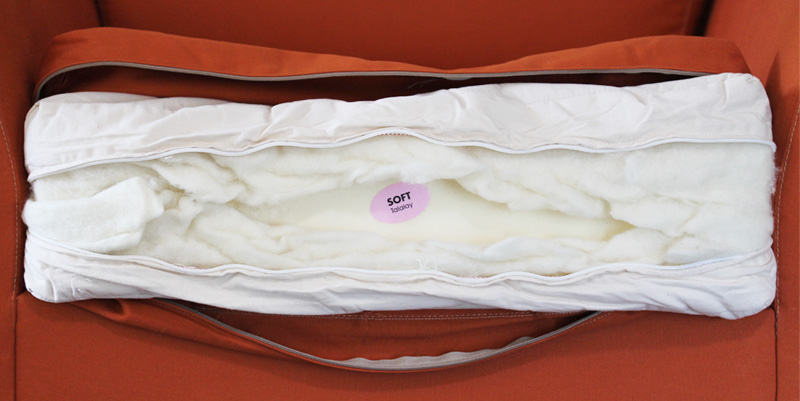 What are some sustainable furniture materials?
Savvy Rest organic sofas are made with the following sustainable and natural materials:
Certified organic fabrics: Choose between hemp, cotton duck, or a hemp-cotton blend. All fabric options are organic and are available in a variety of colors, from neutrals to bolder shades.
Natural Talalay latex: Pressure-relieving Talalay latex is used in our seat cushions. We love using Talalay latex because of how incredibly breathable and comfortable it is. The Talalay latex found in our sofas and mattresses is Cradle to Cradle Gold certified. The latex is also sourced from rubber tree plantations that adhere to sustainable forestry practices.
Certified sustainable natural hardwood: We use maple hardwood in our sofas, platform beds, coffee tables, and benches. Not only is this an incredibly sturdy wood but it works beautifully with our zero-VOC finishes and holds the stain well. We also love the natural grain and believe it adds a unique and gorgeous aesthetic to our furniture pieces as opposed to particle board or plywood. The wood we use is certified sustainable by Appalachian Hardwood Manufacturers, Inc.
Zero-VOC finishes: We only use zero-VOC finishes in our furniture pieces to avoid harmful off-gassing. The brand of finishes we use is flax-based and safe in both the raw and dry form, meaning woodworkers can handle the finishes on a regular basis without feeling like they are breathing in toxic chemicals, and customers can know that the finished product is not going to negatively impact their home air quality. Learn more about the wood and finishes used in our furniture here.
Certified organic wool batting: Organic wool batting is used in our sofas as both a natural flame barrier and for added comfort.
Natural jute webbing: The sofa seat cushions are placed upon a quilted cotton cover with a coir decking supported by natural jute webbing. The webbing is supportive and also helps promote air flow.
Natural coir: Coir is a mix of coconut fiber and natural latex. The natural material is used for comfort so as not to feel the jute webbing.
Shop our Organic Furniture
It's time to upgrade your living room with organic furniture pieces that are modern, healthy, and comfortable. Shop our line of sofas, loveseats, and armchairs.