2017 has arrived, and with that new hopes, goals, and aspirations. Most of us begin the new year with resolutions such as eating healthier or exercising on a regular basis. These are wonderful goals, but how long we can keep our resolutions up is always the big question. Perhaps the best type of resolution focuses more on a mindset than an everyday action.
When we think of our health, we usually neglect to consider the actual space in which we live and how that space makes us feel. Our homes are a creative representation of ourselves and should reflect our definition of tranquility and good health. Our living room should never make us feel stressed or overwhelmed. It should be filled with positive energy and beautiful furniture, but what if our living room hasn't met its full potential? This list highlights what types of things you should be thinking about when striving for a healthier space, both in terms of the physical items in the room as well as the room's energy and how the space should evoke a feeling of relaxation.
Start the new year with a living space that is sleek, sophisticated and safe. Here are 5 things to keep in mind when changing up your living room.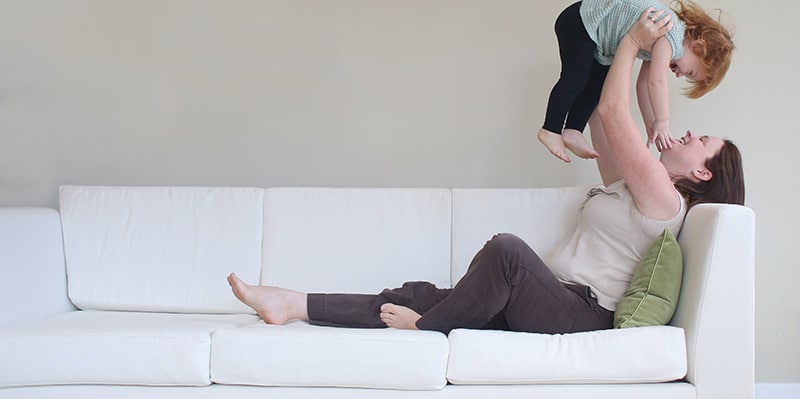 Organic Furniture is a Worthy Investment
Yes, organic furniture is a thing. That old couch that you've been lying on for the past 10 years has got to go, my friend. Most furniture is made with synthetic materials or cotton treated with pesticides. There's also pesky VOCs (Volatile Organic Compounds) that can negatively impact your health. Some of these side effects include headaches, nausea, and fatigue. Formaldehyde doesn't exactly give off a zen vibe.
We wanted to offer our customers an alternative that was free of toxic chemicals. Our Verona line includes organic sofas, loveseats, and armchairs that are made right here in the United States with your health in mind. Choose from a variety of certified organic fabrics and zero-VOC finishes. The cushions are filled with natural, comfy Talalay latex that is Cradle to Cradle Gold certified. Say goodbye to particle board, polyester, and toxic stains. Purchase a product that has your health AND the environment's health in mind. It's time to lounge in organic luxury.
Be Aware of Dust
Dust is usually seen as a mere nuisance, something that shows up on neglected shelves and can cause watery, itchy eyes and the occasional sneezing fit. However, dust is a bit more complicated than that. If you have furniture with chemical flame retardants and VOCS, these toxins can latch onto dust, dust which you then breathe into your body. Dust particles are like magnets for chemicals, like a sponge that absorbs toxins instead of harmless soap suds. Breathing in chemical flame retardants over time can cause obesity, developmental brain disorders, and even cancer. What's even scarier is that children absorb nearly five times as much dust in their home than adults do. I guess it's safe to say that your old couch is doing more damage than you realized.
//player.vimeo.com/video/143907612?color=
Toxic Dust in Your Home
Harmful chemicals from your mattress(es) and furniture may be floating all around you. Watch this video to learn more about the health consequences linked to the dust in your home.
Natural Necessities
You can't avoid things like paint and flooring, but you can choose healthier options when looking for that perfect shade of blue. Search for paints made with raw ingredients, like clay or chalk, instead of synthetic fillers. And as always, make sure the brand you use is zero-VOC. There is no room for off-gassing in your cozy oasis.
Most mainstream carpeting contains VOCs, but if you're set on the plush, soft feel of carpeted floors, try wool. Wool is a natural material that is both durable and biodegradable. Pay attention to the dyes used in your carpeting as well. Vegetable-based dyes are a natural alternative to the toxic ingredients in most dyes.
If you're not sold on carpeting, there are plenty of other options, such as cork, bamboo, and reclaimed hardwood. Check out these popular eco-friendly flooring solutions.
Minimalism is Key
Clutter will quickly make your living room an anxious space instead of a place for you to relax and enjoy a good book. Think about the items in your living room and ask yourself what is and isn't necessary. I bet that huge stack of magazines and shopping catalogs that you're never going to read are probably ready to meet the recycling bin. If you have a few that you simply can't part with, put them in a decorative basket or hide them in a storage unit that doubles as a bench. Whatever you decide, you want the space to be clean and organized.
Think about the pieces of furniture you include as well. Be purposeful and intentional when designing the room. Don't overcrowd the space with too much furniture. Instead, invest in organic and natural pieces that promote healthy, comfortable living.
Learn more about our natural and organic products
Go Local
It's always great to support local business owners and artisans. They're talented and creative members of your community who depend on the support of local people like you! Instead of purchasing a decorative item from the mall, think smaller and buy an item from a local boutique that few people will have. Their creations are so much more meaningful and unique. An item from a small business can make quite a big statement in your dream living room.
Although Savvy Rest isn't a local boutique, we're an employee-owned company with products made in the United States. We design and construct our own furniture, sew and stuff our own pillows, and offer you products that you can depend on and treasure for years to come.