Ottomans are a popular living room furniture piece that is both functional and aesthetically pleasing. A living room is a place where you can relax with family, and your furniture should be a reflection of your style while still offering plenty of comfort.
But what is an ottoman? And why is it even called an ottoman?
Let's explore the story behind ottomans and why you should add one to your modern living room.
What is an ottoman?
An ottoman is an upholstered piece of furniture that stands on its own, usually at the end of a sofa or armchair. An ottoman does not have a back or arms but includes a cushioned seat. It is either round, square, or rectangular in shape.
An ottoman is incredibly versatile and can be used as extra seating or to prop your feet on as you lounge on a couch or chair. Some ottomans come with a removable lid so that the inside of the furniture piece can be used for storage. It can even be used as a substitute for a coffee table.
There are several different ottoman styles, from vibrant modern pieces to round tufted ottomans. The possibilities are endless.
Why is it called an ottoman?
The name "ottoman" comes from The Ottoman Empire since this piece of furniture originated in Turkey before being introduced to Europe in the 18th century.
Ottomans were considered an exotic and beautiful piece of furniture for lounging, whether in a living room space or a bedroom.
Hundreds of years later and this piece has kept its name and its popularity in homes across the world.
How big should an ottoman be?
When ottomans were first introduced, they were rather large and actually sat multiple people. However, ottomans are now smaller and typically are used by just one person at a time.
The size you will need depends on the space you have to work with. If you have a larger room, you will want a larger ottoman or perhaps two smaller ottomans instead.
A standard square ottoman has a length/width of about 20-30" on average, but you can easily find other ottoman sizes, whether larger or smaller.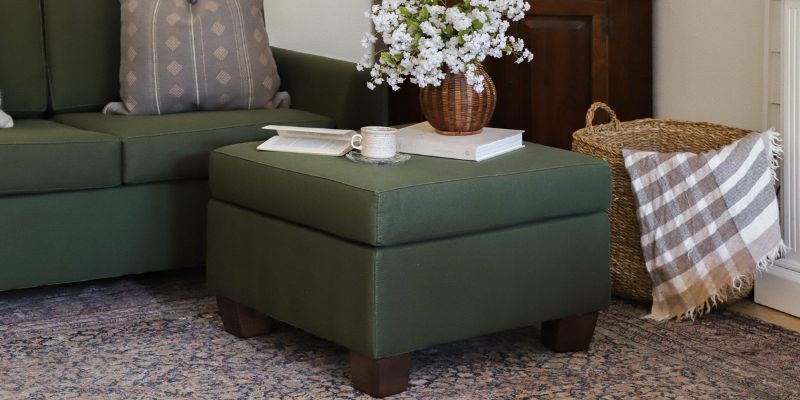 What are ottomans made with?
The materials used in ottomans vary. In terms of the upholstery, you may see synthetic fabrics like polyester, or you may see more natural fabrics like cotton or hemp.
We recommend opting for an organic hemp or organic cotton upholstery fabric to avoid pesticides, bleaches, and harmful dyes that will offgas in the home.
In terms of the foam used as the ottoman cushion, we recommend natural latex since it is durable, eco-friendly, and healthy.
Ottoman materials can be both beautiful and safe for your indoor air environment.
Which ottoman is right for you?
A significant factor when choosing an ottoman is price. The sofa should be the largest investment in the living room but you also want to invest in an ottoman that is made of quality materials that will last for years. Replacing furniture pieces due to poor craftsmanship is an expensive hassle.
An ottoman we recommend…
We love the Verona organic ottoman because of its natural materials and modern design.
There is a large selection of organic fabrics to choose from and even several zero-VOC finishes for the feet!
This is a handmade ottoman beautifully-crafted in Virginia so it is truly built to last.
You can learn more about this ottoman and see the entire natural furniture line here.