Written by Liz, SRNB Charlottesville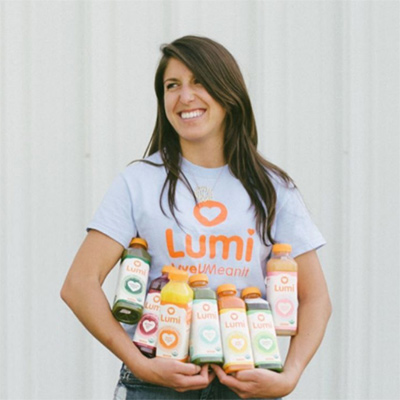 At Savvy Rest, we encourage a healthy lifestyle that will give you the energy you need to take on the day. Savvy Rest isn't the only company based in the Charlottesville area that knows the value of organic products. Lumi, an organic juice company, offers a healthier alternative to mainstream juices that lack nutritional value. Lumi believes juice should be completely natural, which is why their juices only contain organic fruits and vegetables and no other ingredients. That's right—no added sugars or artificial dyes, just wholesome and delicious fruits and vegetables. Lumi proves that you can enjoy juice even more when it doesn't have all those unnecessary, harmful ingredients.
I visited Lumi headquarters and spoke with the CEO & Founder, Hillary Lewis. We chatted about how Lumi started, what makes the company unique and what to expect from Lumi in the future.
The idea behind Lumi was born when you were a student at UVA's Darden School of Business. Can you tell me about the beginning stages?
I was walking through Whole Foods in Charlottesville and I saw a juice on the shelf that I recognized from New York City. I couldn't understand why it was in Charlottesville, VA. I picked up the bottle and started reading about High Pressure Processing (HPP), and what that does is it uses extreme water pressure to kill bacteria. I thought, wow, this is amazing—this is really changing the way people are consuming foods because you're not using additives. I asked the person stocking the shelf if this unique juice that was really high in price was selling well in Charlottesville. He told me it was selling so quickly that you couldn't keep it on the shelf. I decided that I wanted to create a health food company called Love U Mean It (Lumi), because we want you to love yourself and the people you care about. I wanted to make organic food the way nature intended it, without any preservatives or additives, just real organic produce. That was April 2013 and now here we are in 2017.
How did you choose the name Lumi?
My group of friends would always say "Lumi" to each other. I would always say it when I worked in New York City in sales and trading. Everyone would call me the Lumi Girl. I always wanted to start a business called Lumi, but I didn't know what that business would be. What's a better name for a health food company than something that's a commitment to our consumers that we're genuine?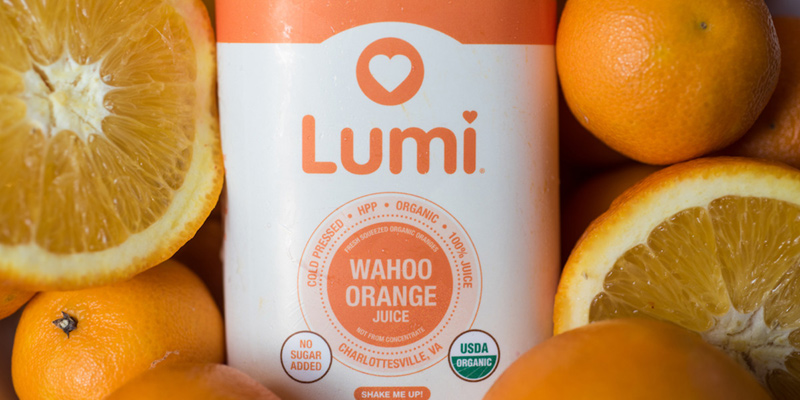 Lumi juices are cold-pressed. Can you tell me about that process?
The cold-pressed process minimizes oxidation of the fruit and exposure to air while maximizing nutrition. There's a blade that rotates at 4,500 rotations per minute. Immediately upon hitting the blade, the piece of produce shreds into a collection bucket and that stuff is called pomace, which looks like slush and isn't glamorous by any means. You put the pomace in cloth weave bags and slowly press it at about 100 pounds per square inch of pressure; it produces a really fine juice.
The second thing we do is HPP, which uses extreme water pressure. That pressure is about five times the pressure at the deepest part of the ocean, or the outside pressure of a rocket shooting into space. It explodes any of the bacteria without heating the juice so it never has a chemical reaction that would deplete the nutrients or change the flavor profile. It gives the juice a 50-60 day shelf life without killing enzymes.
I like how on your website you have an Ingredients page where you list all the health benefits of each fruit and vegetable found in your juices. How do you go about choosing the produce?
We go through 40,000 pounds of organic produce a month so we can't go to the farmers market and select our produce—we have buyers. Sometimes we work directly with large-scale farms and they bring us bins of stuff. It just depends on the season and where we're getting it.
How do you go about creating your juice recipes?
It just evolves from a lot of fun. We just put stuff together and decide which flavors we like. We like cilantro and jalapeno. Turmeric is a really hip ingredient right now, but I think it will be for a long time since people are starting to realize the health benefits of turmeric. It's just a fun day of creativity when we decide to create new flavors.
Do you remember the first store that carried your juices?
Relay Foods—then Foods of All Nations and Charlottesville's Whole Foods.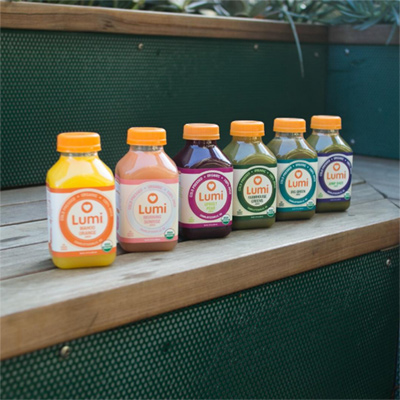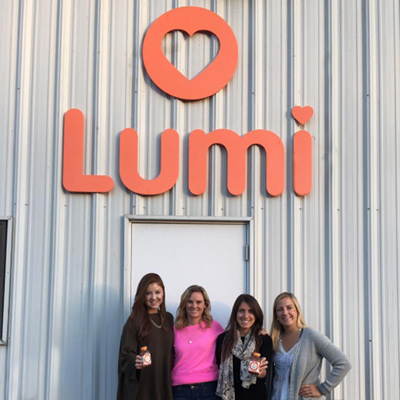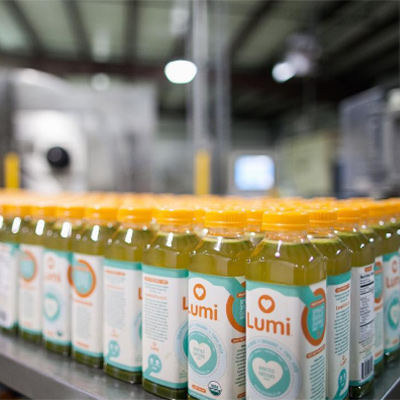 Is Lumi at UVA?
They're putting our juices in all the UVA cafeterias but they're starting right now with the Fine Arts building and Crossroads. It's funny how your body starts to crave good food once you've had it. A lot of people will come in and Harvest Apple or Piedmont Pineapple will be their favorites, but then they start to try the green juices and realize "okay, I actually like the ones with less sugar and it's making me feel better." The energy you feel from drinking a juice is really empowering. It gets people jazzed. I eat fried chicken and drink beer—I don't deprive myself of those fun foods, but it's everything in moderation. I haven't been sick since I started making and drinking juice.
I saw on your website that customers can also order online.
Yes, they can! We have about 18 pro sports teams who order from us—from the Anaheim Ducks and Oakland Raiders, to the Cleveland Indians and New York Rangers.
Where do you see Lumi in 5 years?
In the next three months, we'll actually be relocating to the Tri-State area between New York, Philly, and DC. Because of distribution and economics, it's much smarter for us to be there from a manufacturing standpoint. I love Charlottesville so much but for us to grow and be attractive on a larger scale, we need to be somewhere else. If we had a product that had a shelf life of a year, it would be a lot easier, but distributing refrigerated product from Charlottesville isn't easy at all. As hard as it is for us to leave, it will keep us growing.