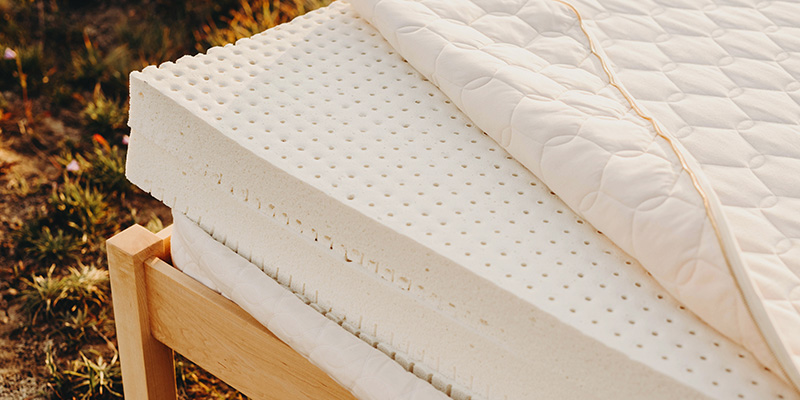 Interested in a natural latex mattress but want to learn more about its durability over time?
This page discusses the benefits of natural latex, how it stacks up to memory foam, and the "life cycle" of a natural latex mattress.
Do latex mattresses break down?
Yes, natural latex mattresses are designed to break down over time, meaning the natural latex core inside the mattress will oxidize after many years of use instead of off-gassing toxic chemicals in a landfill like polyurethane and memory foam.
Don't worry–your natural latex mattress isn't going to start crumbling before your eyes after only a few years of use. Natural latex mattresses are meant to last 10-20 years, which is much longer than your typical mattress-in-a-box.
A natural latex mattress offers peace of mind because it will last for years but when it's time for a new mattress, it will not leave a nasty carbon footprint behind.
Do latex mattresses sag?
Latex mattresses are known for their durability but like any mattress, they are not immune to dips and sags, especially if an individual is sleeping on a mattress that is too soft.
However, memory foam is known for having more issues relating to dips and sags because it retains body heat. It is the chemical reaction between the foam and body heat that allows the memory foam to gently contour to the body. While this offers pressure point relief at first, eventually memory foam can struggle bouncing back over time, causing significant dips.
Natural latex is considered to be the most durable foam. Make sure to ask about a company's warranty beforehand to see how they handle dips, sags, or manufacturing defects.
Savvy Rest has a 20-year limited warranty on most mattress models.
Why choose natural latex?
Besides durability, here are a few other reasons why you should consider a natural latex mattress (especially a Savvy Rest).
Customization: Every mattress company varies in terms of the amount of customization they offer, but Savvy Rest carries both Dunlop and Talalay latex and Soft, Medium, and Firm latex densities. This means your Savvy Rest mattress can be tailored to your specific needs. The result? Luxurious comfort that will keep you cozy and well-rested.
Breathability: Since natural latex does not retain body heat like memory foam, it will allow you to sleep cooler. Natural latex, especially Talalay latex, is known for its breathability. If you're someone who typically wakes up in the middle of the night due to feeling overheated, a natural latex mattress is worth considering. Some synthetic mattresses market "cooling gels" but these are not as pure as actual layers of natural latex.
Health: More and more people are opting for organic mattresses made with natural latex to avoid harmful off-gassing. Learn what constitutes a truly organic mattress and why you should avoid mattresses containing chemical flame retardants.
Environment: When you purchase an item, you're casting a vote for what types of products you believe should be on the market. When you choose an organic mattress, you're supporting a company that utilizes natural resources and supports organic farming instead of polluting our planet with toxic chemicals and unsustainable manufacturing practices. You can make a difference with each eco-friendly swap.
Make the switch
Start shopping for your dream layered latex mattress and get the sleep you deserve.
Explore our best-selling layered mattress options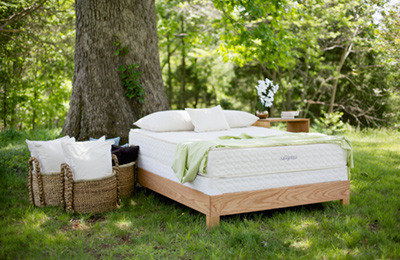 Our flagship natural mattress is customized with your choice of Soft, Medium and/or Firm latex. Choose Dunlop, Talalay, or both!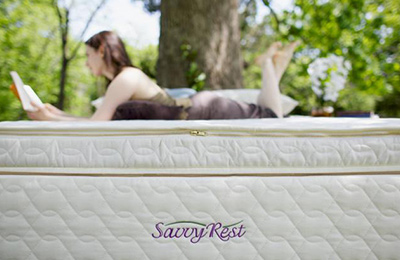 The Unity Pillowtop has four 3″ layers: it is simply the 3-layer Serenity organic mattress with the Harmony latex topper on top for added luxury.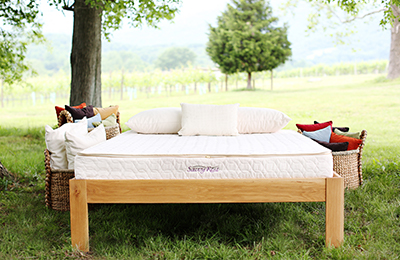 The Tranquility is made just like the Serenity, but with two 3″ layers of natural latex. It's a good choice for toddler beds, bunk beds, or smaller adults.