Savvy Rest organic mattresses can be found in mattress stores across the United States, Canada, and Mexico. A mattress is an investment, which is why we wanted our customers to be able to see and feel our mattresses before purchasing.
Savvy Rest offers organic mattresses made with layers of natural latex. We also carry bedding products, natural platform beds, and organic furniture made in the United States.
Check out our Dealer Locator below to find a store near you…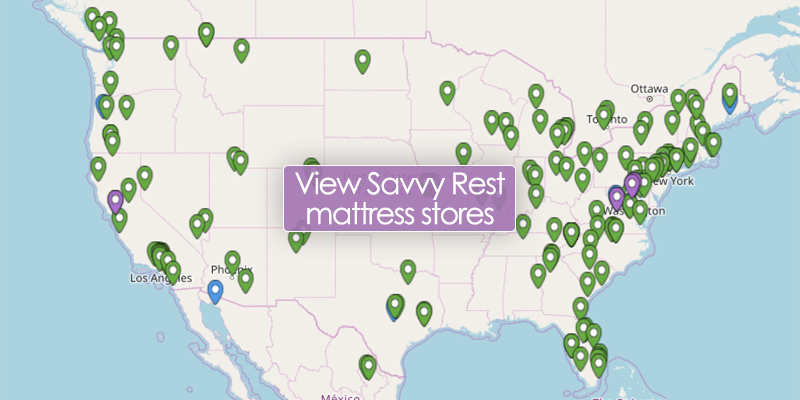 Savvy Rest Products
Savvy Rest dealers carry a variety of our products, but a single dealer may not carry everything. Here's a collection of our most popular products that you're likely to find in an organic mattress store near you.
Latex Mattresses
Savvy Rest organic mattresses are customizable and encased in certified organic cotton and certified organic wool batting, a natural flame barrier.
No need to sleep on a misleading "one size fits all" mattress that will never truly satisfy you. Instead, choose your layers of Dunlop and/or Talalay latex. Each type of latex is available in three densities: Soft, Medium, and Firm.
What's the difference between Dunlop and Talalay latex?
Learn more about our natural latex mattresses
Savvy Rest also offers a natural latex and wrapped coil mattress, the SerenitySpring. Made with 3″ of latex (Dunlop or Talalay) and 8″ of wrapped coils (Plush or Firm), the SerenitySpring offers the benefits of customization at a lower price.
Mattress Toppers
Add an extra hint of luxury and softness to your mattress with an organic topper. We offer two latex toppers, and one wool topper.
The Harmony topper is customizable and is covered in the same organic casing as our mattresses.
The Vitality topper is a layer of Soft natural Talalay latex encased in an organic jersey knit fabric. The stretchy fabric allows close contact with the responsive latex.
The Savvy Woolsy is available with either natural/domestically-sourced wool, or GOTS-certified organic wool. This fluffy yet supportive wool is encased in a certified organic cotton sateen fabric.
Learn more about our organic mattress toppers
Platform Beds
Our natural platform beds are made in the U.S. by our very own skilled Savvy Rest woodworkers. Made with maple and poplar wood, the Afton and Esmont platform beds are timeless and durable. They're truly made to last for generations.
The platform beds are hand-stained with care. Choose from the following zero-VOC finishes: Walnut, Mahogany, Chestnut, and Linseed Oil. You can also opt for unfinished.
Learn more about our natural platform beds
Have a bed frame but need a platform bed insert? We have that too.
Pillows
Try out our customizable organic pillows. They're intentionally overstuffed so you can unzip the inner and outer organic cotton casings and pull out as much of the natural fill as you'd like. This allows you to control the height and overall feel of the pillow.
We also have three formed latex pillows for those who prefer a more dense feel. There is truly a Savvy Rest pillow for everyone. View all our organic pillows here, or browse by category below.
Find the perfect organic pillow for you
Organic Sofas
Our Verona line of organic sofas, loveseats, and armchairs are made in the U.S. with certified organic fabrics and natural Talalay latex.
We never use chemical flame retardants, formaldehyde glue, or particle board.
Learn more about our organic furniture
Crib Mattress
The Savvy Baby organic crib mattress is a must for your little one. The core of the mattress is a 5" layer of Dunlop latex, giving your infant plenty of support. The mattress casing is quilted certified organic cotton and certified organic wool batting.
And many more!
We have so many organic goodies to choose from. See our full product list here.