Why flame retardants? It's a long story littered with money, politics, and believe it or not—the tobacco industry.
But first, let's rewind and dive into what chemical flame retardants actually are.
What are flame retardants?
Flame retardants are chemicals used on mattresses and furniture in order to slow down the spread of flames. Essentially, they're a quick and inexpensive way for companies to pass required burn and smolder tests.
There are many different types of flame retardants but one of the major ones are Polybrominated diphenyl ethers (PBDEs). Learn more about these chemical compounds here.
Why are flame retardants in mattresses?
Although California's Technical Bulletin 117 focused exclusively on upholstered furniture, mattresses soon became fair game for chemical flame retardants as well. A company chemically-treating materials for one product can use those same materials for another. So, a company treating foam for sofas would treat the foam in mattresses as well. It is not unheard of for companies to choose cheaper manufacturing practices over healthier, more expensive alternatives.
In 2007, it became legally required for mattresses to pass an open flame test.
While certified organic mattresses use wool as a safe and natural flame barrier, other companies looking to cut costs steer clear of expensive materials and opt for flame retardants.
Learn more about flame retardants in the mattress industry here.
The Tobacco Industry
So, how does all this tie into the tobacco industry?
Big Tobacco had fallen under scrutiny for house fires started by smoldering cigarettes, and they led a massive misdirection campaign. Failing to produce a self-extinguishing cigarette, in collusion with Big Chemical manufacturers, tobacco companies plotted a misleading PR campaign to shift the focus to fire-proofing the home environment instead. They proposed using chemical flame retardants to make furniture and fabrics less flammable, conveniently changing the subject from the risks of cigarettes.
The result? California's Technical Bulletin 117. In 1975, this new regulation required that upholstered furniture pass an open flame test before the products could be offered for sale in the U.S. and Canada. The furniture industry had to find solutions in order to meet the new flammability requirements.
Toxic chemicals and health effects
There are costs to spraying chemical flame retardants on everything. Humans spend approximately a third of their lives sleeping—and infants, even up to 18 hours a day. The chemical fire retardants used in conventional mattresses have been linked to infertility, cancer, obesity, and developmental brain disorders—and there's no shortage of research. If you really want to dig deeply into the fire retardants story, there are hundreds of studies that prove their dangerous impacts on health.
PBDEs, for example, do not stay stagnant on treated furniture but float in the air we breathe, latch onto dust particles, and are ultimately inadvertently ingested. These chemicals can linger in the body for years at a time. Children are particularly at risk, ingesting three times the amount of chemicals as adults.
Unfortunately, the chemical industry remains steadfast in minimizing the risks associated with chemical flame retardants. According to the Chicago Tribune, "The [flame retardant industry] has twisted research results, ignored findings that run counter to its aims and passed off biased, industry-funded reports as rigorous science."
Mattresses without flame retardant chemicals
Agrochemicals are the cheapest options for creating flame retardancy—but fortunately, they aren't the only ones. Some manufacturers today use natural materials and innovative designs that enable their products to pass the test without toxic chemicals, ensuring a more healthful home and sleep environment for their customers.
Organic wool is the best alternative material for flame retardancy. With enough wool batting used in the right design, a mattress can pass the test. However, be aware that there are companies that use wool as well as toxic chemicals in order to present their mattress materials in a "greener" light.
Find a mattress that suits your needs and your lifestyle. An organic mattress with natural materials (and independent certifications to back them up) is a great step in the right direction to improve indoor air quality and reduce your short- and long-term chemical exposure.
In Savvy Rest mattresses, soft organic wool batting is quilted inside woven organic cotton mattress casings. That's all it takes. Wool fiber used in this way ignites so slowly that our mattresses pass the open-flame test with flying colors. We do not use chemical flame retardants. (And of course, we do not recommend smoking in bed!)
Explore our best-selling layered mattress options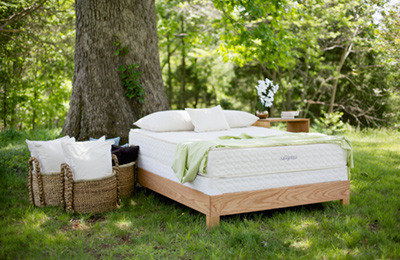 Our flagship natural mattress is customized with your choice of Soft, Medium and/or Firm latex. Choose Dunlop, Talalay, or both!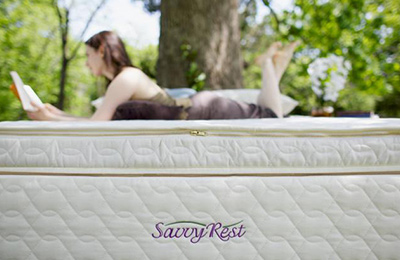 The Unity Pillowtop has four 3″ layers: it is simply the 3-layer Serenity organic mattress with the Harmony latex topper on top for added luxury.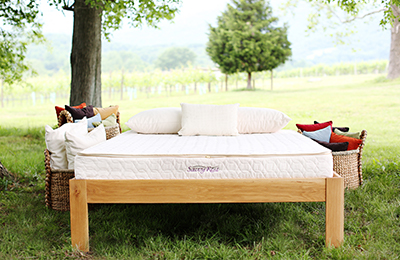 The Tranquility is made just like the Serenity, but with two 3″ layers of natural latex. It's a good choice for toddler beds, bunk beds, or smaller adults.