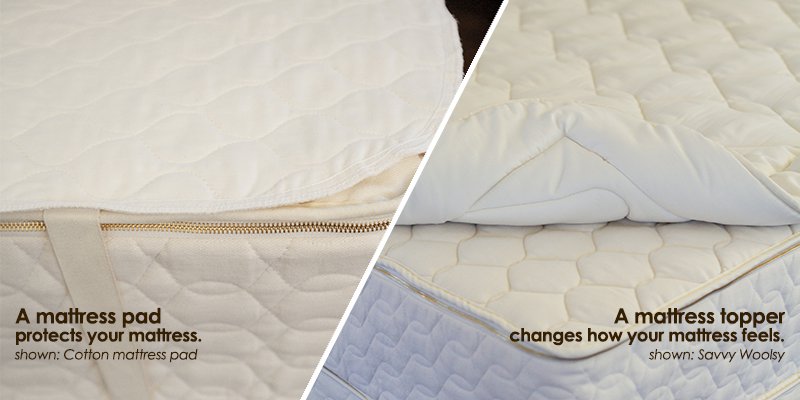 Mattress pads protect your mattress. Accidental spills and stains can be washed right out of a mattress pad while the mattress stays clean. Mattress pads also perform a hygienic function by shielding the mattress from accumulated biological debris, including sweat, skin oils and flakes of dead skin. Dust, hair products and lotions also contribute to an unpleasant buildup on a mattress casing.
A cotton or wool mattress pad fits neatly over or around your mattress to offer protection, but won't alter the comfort of the mattress surface. Savvy Rest's natural mattress pads are built for protection while also avoiding the toxic chemicals (such as tricloslan, bleaches or fabric treatments) used in conventional bedding.
Mattress toppers change how your mattress feels. Toppers are most commonly used to soften a mattress and add a plusher feel, but firmer toppers are also available to increase surface firmness. Mattress toppers are thicker than mattress pads, typically ranging from 1" to 4".
For comfort and health, a natural latex topper is ideal. Natural latex, derived from the rubber tree, can be soft and luxurious or create a firmer-feeling surface, depending on its density (Soft, Medium or Firm). Savvy Rest also offers an organic wool topper for temperature moderation and added cushioning. Toppers will not add support to a sagging mattress, however, in some cases toppers may help with hip, shoulder, or back pain.