A luxurious accessory for your best friend.
Sick of your dog taking over your sofa or bed? Maybe they need their own fancy throne!
Our Savvy Doggy platform bed is the ultimate cozy spot for your furry best friend to lounge. Made of sustainably-sourced maple and poplar wood, this bed is built to last and goes perfectly with our Savvy Doggy pet bed.
Natural, customized style.
Customize the bed with your dog's name and choose between several zero-VOC stains.
Sustainably-sourced maple frame
Sustainably-sourced poplar slats
Zero-VOC stains
Custom engraving option with four distinctive fonts (shown from top to bottom: Cooper Black, Storyteller, Century Gothic, and Times)
Made in the United States
Note: Because our platform beds are made of solid maple and poplar wood, natural variations may occur. Humidity has the ability to expand solid wood. This is normal and will not negatively impact the structure or beauty of the furniture piece.
Fonts top to bottom: Cooper Black, Storyteller, Century Gothic, and Times.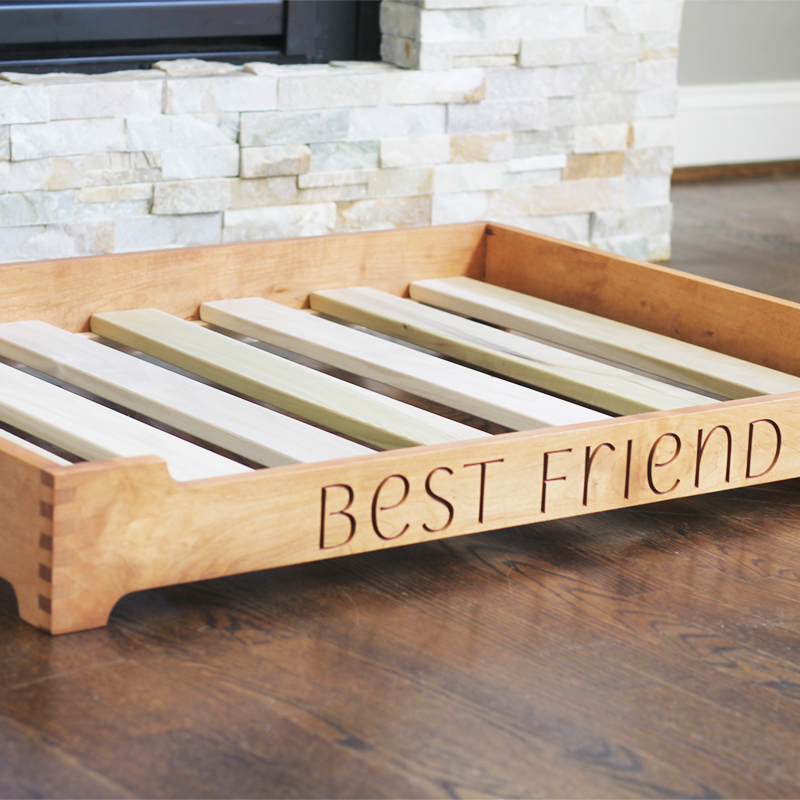 Quality Construction
Our Savvy Doggy natural platform bed is built by our skilled woodworkers in Charlottesville, Virginia using the same solid hardwood as our traditional platform beds. We believe furniture should be designed to last and constructed with quality, sustainably-sourced materials.
Zero-VOC Finishes
It's important to us that our stains are safe for our customers as well as our woodworkers who are using them every day in our woodshop. This is why we've opted for zero-VOC finishes.
Choose between linseed oil, cedar, mahogany, or walnut.
NOTE: Due to the natural variations in the color of raw wood, stain finishes may slightly differ from product images.
Get the Set!
No platform bed is complete without a cozy mattress, and we believe our pets should also sleep organic. Shop our comfy organic dog beds filled with natural latex and covered in soft organic cotton.