There are so many things we want to teach our children. Obviously high up on the list is to be kind and respectful to all those they meet. We want them to listen to their teachers, do their homework, try their best and accept that they won't always win every game or ace every test and that's okay. There's something else our kids should be aware of though, something they might not see or notice on a regular basis—the health of our planet.
I never heard the terms "eco-friendly" or "green living" until my adult years. I was educated about recycling, photosynthesis, and how valuable trees are to our health and survival. However, I was never taught about composting, and no one ever asked me to really think about what goes into a trashcan and where it ends up. Now, this isn't to say I blame my parents (I still love you, Mom and Dad!) but it's something you should start to think about if you haven't already.
If you're a parent, it's important that your child knows about the world around them, from people to animals to plants to the soil beneath our feet. Here are five eco-friendly lessons you can teach your child that are actually a fun way to bond.
1. What's in the Trash?
Trash doesn't exactly bring a beautiful image to mind. It can be slimy, smelly and just plain gross. However, it's imperative that we don't simply throw things away without first thinking about what we're throwing away, why we're throwing it away, and if there is an eco-friendly alternative. I'm not asking you to dig through your trash with your child (though that would technically still be educational). There are other ways for them to be aware of what goes into the bin without actually getting the contents of said bin all over them.
One way to do this is to do a week-long challenge of writing down everything that goes into the trash, from cotton balls to plastic sandwich bags. How the list is organized is up to you. You can color coordinate different categories, or include fun stickers. You can even suggest that they draw what goes into the trash instead of keeping up with a list if you don't think they'll have the patience to prolong the challenge. Take out some color construction paper and crayons and ask them how they're drawing makes them feel, if there is one object in particular that stands out to them the most, etc. You might be surprised by what they tell you.
If your kids aren't really into drawing, they can always cut out images from a magazine and make a collage! We usually keep the trash out of sight and out of mind, but a visual representation like this can encourage a healthy and educational dialogue.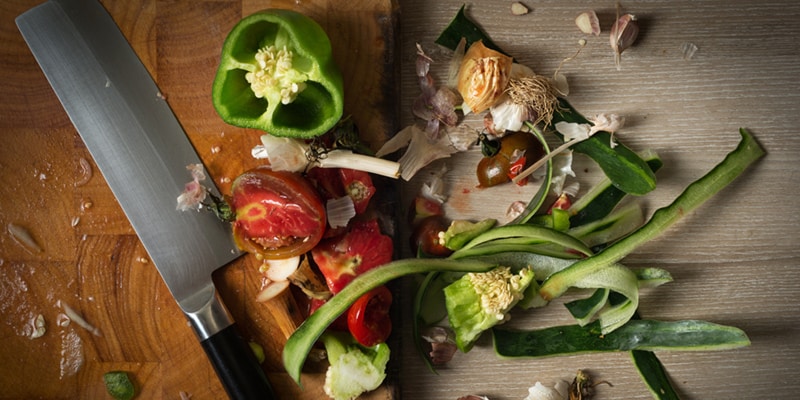 2. Care to Compost?
It's time to take those food scraps that have been going straight into your garbage (and then to a landfill) and do something more productive with them—composting. Composting creates nutrient-rich soil for your garden (which we'll get to soon!).
Lauren Singer of Trash is for Tossers shows just how easy it is to compost since she does it in her Brooklyn apartment! There is a common misconception that compost is dirty and will smell unpleasant no matter what. However, you can keep your food scraps in the freezer so that they don't rot and therefore, don't smell.
Cook with your children. Take the leftover fruit and veggie scraps and throw them in a big bowl. Talk to them about the different veggies and how they will break down. If you don't wish to use your compost for gardening, you can take your food scraps over to your local farmers market. A lot of the times these markets will have a compost station. Take your kids with you so they can see where the leftovers of yesterday's salad end up and why it matters. There is so much for children to see and learn about at the farmers market. Between all the organic produce, honey, baked goods and even handmade jewelry, there's bound to be something that will catch their eye.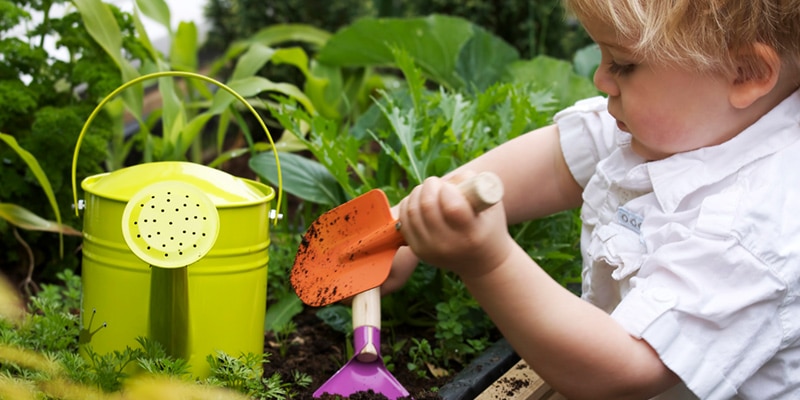 3. Fun in the Garden
Gardening is a wonderful eco-friendly activity that will get your kids outside and among nature (and what kid doesn't like a good excuse to play with dirt?). Get out your gardening tools and whatever it is you want to plant. As a child, I always loved planting tulips along the side of my house. My mom put down little mats for us to lean on so our knees wouldn't ache as much. I was curious about the small worms I'd see twisting in the dirt which I realized was their home. My mom would dig small holes (though I helped dig one or two) and I'd drop the bulbs in and cover them with dirt. Eventually they grew into beautiful, colorful flowers that I could say I helped plant. It was something we did every year.
You shouldn't stop at flowers though. It's even more rewarding when you grow something you can actually bring into your kitchen and eat for dinner! Your kids will feel like gardeners AND chefs. You can grow carrots, tomatoes or maybe something sweet like strawberries. It's great to see firsthand how natural, healthy food is grown.
4. Creative Ways to Reuse
There are so many things we throw away thinking they're useless when in fact they can have a whole new life by serving an unexpected purpose. Reusing and "upcycling" have become more and more popular over the years. Why? Because it's smart, eco-friendly and cost-effective.
Reusable bags are a great place to start. You can bring your reusable bags with you to the grocery store, farmers market, or even to the mall! Reusable bags help you avoid plastic bags which are not as sustainable. Bonus points if your reusable bags are made with organic cotton or hemp. You can purchase a plain, organic cotton bag for your child and let them decorate it with markers or paint. If you want to get really fancy, you can even tie dye it!
A bamboo toothbrush can also serve purposes other than brushing your pearly whites! Bamboo toothbrushes are an eco-friendly alternative to plastic toothbrushes that simply end up in landfills and the ocean, causing all sorts of damage.
After you're finished using your bamboo toothbrush, it can be upcycled as a household cleaning tool for small spaces (like behind the faucet, the corner of the shower, etc) or an art tool for kids that mirrors a paint brush! It's a good idea to give the toothbrush a good wash before using it to create a masterpiece, of course.
After you feel like the toothbrush has done all it can do, the bamboo handle can be composted (pretty cool, huh?).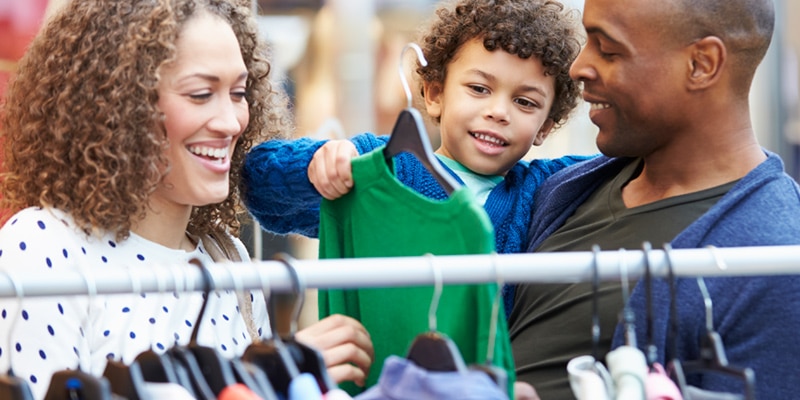 5. Thrifting for Treasure
Thrift stores are ridiculously fun. I mean, it's a bunch of unique (and sometimes very old) things scattered across a large space, waiting to be discovered and taken to a new home.
Thrift stores also have an eco-friendly element to them because you're purchasing items that are used rather than contributing to fast fashion or any other unsustainable manufacturing practices. These items were already created years ago, so we might as well use them if we can! Kids can find all sorts of treasures here, from fun t-shirts to costume jewelry to actual Halloween costumes. Perhaps it can become a once a month tradition.
These lessons and ideas are just a place to start. We encourage you to think about other ways you can incorporate green living into your child's daily routine. We hope you also surround them with natural and organic products whenever you can! Organic living is happy living.