Are you worried that your current mattress isn't healthy? Not all mattresses are created equal and some can negatively impact your health due to chemical off-gassing. While "toxic mattress symptoms" is obviously not a medical term, a mattress can certainly impact your body, for better or for worse.
Here's what you should consider when evaluating your mattress or when shopping for a new one.
Chemical Off-Gassing
One of the biggest concerns to be aware of is chemical off-gassing. This is not an issue with organic latex mattresses but can be an issue with memory foam mattresses or mattresses made of polyurethane or other synthetics.
Flame retardants, formaldehyde, and benzene have been found in some mattresses and can be linked to health issues such as cancer, infertility, and developmental brain disorders.
If your mattress is off-gassing harmful chemicals, you're breathing in those toxins for hours every night. In total, we spend about a third of our lives sleeping so it's important that we choose a mattress that promotes a healthy lifestyle instead of polluting our sleep environment.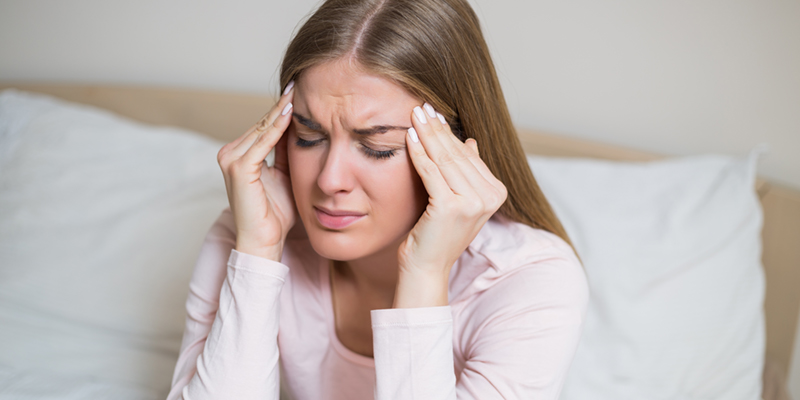 Symptoms & Potential Risks
Memory foam may contain isocyanates. According to the Occupational Safety and Health Administration, these compounds "react with compounds containing alcohol (hydroxyl) groups to produce polyurethane polymers, which are components of polyurethane foams, thermoplastic elastomers, spandex fibers, and polyurethane paints. Isocyanates are the raw materials that make up all polyurethane products."
Are there health risks associated with isocyanates? Yes.
You may experience itchy/sore throat, skin, nose, and eye irritation, chest tightness, and difficulty breathing.
That's not to mention the other symptoms we mentioned related to chemical flame retardants. To learn more about the risks of breathing in these chemicals from mattresses and furniture on a regular basis, check out our Toxic Dust video.
Harmful chemicals from your mattress(es) and furniture may be floating all around you. Here's what you can do to avoid them.
Choosing an Organic Mattress
So, you've realized your current mattress isn't natural and you're ready to take charge of your health and invest in an organic mattress. When shopping, it's important to notice certifications and materials.
Certifications
One of the biggest things you should look for are certifications. There are "natural" mattresses out there that contain blended latex (latex that is mixed with fillers). There are also mattresses that may be using natural latex but don't use certified organic wool as a natural flame barrier or don't have a GOTS-certification for their finished product.
When shopping for a non-toxic mattress, look for the GOTS logo. GOTS stands for Global Organic Textile Standard.
Savvy Rest latex mattresses are GOTS-certified organic as a finished product and are manufactured in a GOTS-certified facility. The casing of the mattress is also made of GOTS-certified organic cotton and GOTS-certified organic wool. Yes, that's a lot of GOTS but yes, that's how you know it's truly an organic product.
Savvy Rest offers both Dunlop and Talalay latex in their mattresses. Customers can choose which one they prefer or they can opt for a mattress that contains both.
Savvy Rest is the only mattress manufacturer that offers completely GOTS-certified organic mattresses containing natural Talalay latex.
Our latex mattresses are also Greenguard GOLD certified, which means that they meet strict standards for low chemical emissions and are safe for even the most vulnerable populations (children and the elderly).
A third certification to look for is GOLS. GOLS stands for Global Organic Latex Standard. The Dunlop latex in Savvy Rest mattresses is GOLS-certified. In order to achieve this certification, the latex must be composed of more than 95% organic raw material.
Natural Materials
When looking at an organic mattress, you should notice each material that the product contains, meaning both the casing and the actual support layers of the mattress.
The casing should be comprised of both certified organic cotton and certified organic wool. This means that the casing is free of pesticides, bleach, or other harmful chemicals. The wool acts as a natural flame barrier so no chemical flame retardants!
As previously mentioned, the core of the mattress should be natural latex instead of memory foam, polyurethane foam, or blended foams. Natural latex is a healthier option that offers both support and pressure point relief without the chemicals and without retaining your body heat, which causes an uncomfortable "hot sleep." Cooling properties added to some memory foam mattresses simply add more potentially harmful chemicals to the product.
You can even opt for a mattress that contains both latex and springs if you prefer a mattress with a bit more bounce.
Start Shopping
Savvy Rest offers several customizable organic mattresses. Start shopping!
Explore our best-selling layered mattress options