Looking to transform your bedroom into a comfortable, natural space that promotes healthy sleep? You've come to the right place.
Here are 5 natural bedding items for your home.
1. Organic Pillows
Did you know we spend about a third of our lives sleeping? That means it's incredibly important to select a pillow made of natural materials that won't off-gas harsh chemicals.
Ditch the typical memory foam pillow and instead opt for an organic pillow covered in organic cotton and stuffed with a natural pillow fill.
There are several pillow fill options to choose from.
Organic kapok is a favorite because of its soft and fluffy feel without the feathers.
If you want something a bit on the firmer side, organic wool is also a fantastic option, particularly for those who sleep hot. Wool is a natural temperature regulator so it won't cause you to overheat, a common misconception.
Prefer a natural latex foam pillow? Opt for either a Dunlop or Talalay pillow. Dunlop has a denser feel when compared to buoyant, pressure-relieving Talalay latex.
If you prefer a firmer pillow, go with Dunlop latex. If you like to sink into your pillow, choose Talalay latex. Talalay is also the best option if you like the feel of memory foam but want something more natural.
As you can see, there are plenty of natural pillows to choose from.
2. Body Pillow
Body pillows are a must-have bedding item for side sleepers.
Body pillows are designed to help keep your spine aligned and offer pressure point relief for your hip and shoulder. They are also excellent to use during pregnancy for extra support while sleeping on your side.
There are so many benefits to using a body pillow, which you can read about here, but make sure to opt for an organic body pillow!
Choose between shredded latex, organic kapok, wool, or even a wool-latex blend fill. We also recommend a customizable body pillow so you can adjust the overall height and feel by removing fill.
Choose an Organic Body Pillow That Suits Your Body
3. Organic Cotton Blanket
Every bedroom needs a cozy blanket to keep you warm throughout the night.
Avoid pesticides, bleach, and other harmful treatments by choosing an organic cotton blanket. You'll get that soft, comfy feel without nasty chemicals.
We love a fun herringbone weave that adds a bit of texture and design.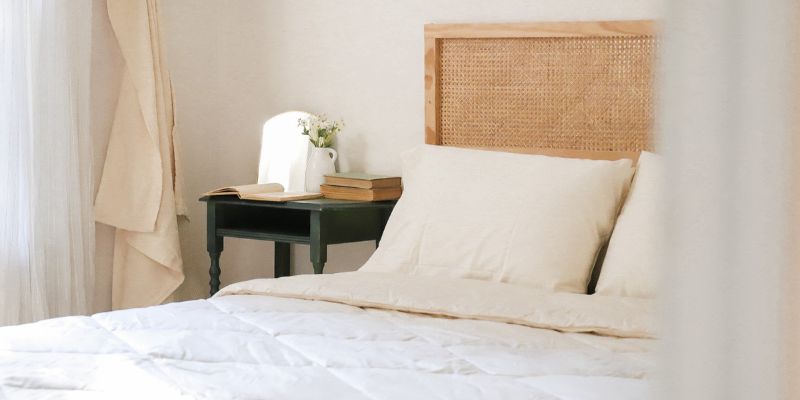 4. Natural Duvet Insert
Add a natural duvet insert to your bedroom for fluffy comfort. We recommend a duvet insert filled with wool since wool is a natural temperature regulator and can be used all year round. Wool keeps you cool in the summer but warm in the winter.
This natural duvet insert is filled with natural, domestically-sourced wool and covered in organic cotton.
However, if you prefer a completely GOTS-certified organic duvet, we recommend opting for this duvet insert.
5. Organic Sheets
Last but certainly not least: organic cotton sheets!
We love organic cotton because pesticides are not used during the growing and harvesting process, nor is the cotton treated with bleach. We highly recommend looking for the GOTS-certified organic logo to get the very best.
We also prefer organic cotton over other "green" natural sheets like bamboo since bamboo needs to be heavily processed before turning into soft bed sheets. Sometimes this process involves chemicals such as sulfuric acid and sodium hydroxide. You can learn more here.
Create Your Dream Bedroom
Savvy Rest has all the natural bedding items you'll need to create a comfortable space to sleep at night.