Leah Larsen is one of Savvy Rest's talented woodworkers in Charlottesville, Virginia. She's incredibly passionate about art and the entire creative process, utilizing her skills both in and out of the woodshop. I had the opportunity to chat with Leah about how she has grown as an artist, what a typical day at the woodshop looks like, and what advice she has for other women who wish to pursue a career in woodworking (or anything their heart desires).
You have a BFA from Virginia Commonwealth University. When did your passion for art begin, and what type of art were you specifically drawn to?
I've been interested in art since I was little. My mom is really artistic, and she has a degree in Fine Art as well. She did a lot of portraits and watercolor paintings. I would be her subject. In high school I started doing A.P. Art early on. That's when I really discovered 3D. A lot of summers I would work on 3D stuff and recycled materials.
How have you utilized your degree at the Savvy Rest woodshop?
I have a widespread skill set from my degree, and I've always sought out jobs where I could really utilize that. I just hoped and put myself out there. The woodshop was a lucky find. I had worked in a woodshop while earning my degree.
Flipping that question a bit, have any of the skills you've acquired at Savvy Rest translated into the art you create at home?
Definitely. I feel like working in this woodshop fills a void because you have a nagging desire to create as an artist. There's a strong voice in the back of your head telling you to make things. Since I do this every day in the woodshop, I'm always thinking about my own art. I'm able to take bigger artistic risks at home since my mind and body are being exercised daily. There is no writer's block so to speak. Operating the CNC machine and learning its 3D design programs made me want to educate myself further with other 2D design programs as well. I've become pretty proficient with those. I regularly do commissions for people, typically logos and pen and ink graphics. I've always been really interested in product design, so doing 3D and 2D work consistently is extremely fulfilling.
What does a typical day at the Savvy Rest woodshop look like?
Usually, we chat and try to figure out what each person will do that day. There are four of us, including Judd who is the woodshop manager. It's very team-oriented, but we independently work on parts, like getting together bed frames or inserts. We're constantly checking in on each other. This week I'm going to be working on ledgers and posts and other smaller parts so that next week we can build up a lot of stock.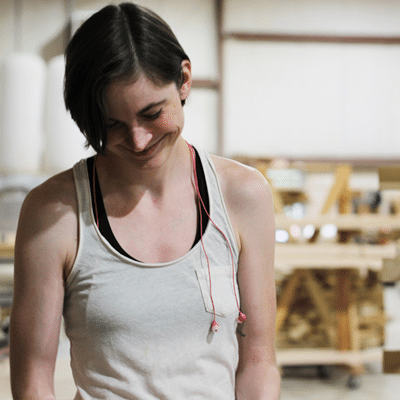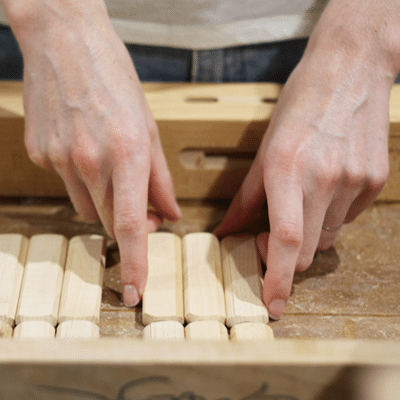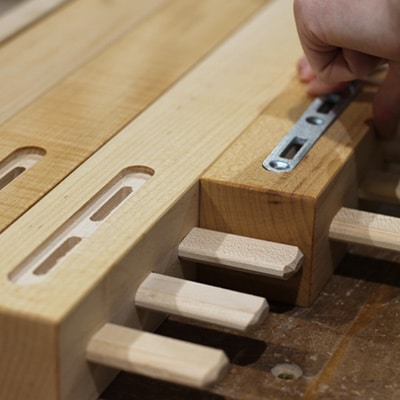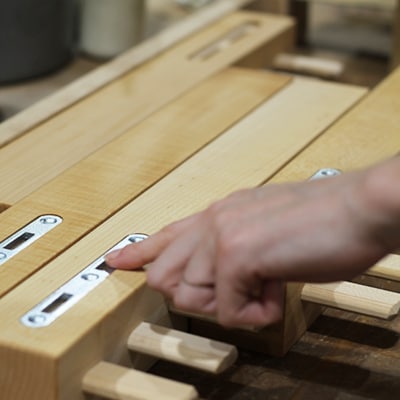 Which task would you say is the most challenging?
I think the most taxing thing we do are Esmont posts because they take a long time. The most challenging thing is probably working with 10/4, which is very thick, heavy, and long lumber that we have to cut down to make posts. A finished Esmont post is 2 ¼ inch square by 53 ¼ inches, but the original piece of wood starts off much longer. It takes a lot of time and effort milling it down to size.
Why do you believe someone looking for a platform bed should choose one of ours?
We have a very ethically-sound woodshop. I think customers care about that. They care about real wood. Everything is handmade and hand-stained. The workers are treated well and fairly compensated for their skills. I think that's really important. And it's made in America—that's pretty patriotic.
We're always looking for ways to improve the system. We just got a new ventilation system for dust particles. There are no harsh chemicals, and all the tools we use are really safe. Everyone is really trained on them. We're big into safety here.
As a female working in a predominantly male industry (woodworking), what advice would you give a woman who wishes to start a career in a "male-dominated" sector?
You've got to have a lot of patience. People aren't used to women in manual labor, or in male-dominated fields. You have to be really passionate about what you're doing. I think it's important to find a company that values women in that field. My manager, Judd, is really great with that. Sometimes it's your job to teach other people about feminism and teach other people that as a woman you can do anything, and you shouldn't feel uncomfortable in the workplace just because you're the only woman. Women bring a lot to the table.
It's also very rewarding to build your own things. You have these skills, and if you need something, you build it. If you need something fixed, you fix it. I just fixed something in my car the other day. I fix electrical things. In these male-dominated jobs, you have to fight for yourself. For me, I feel really obligated to point out to other women that they can do it. My husband is very supportive. I'm the one who fixes things in our house. He knows that it wouldn't be good if he did it! We don't believe in gender roles within our marriage.
What is your favorite Savvy Rest product that is made in the woodshop?
If I were to choose one to walk home with today, I'd probably pick a Queen Esmont in Walnut or Linseed. It's a really beautiful platform bed. I do a lot of staining. I look at the walnut and think, "that's really pretty," and then with the linseed you see this beautiful wood coming through.
What about outside the woodshop?
I have the Vitality mattress topper and I love it. It's really soft but provides a lot of support, so I don't have back pain, which is important when you're doing manual labor. I also have a Savvy Rest mattress. Making the switch to this mattress from my old one was just night and day. I didn't realize what I was missing.
What is your favorite thing about Savvy Rest?
I think my favorite thing about Savvy Rest is that they really value their employees and the work that they do. Those two things really go hand-in-hand. They could have just found a company offshore to make beds for a cheap price, but Savvy Rest wanted to do it the right way by hiring local woodworkers. We really care about our products, and it really shows throughout the company. All the employees have Savvy Rest products, so we're not just selling it—we're living that lifestyle.