When choosing latex firmness, you need to determine whether a soft, medium, or firm mattress is best for your body based on your weight, sleep position, personal preference, etc.
Let's break it down!
Which Firmness is Best for Me?
Soft Latex Mattress
A soft latex mattress works well for petite adults, particularly those who sleep on their side and need pressure point relief. If a mattress is too firm, it can cause pain in the hips and shoulders. A soft mattress gently cradles these pressure points.
Medium Latex Mattress
A medium latex mattress is a more neutral density—it's not too soft and not too firm.
Side and back sleepers can comfortably sleep on a medium latex mattress, especially if they are a more average build and don't have pressure point issues.
If you're shopping for a guest bed, a medium mattress is a safe choice.
Firm Latex Mattress
A firm latex mattress is best for back and stomach sleepers since it offers plenty of support.
Stomach sleepers, in particular, need firm latex to avoid sinking into the mattress. If the mattress doesn't offer firm support, this will cause the back to arch.
Density & ILD
ILD stands for Indentation Load Deflection. Generally speaking, softer mattresses have lower ILD's and firmer mattresses have higher ILD's.
We don't focus on ILD numbers since we feel they aren't always reliable. Instead, we classify layers of latex by Soft, Medium, and Firm. We offer both Dunlop and Talalay latex in all three of these densities.
If you would like to learn more about ILD's, click here.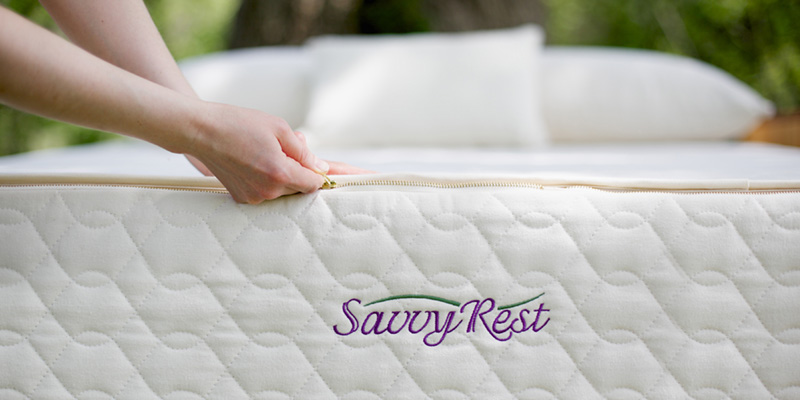 Choosing Your Firmness
When looking at a layered latex mattress, the firmer layers should go towards the bottom of the mattress. The bottom layer is the support layer while the top layer(s) is more for comfort.
If you share a mattress with your partner and you both have different density preferences, it's best to choose a mattress that is customizable on both sides. This allows for each person to get exactly what they want rather than having to compromise their comfort.
Learn more about customizing a Savvy Rest organic mattress here.
Explore our best-selling layered mattress options