Dogs spend an average of 12-14 hours a day sleeping. That's a lot of rest!
So, what should a dog sleep on? While your bed is always an option, some dog owners want to keep their sleeping space separate from their furry best friend.
Learn why a dog bed is important and what you should consider when purchasing one.
Are dog beds necessary?
Yes! At least we certainly think they are. While a dog can sleep in your bed, this can disrupt your sleep, affect intimacy with your partner, and can cause your sheets to be covered in dog hair, drool, dirt, and anything else your dog is introducing.
A dog bed is cozy and supportive. It's much better at pressure point relief than the hardwood floor, and it will help deter your pet from taking over the sofa or armchair.
When should you get a dog bed?
A dog bed should be one of the first things you purchase when getting a dog but it's never too late to buy one!
What size dog bed does your dog need?
This depends on the size of your dog.
Typically the pet bed product page will show the dimensions of the bed so you can visualize the size and/or will recommend a size based on your dog's weight or breed.
It also depends on whether they like to curl up or spread out. For example, you may have a smaller dog that could easily fit on a small pet bed but if your dog likes to stretch out in their bed and bring all their toys with them, you'll want to size up.
Know the size of the pet bed, the size of your dog, and how they tend to sleep or relax. That will help you determine which size is best!
Can a dog bed be too big?
Not really! It's much better to have a dog bed that's a little too big than one that is too small. This is because a pet bed that is too small won't accommodate your dog's weight or support their body as they sleep. This can cause muscle and joint discomfort.
You want your dog's bed to be a comfy place where they feel well-rested in the morning so make sure the bed isn't too small!
Do dogs need a bed in their crate?
You could technically use some fluffy blankets but a dog bed is a great addition to your dog's crate. It will certainly make the crate a more comfortable space.
Do dogs prefer a soft or hard bed?
You know your dog best! It shouldn't be too soft or too firm though. You want it to be firm enough so that it offers support, but soft enough where it has a little give.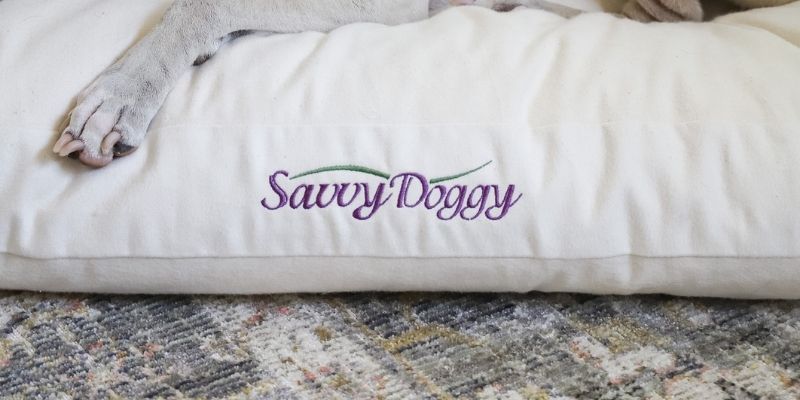 Which dog bed is best?
We strongly recommend the Savvy Doggy pet bed. This is an organic dog bed made of natural latex and includes an organic cotton cover that can be removed and washed.
We don't recommend polyurethane or memory foam mattresses for humans so we don't recommend them for dogs either!
This dog bed comes in three sizes: Soft, Medium, and Large. Dimensions are available on the product page.
This bed also comes in your choice of either formed or shredded latex. If your dog likes something solid and stationary, the formed latex may be the better choice. If your dog likes to curl up and nestle themselves into the bed, then the shredded latex may be best since the dog can sink into it more than the formed bed.
If your dog needs extra support, check out the Savvy Doggy Extra Support pet bed!
We also recommend adding a waterproof liner to your pet bed since accidents happen!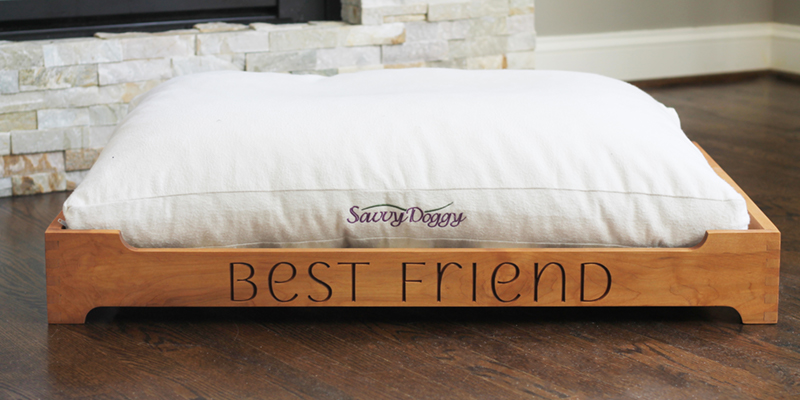 Should a dog bed be placed on the floor?
You can simply place your dog bed on the floor in whatever room your dog likes to sleep or relax.
However, if you want a raised dog bed, you can get a Savvy Doggy platform bed!
This platform bed is a fantastic addition to the Savvy Doggy pet bed because it is built specifically for this dog bed.
This platform bed is made using sustainably-sourced maple and poplar wood, along with zero-VOC finishes. You can also opt for a custom engraving on the bed if you want to get really fancy! There is no additional charge for the engraving.
So, are dog beds worth it?
Yes, a dog bed is a worthy purchase. Your dog will appreciate that they have their own comfortable space that improves the overall quality of their life.
Learn more about our natural pet products