If you're shopping for a natural latex mattress, it's important to consider certifications. One of the most recognizable certifications in the industry is GOLS.
This blog post will explain what GOLS means and why it matters.
What is GOLS?
GOLS stands for Global Organic Latex Standard. It is a certificate associated with the Control Union that specifically focuses on latex products, evaluating farming and manufacturing practices, as well as the organic nature of the raw material as a whole.
You can opt for a totally GOLS-certified mattress or you can simply make sure the latex inside is GOLS-certified.
Should I Get GOLS-Certified Latex?
It depends. If you absolutely want organic latex, then opt for GOLS-certified Dunlop latex.
If you definitely want something natural but don't mind if the latex itself is not certified organic, this allows for more options.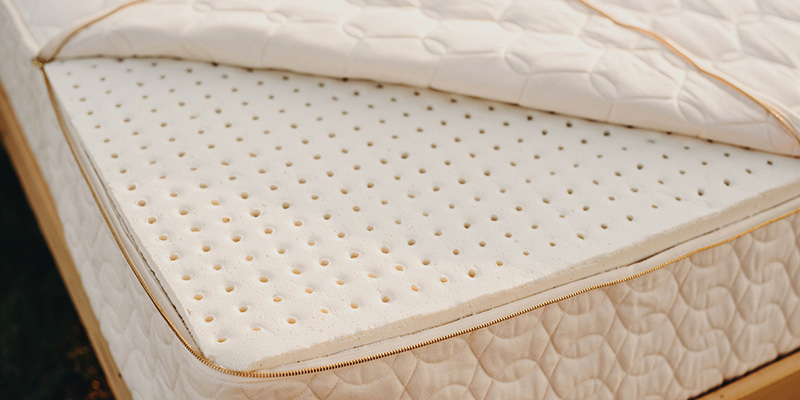 Dunlop vs Talalay
There are two types of latex available in Savvy Rest organic mattresses: Dunlop and Talalay.
Let's take a look at the differences between the two.
Dunlop Latex
Dunlop latex is the denser of the two types of latex. Think of it as a hearty pound cake.
Dunlop is incredibly supportive and is particularly loved by those who like a firmer mattress, such as those who sleep on their stomach or have nerve-related back pain.
Savvy Rest uses GOLS-certified Dunlop from Cocolatex.
Talalay Latex
Talalay latex gently cradles you as you sleep and has a softer feel overall when compared to Dunlop. Think of Talalay like a light and airy angel food cake.
Talalay is especially beneficial for side sleepers since it's excellent at pressure point relief!
There is currently no certified organic Talalay latex on the market. However, Savvy Rest uses the highest quality Cradle to Cradle GOLD-certified Vita Talalay latex from Radium Foam. This is currently the highest certification level achieved in the Talalay industry.
This certification focuses on material purity, environmental impact, and social fairness. Cradle to Cradle evaluates water stewardship, renewable energy, material health, and more.
Radium Foam's Vita Talalay latex also adheres to sustainable forestry practices.
Both Dunlop and Talalay are available in Soft, Medium, and Firm densities.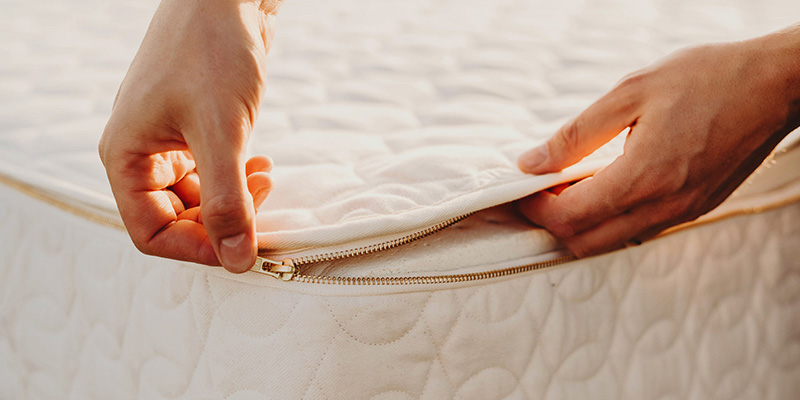 GOLS vs GOTS
While GOLS is definitely a certification worth noting, GOTS carries significant weight in the natural mattress industry as well.
GOTS stands for Global Organic Textile Standard and applies to materials such as cotton and wool. Manufacturing facilities and finished products can also be GOTS-certified.
It's always best to opt for mattresses that include GOTS-certified organic cotton casings and use GOTS-certified organic wool as a natural flame barrier rather than chemical flame retardants.
Savvy Rest also offers completely GOTS-certified organic mattresses, regardless of whether you choose Dunlop or Talalay latex.
In fact, Savvy Rest is currently the only mattress manufacturer to offer GOTS-certified organic mattresses containing Talalay latex.
How to Find the Best Mattress for You
Knowing exactly what you want in a mattress will help you narrow down your options.
The two biggest factors that customers interested in natural mattresses look for are (1) certifications, and (2) overall comfort/feel.
Savvy Rest does not limit you to choosing between Dunlop and Talalay. You can actually choose to include both types of latex in your mattress!
A side sleeper interested in The Serenity mattress, for example, may choose to have a top layer of Talalay latex while the middle and bottom layers of the mattress are Dunlop. This mattress configuration offers both pressure point relief and sturdy support.
Customization is key when it comes to finding the best mattress since this allows you to control the overall feel, leading to a more comfortable sleep.
Most Savvy Rest mattresses are completely customizable. Couples can even choose different densities on each side of the mattress so no one needs to compromise.
Start Shopping
Explore Savvy Rest organic mattresses and get the natural sleep you deserve.
Explore our best-selling layered mattress options