While plenty of pillow manufacturers use synthetic materials such as memory foam, nylon, and polyester, we opt for the natural route. Our pillows are covered in certified organic cotton casings with your choice of fill. This article though will focus on our most popular pillow fill: organic kapok.
Keep reading to learn about this comfy fiber you're sure to love.
What is Kapok?
Kapok is a buoyant, cotton-like fiber that grows from the ceiba tree in tropical climates. It's incredibly soft and luxurious, and definitely unique when comparing it to other pillow fills.
Kapok is the perfect plant-based alternative to down since it has that same fluffy feel without the feathers.
Cozy Comfort
Kapok is light and airy, making you feel like your head is resting on a pillowy cloud. It's a best-seller of ours because of its gentle softness.
This pillow is also customizable, meaning that it comes overstuffed with two pounds of organic kapok. We intentionally overstuff our pillows so that our customers can have plenty of fill to work with.
Unzip the inner casing and remove as much kapok as you'd like. This allows you to adjust the height and overall feel of the pillow.
We recommend saving the excess kapok fill for later since kapok does slightly compress over time.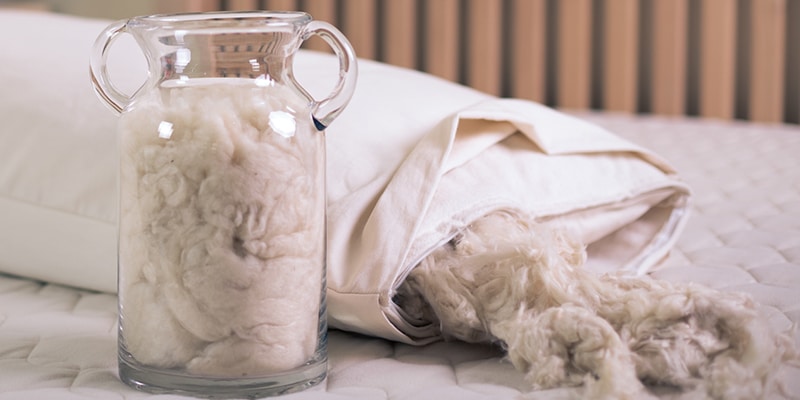 Going Organic For Your Health
So, why should you choose an organic pillow?
Going organic is the healthiest option. You spend about a third of your life sleeping, so what you're laying your head on every night is important. You don't want to have direct contact with cotton treated with pesticides or off-gassing foam, so you should know exactly what's in your pillow.
Our organic kapok pillow is also an eco-friendly choice. Think of your purchase as a vote. You're voting for farmers who never use harsh chemicals and a company that prefers utilizing natural resources instead of cutting corners with synthetic materials. You're voting for a quality product that is environmentally friendly and made by an employee-owned B Corporation that truly cares about people and the planet.
Can I Wash My Kapok Pillow?
We don't recommend putting your kapok pillow in the washer or dryer for two reasons.
It's possible that kapok fill could escape from the inner casings while being tossed around in the washer and/or dryer. This can lead to quite a mess, and may even damage your machine.
Even if you do wash the pillow without any issues, it will take a very long time to dry. Dampness also increases the chance of mildew.
To avoid any issue, we recommend simply washing your pillowcase. The outer, brushed organic cotton casing is also machine washable.
Cuddle With Kapok
It's time to trade your old pillow for the plush softness of organic kapok. You'll never want to go back to a conventional, synthetic pillow again. Sleep soundly with this cozy must-have.
Start Shopping!