Is latex the best mattress material? This is a popular question.
We all have different preferences when it comes to the type of mattress we're looking for.
We look at comfort, customization, price, material, warranties, and more. There are a lot of factors that need to be taken into consideration when shopping for a new mattress.
Curious to know if a latex mattress is right for you? Keep reading.
Latex is a natural material
If having a mattress that doesn't off-gas toxic chemicals is important to you (which it should be) then consider a natural latex mattress.
The sap from rubber trees is harvested and baked into cozy layers of latex.
While there is no such thing as a 100% latex mattress (learn more here), natural latex is not synthetically derived. You can have peace of mind that you're not breathing in harmful chemicals while sleeping every night.
Make sure to look for certifications such as Global Organic Latex Standard (GOLS) and Cradle to Cradle GOLD. Mattresses that are completely GOTS-certified organic are also preferable.
Types of latex
There are two main types of natural latex:
Dunlop latex: Dunlop latex is the denser of the two types of latex. If you're looking for something firm, a Dunlop latex mattress is a great choice. In fact, the bottom side of the layer of Dunlop latex is slightly firmer than the top side because of the way the natural sediments in the sap mixture settle to the bottom of the mold while baking. So, if you want to firm up the mattress even more, you can simply flip over the layer of latex. Look for Dunlop that is GOLS-certified so you know it's organic.
Talalay latex: Talalay latex is perfect for side sleepers looking for pressure point relief. A talalay latex mattress gently cradles the hips and shoulders while still offering sturdy support. Talalay has an open cell structure and tends to be slightly more expensive than Dunlop. There are extra steps in the manufacturing process to make it more uniform in feel. The latex is flash frozen before it's baked.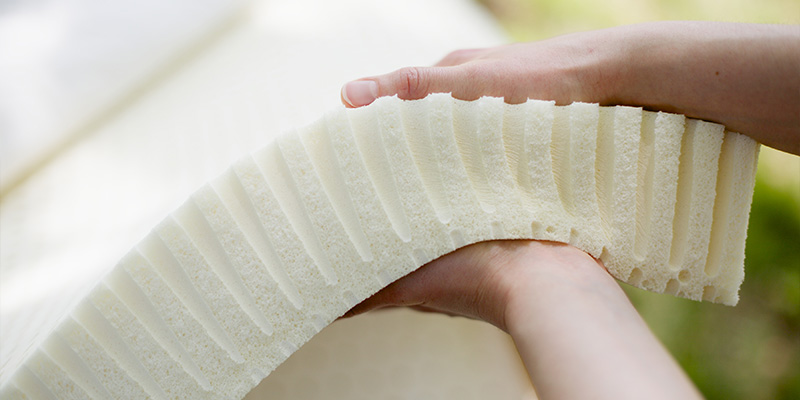 Frequently Asked Questions
Here are some popular questions regarding latex mattresses.
What are the benefits of a latex mattress?
Latex mattresses have several benefits but here are just a few…
Natural alternative to polyurethane foam and memory foam mattresses
Latex is more breathable, leading to a comfortable sleep
Customizable
Appropriate for all types of sleeping positions
What are the drawbacks of a latex mattress?
Price (more details below)
Not conducive for a box spring
Is latex comfortable?
Yes, latex is comfortable. Since latex comes in various densities, there is truly something for everyone. Whether you like to sleep on a cloud or sleep on a board, you can find latex that is soft or firm enough for your needs.
Are latex mattresses hot?
No, latex mattresses do not inherently sleep hot. Unlike memory foam, latex does not trap body heat.
How long do they last?
Latex mattresses last for many years. It is common to see 10 or even 20-year warranties for latex mattresses.
How much do latex mattresses cost?
Latex mattresses vary in price for several reasons.
For one, certifications are costly so if you see a mattress that has GOTS, GOLS, Greenguard, and other certifications attached to it, those will all be reflected in the price.
You also pay for the quality of materials. Certified organic wool, for example, can be used as a natural flame barrier instead of chemical flame retardants.
Price also varies based off of the type of latex you choose. Talalay is more expensive than Dunlop.
Mattresses that are customizable rather than your standard mattress-in-a-box also tend to be more expensive because you can create the exact feel you're looking for. Some customizable mattresses even take it a step further and allow you to customize each side of the mattress separately. This is a fantastic feature for couples.
If a latex mattress is exclusively natural latex and does not include any synthetic latex or coils in the mattress, that will also contribute to the price.
A Savvy Rest organic mattress ticks all the boxes above. The Serenity model is the most popular and starts at $2,499 for a Queen.
What if I'm allergic to latex?
We encourage you to speak to your doctor if you have a latex allergy. Keep in mind that synthetic latex and natural latex differ so if you have an allergy to one, that doesn't necessarily mean you're allergic to the other.
Savvy Rest Organic Latex Mattresses
Savvy Rest offers several GOTS-certified organic mattresses made with your choice of Dunlop or Talalay latex. Start shopping!
Explore our best-selling layered mattress options